Weber's return can't come soon enough for Montreal penalty kill
Veteran defenceman Shea Weber might not be as dominant as he once was, but he can still help a Canadiens squad that struggles to kill penalties, Travis Yost writes.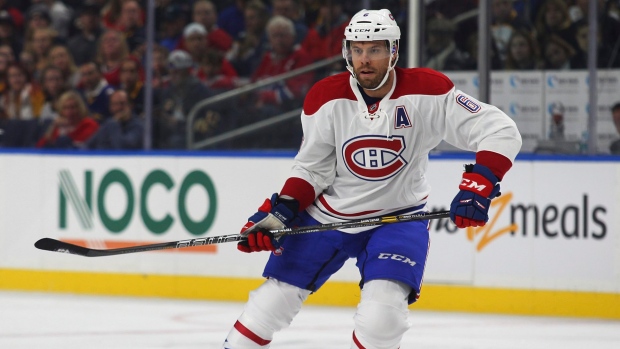 Shea Weber, now 33 years old, isn't the player he once was. The mileage is increasing, his pace is slowing and the defensive-zone dominance we saw during his playing prime in Nashville simply isn't there.
But he is still an effective player. And on a Montreal roster limited with talent, getting a healthy version of him back in the lineup – Weber is targeting a November or December return from arthroscopic knee surgery – should be a blessing for head coach Claude Julien.
Montreal's 2017-18 season was more or less a disaster. The offence couldn't score, the defence was leaky and goaltender Carey Price – one of the league's most reliable puck stoppers and, consequently, the league's highest paid at his position – turned in the worst season of his career, with a save percentage that trailed 44 goalies around the league.
But perhaps the most concerning part of Montreal's season was the team's penalty kill. The Canadiens successfully killed just 74 per cent of their penalties last season, which was mere decimal points ahead of the New York Islanders for dead last in the league. It doesn't appear they were undone by randomness – they gave up shots from all over the ice, including plenty from dangerous scoring areas, and never had the goaltending to bail them out.
A quick reference table shows just how poor Montreal was down a man:

With Weber on the mend for most of the season, the Canadiens turned to a combination of Karl Alzner, Jeff Petry and Jordie Benn to shoulder most of the workload. The results of those penalty killers were indiscernible from one another, indicating the team's struggles no matter which short-handed unit was on the ice.
This is where the loss of a player like Weber really stings. Weber might be exposed more frequently at even strength, which I'd posit is largely a function of his older age and the league's push towards younger and faster attackers. In his prime, Weber was a wizard at keeping forwards to the perimeter and using his size and strength to push all types of players into less threatening areas. At even strength, where it's harder to hide flaws in one's game, we've started to see players attacking him more aggressively and more effectively.
But the penalty kill is a bit of a different animal. Units consolidate into the more threatening areas in and around the goaltender. Structure, positioning and strength around the crease are core competencies for short-handed defenders – talents that play more into Weber's strengths.
Weber has been a pretty predictable penalty killer for years now, even at his advanced age. He generally gives up goals near league average rates, but that's lacking a bit of context. Weber tends to be one of the most utilized defenders on the penalty kill in the entire league and also tends to play against predominantly first power-play units – units that are much more effective at scoring goals.
We saw last season that stripping away Weber rendered the Montreal blueline a bit bare. With Weber out of the mix, it was up to just a few defenders on the roster to eat up more minutes than usual. And some of those minutes came against better power-play groups.
What's interesting is that Alzner, Petry and Benn had generally been reliable penalty killers in years past. Last year, their goals against numbers spiked. Weber, in the limited minutes he played, saw the exact same goals against rates: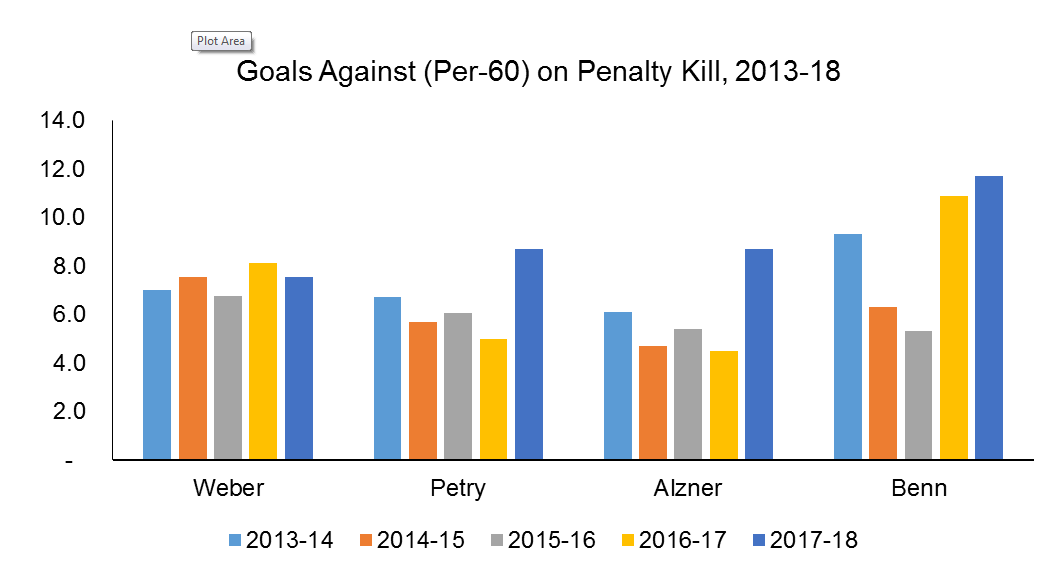 The fact that Weber's numbers were stable and every other defender's numbers increased could be partially coincidental. Maybe it's explained by the fact that the penalty-killing forwards up front were weaker, or that Price just wasn't nearly as good. Maybe it was a combination of things. But one thing we know is that the hundreds of minutes Weber was expected to play on the penalty kill last year had to be allocated across an already thin blueline, and the remaining defenders on the roster didn't hold up well.
With Weber back in the mix, Montreal should be able to roll two reasonably effective pairings for their penalty-kill units – one that's less burdensome with ice time and one that sees Weber and his partner seeing some of the league's more effective attackers.
It may be fair to ask how strong of a penalty killer Weber is at his current age and if Julien should be hunting for options to better smooth out ice time amongst those units. But at the end of the day, just having the roster flexibility on the back end – and knowing that the guy you are inserting has more experience down a man than maybe any other defender in the league – has to help.
It may not salvage what could be an ugly 2018-19 season in Montreal, but the return of Weber should make this area of their game more competitive. I think the Canadiens will take what they can get.