Weir's Hall nod a fitting tribute
The golfer was announced Wednesday as part of Canada's Sports Hall of Fame's 2017 class.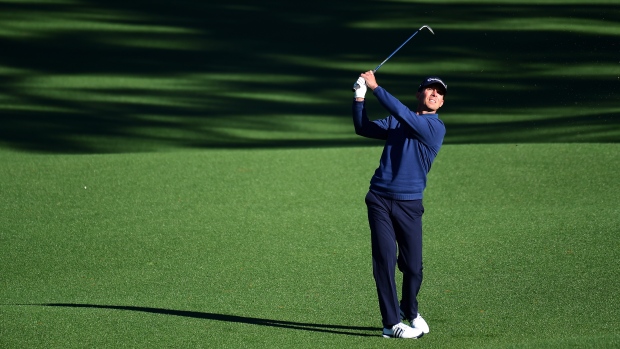 He's had honours ranging from Golf Hall of Fame to the Order of Canada, but for Mike Weir, getting into Canada's Sports Hall of Fame has a special place.
Weir was announced Wednesday as part of the hall's 2017 class that includes triathlete Simon Whitfield, hockey player Lanny McDonald and speed skater Cindy Klassen.
"It's nice to be in with all the different sports and all the different athletes," said Weir from Utah, where he makes his home. "I took a look at the list of some people that have gone in. To be honoured as one of the better athletes, not just golfers, is nice."
Weir's career achievements are well known – eight PGA Tour wins, ranked as high as third in the world, the first Canadian male to win a major, the first to play on the Presidents Cup, and on and on. But this latest nod means that he's being noted for not just the way he swung a club but also how he prepared his body to do that.
"I've always considered golf a sport, an athletic endeavour. I train that way and did so before there were many guys doing that. It's nice in that regard," he said.
When he first arrived on Tour in the late 1990s, Weir was a bit of an outlier in regards to fitness. Not as many of the PGA Tour pros of the day were worried about their muscles, and they often hit the burger joint more often than the gym.
"Gary Player was one of the trail blazers," said Weir of the South African star who still does 100 crunches every morning. "But even when I first got on the tour, we had one fitness trailer on site. You'd see Tiger in there a little bit and myself and maybe Stuart Appleby and a couple of others, and that was it.
"Now you can't even get in there. There's two trailer and all the trainers – it's jammed all the time. I usually do my stuff off-site now."
Weir turns 47 in a few weeks and still looks exceptionally fit. However the same can't be said for his golf game. He's struggled since injuring his elbow on a tree root six years ago and has tried to find a way to get his swing back together. It's been a battle, for sure, but one that Weir is not ready to concede just yet.
"I'm still very optimistic, even though the scores don't show it," he said from the back of the range where he was practising. "I'm very optimistic. I love the sport. I love the game and love to compete. I'm excited to get out there and excited to work hard.
"I haven't been very pleased with my game but that kind of motivates me to keep working at it."
Weir missed the cut at the Masters two weeks ago and then flew to Morocco where he played in a European Tour stop, also missing the cut. He'll return to Europe for three or four more tournaments starting in May and hopes to play a few PGA Tour events where he has limited status.
With an impeccable record on the course and an impressive contribution to charity off it, Weir has rightly earned his spot in Canada's Sports Hall of Fame. He'll be inducted Nov. 9 in Toronto.