What does the market for Lazar look like?
The Ottawa Senators are in tough spot, considering trade options for a young forward suffering through a terrible scoring drought
Pierre Dorion's Ottawa Senators are of the teams facing a really interesting situation at the trade deadline.
Ottawa is well positioned to compete for top spot in the Atlantic Division and are presumably in buyer mode. But the single biggest trade story surrounding the team right now is what to do with winger Curtis Lazar.
Publicly, Ottawa has said all of the right things about their 22-year-old forward. They haven't shut the door on a potential trade, but have held firm to a pretty high asking price, rumoured to be a first or second-round pick.
I think Ottawa's strategy here is two-fold. By not disavowing stories about Lazar's availability, they preserve potential trade inquiries. By holding a firm and high asking price, they let the message be heard loud and clear that they aren't willing to simply part ways with a young player. If a team is truly interested in his services, it will take a serious offer to get him.
The second part is what fascinates me. I don't blame Ottawa for swinging for the fences, but in reality, what does the market actually look like for a guy who has scored zero goals (with one assist) over 32 games so far in the 2016-17 season? It's an unimaginable, worst-case-scenario scoring drought for a forward that has forced some difficult decisions for both the front office and the coaching staff.
I can't emphasize enough is how incredibly tough it is to post a season like Lazar is having. It's difficult to play hundreds of minutes at forward without having at least one puck ricochet off of your leg or something for a goal. Lazar's struggles are a combination of not playing with high-quality teammates, struggling to shoot the puck, getting few opportunities and, as a result, probably gripping the stick tighter than ever.
Out of sheer curiosity, I wondered earlier in the week how many young players have actually had a similar season. Lazar, at his current pace (and at the rate in which he's playing games), is trending towards a two-point season. It's very possible he ends the year goalless.
Here's the exhaustive list of similarly situated players in the modern era: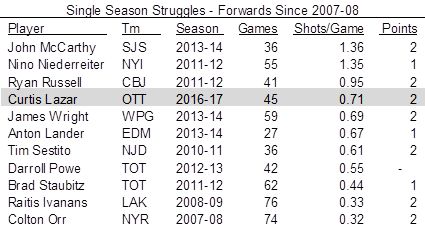 If you are a rival general manager mulling over the idea of moving a quality draft pick for Lazar, you might want to consider the company he's keeping here.
McCarthy has three goals in 88 career NHL games and has spent this season in the AHL. Russell's 41 games more or less captured his entire NHL career. Wright and Sestito are playing in the KHL. Lander, like McCarthy, has spent his season in the AHL. Powe wound up playing one more NHL game (with New York) before hanging his skates up. Staubitz, Ivanans, and Orr are all enforcer types without any real expectation for offensive performance.
That brings us to Niederreiter. Nino went through it in 2011-12 – a season eerily similar to the one Lazar is having this year in Ottawa. It was so bad for Nino he ended up toiling in the AHL with Bridgeport before heading over to Minnesota. That move revitalized his entire career, and he's been a productive scoring winger ever since the transition in 2013-14.
The Niederreiter situation is the one Ottawa's actively trying to avoid. There is, to be sure, a risk that Lazar is just really having a rough go of things, and that a breakout is around the corner.
That said, the counterargument seems much more compelling to me. Outside of Niederreiter, every player with a similar season either immediately washed out of the league or remained only because of their ability to box after the whistle.
The other important piece here is the distinction between Niederreiter's season and Lazar's season. Niederreiter, despite the ridiculously low scoring, appeared to be a frequent presence in the offensive zone. His shots-per-game rates were double that of Lazar's right now, and normally that kind of shot volume is encouraging for future performance. This despite the fact that both of his common linemates – Marty Reasoner and Jay Pandolfo – were about six months away from washing out of the league.
I don't envy Ottawa's position here. You don't want to be the team that trades away Filip Forsberg for a song. But you also need to balance the very real risk of holding onto an asset for far too long, especially when the empirical evidence suggests that said asset is rapidly depreciating in value.
If there's a chance to acquire a meaningful draft pick or even a decent rental option at the trade deadline, I think you have to say yes. There's a chance Lazar becomes Niederreiter. But there's a much greater chance he's not long for the NHL.