What's next for Kassian and the Canucks?
After his 10 points-in-10 games streak was broken on Thursday night against the Buffalo Sabres, what's next for Zack Kassian and where he fits in with the Vancouver Canucks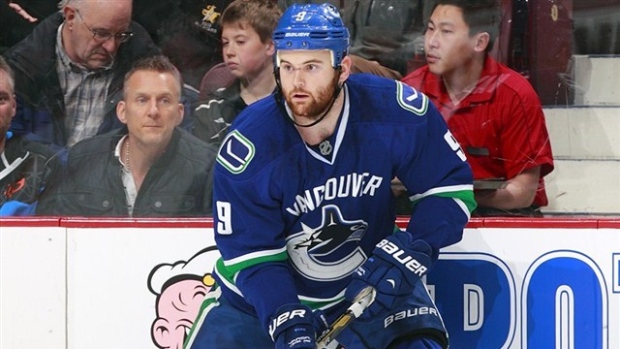 Buffalo.
Track it all back to Buffalo. This time it's more than the head-to-head of Zack Kassian and Cody Hodgson as a reminder to revamp the storyline of that famous trade. This time the narrative of Kassian's current season in Vancouver points out dates and games that have a tie-in to the two cities, which see their NHL teams play only twice a year.
The 10 points in 10 games started against Buffalo. One could argue it almost didn't happen for big number nine.
Derek Dorsett was coming off a game in which Ryan Kesler caught him with a pretty good shot to the head andm while only missing one game, it left the door open for Zack Kassian not to become a healthy scratch.

There is no way to know for sure if Kassian would have drawn the short stick for the evening of January 30 had Dorsett been healthy, but playing in that game would earn Kassian his first point following a return from injury, as well as his first point since November 20.

It wasn't enough to shield him from the press box over the next three games, but it was enough to start a talking point about how Kassian would fit in with the Canucks moving forward.

Just a handful of games prior to the aforementioned Sabres tilt, it was Kassian in Carolina knowing he was not going to play and none to happy about it.

He would have a lesson in taking it in stride and a motivation to stick in the lineup when his next chance would occur. As it turns out, that opportunity would arrive against the Penguins. Kassian would find a goal for the first time since the fifth game of the season and he would go on to play the following game. Cue the start of a streak for Kassian, as he had goals in three straight and points in four straight; capping the streak with a two-assist night at home to Boston.
But then, the takeaway. Two-straight games without a point and another healthy scratch, this time being taken out of the lineup for the Ranger game at MSG.

How would Zack react? Did he deserve to come out? What did he really have to do to stay in? How long will he ride the pine?

More questions that would quickly fade into the background after Alex Burrows was hurt and Kassian would come back to play the next night against the Devils. That evening the Canucks were losing and a switch of lines would offer a change of pace for Kassian, the Sedins and the Canucks. Zack would score two in a comeback bid, while taking the right side with Daniel and Henrik.

The next two games offered no change to his linemates or the scoresheet, only the results. Another goal in Long Island would hold up as the game-winner with Henrik on apple duty. Rinse and repeat in Boston. Henrik and Daniel picking up their longest point streaks of the year and with them, another Kassian goal. Another game-winner.

Four goals over three games with big back-to-back wins left the Vancouver market abuzz with Kassian. His play was noteworthy and his GM noted that as Jim Benning joined Jeff Paterson on TSN1040:

"The things that we've asked from him: playing in straight lines, playing physical, being a net front presence, taking the puck to the net..all of those things we have talked to him about, the coaching staff has talked about...we are starting to see it in his play, now. I'm real excited for him. He's really stepped up for us this last couple of weeks, with all of our injuries. He's played well and scored some big goals for us. I know he's been frustrated at times, throughout the year, but he's got his confidence back now and he's played well for us."

The next game would wrap up a five-game road trip and could cement the stretch as one of the team's best trips of the year, with timely results.

Despite picking up seven points in four games lifetime against his former team and watching the Sedins get on the board, Zack would not register a point in a losing effort to the Sabres. There you have it - 10 points in 10 games would not be pushed up to 11. The streak was over, but the questions were just beginning, headed out of the city that made him a first-round pick.

Is this the start of a corner turned for Kassian? Would the team that traded for him at the deadline years ago continue to ramp up his responsibility and opportunity? Will he stick with the Sedins? With healthy bodies expected to return once back in Vancouver, will Zack find the press box again? As the trade deadline approaches, was that the last game for Kassian as a Canuck?
Perhaps, Zack has provided some of these answers, already. Perhaps, it's up to management. Whatever the case, the next chapter in the Kassian-Canucks book may have been written out of what happened in Buffalo.
Track it back to Buffalo.