What should the Sabres pay Rasmus Ristolainen?
Buffalo defenceman has produced offensively at a young age, but there are statistical oddities in his game that might raise a cautionary flag, Travis Yost writes.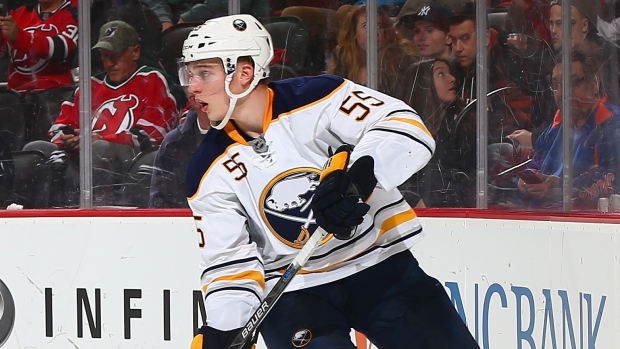 On Wednesday, TSN's Bob McKenzie provided some updates into the status of a number of young and talented restricted free agents, including Buffalo Sabres defenceman Rasmus Ristolainen.
Ristolainen, fresh off of a breakout year that saw him score 41 points (24th among all NHL defencemen), is rumoured to be targeting a contract in the realm of six years with a $6.5 million AAV. Ristolainen does have some leverage here – NHL blueliners rarely produce 40+ point seasons at the age of 21. Those who have managed the feat (like Erik Karlsson, Paul Coffey and Brian Leetch) tend to have long, successful careers. There's also the fact that Ristolainen was a high first-round pick back in 2013, and draft status – right or wrong – has always acted as an anchor in contract negotiations.
But Ristolainen is an odd case. Unlike most of the above-referenced defenders who explode onto the scene at a young age, there are a couple of statistical oddities that might raise a cautionary flag.
One of the primary curiosities with Ristolainen is that there's not a lot of evidence he improves the play of his team when he's on the ice. It gets right back to the debate about which singular metric best captures a player's skill set and performance. For forwards, the answer has always been scoring rates. For defenders – driven by the relative scarcity with which they score points, save the Karlsson/Brett Burns types – it's RelativeCorsi%.
RelativeCorsi% is simply the differential in shot advantage a team enjoys when a player is on the ice versus off of the ice. For most first-pairing defencemen, we see largely positive RelativeCorsi% performances on a game-to-game basis. Their team, regardless of circumstance or environment, sees an incremental shot output whenever they jump over the boards.
It's also great at mitigating team effects, which are important in the case of Ristolainen. No one would ever compare the raw Corsi% of a player like Hampus Lindholm against Ristolainen. Why? Because the Ducks have had a significantly higher collection of talent, so we would expect the rising tide to lift all boats. The Sabres have had a significantly lower collection of talent, which suppresses the output of every Buffalo skater.
So, how does Ristolainen look from a RelativeCorsi% level compared to some of the other names either currently searching for contracts or being utilized as contract comparables? Here's how that rolls up (by game, since 2013, in which 0 per cent would indicate a player who saw the same shot differential when he was on the ice as his team did when he was off of the ice):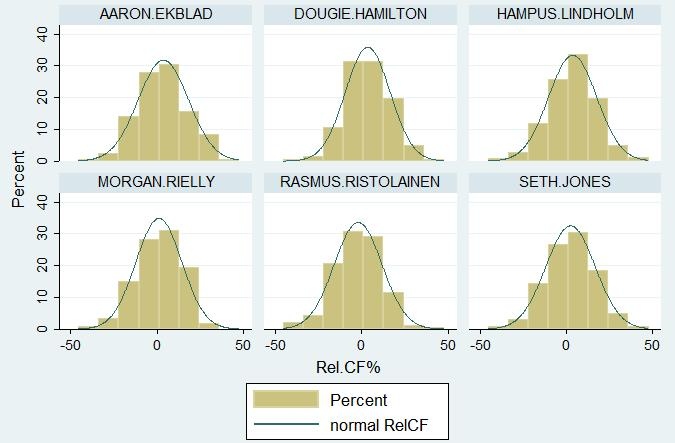 Now, I'm not entirely sure there's a "Ristolainen isn't as good as these guys" argument here. The reason why is pretty straightforward: Ristolainen really played some brutally tough minutes relative to these other blueliners, and there are fair questions about the quality of his partners since coming into the league.
That said, there's a pretty clear difference between five of these players and Ristolainen. Whereas our group of five players are right-leaning – the majority of their individual games finishing as RelativeCorsi% positive – Ristolainen definitively leans left. And, because the player is only being compared in relative performance to his teammates, it's fair to wonder why the Sabres didn't really see the type of incremental shot gains our other five defenders provided to their teams.
At the minimum, it's the type of data point that a team should be questioning before executing on a contract worth something in the range of $36 million (or more). The number of highly lauded, negative RelativeCorsi% players league-wide can be counted on one hand, and even those names (Shea Weber is the most prominent example, though Brent Seabrook and Cam Fowler are others) have had similar questions asked about them.
It puts Buffalo general manager Tim Murray at a bit of a crossroads. There's no denying the scoring impact Ristolainen had last year, and at the age of 21, there's all the room in the world for him to make big strides in the next few years.
The question becomes how high Ristolainen's ceiling is. Is he a true first-pairing talent, or are we only confident in the fact that his floor is that of a second-pairing guy who racks up a ton of mileage over the next decade?
If you sense the former, there's no reason to bet now. But if you sense the latter, primarily because of some of the cautionary data we see surrounding his game, then perhaps playing a bit of hardball makes sense for the Sabres long-term.