What we've learned about the Jays so far in 2018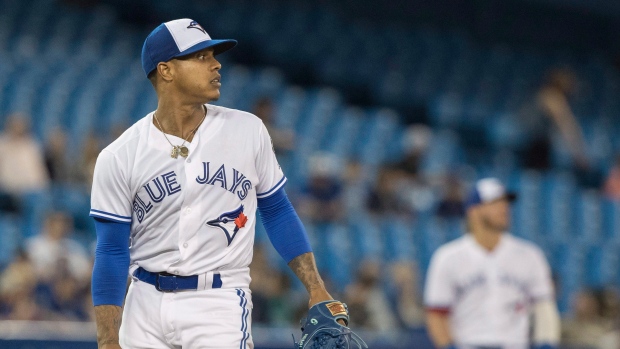 TORONTO — The Blue Jays are already a quarter of the way through their schedule, and a lot has changed since the end of March.
A team that was supposed to be carried by its starting pitching and trying desperately to scrape together enough offence to stay in games has seen the script flipped on that narrative – they're scoring plenty, while watching the rotation struggle to keep games close.
No one could have predicted that, even if there are signs it may not continue that way all season long.
At 21-20, the Jays are in a much better position than they were last year when they were clawing their way back from an awful start to sit 17-24.
But are they really a better team? One that should be holding onto legit post-season aspirations as the decision-making months of June and July approach? That's entirely up for debate.
There's evidence that suggests they are, but also warning signs – and a top-heavy American League — that point to the potential for a middle-of-the-pack finish.
Here's what we've learned about this club over the first quarter of the season:
The rotation isn't as good as we thought it was
It was thought to have a little of everything.
A couple of burgeoning top-of-the-rotation starters in Marcus Stroman and Aaron Sanchez, a pair of middle-of-the-rotation vets who could pitch like an ace on any given day in J.A. Happ and Marco Estrada, and a fifth starter with a track record in Jaime Garcia.
Instead, they've all struggled with command and the home-run ball, pitching to a collective 5.55 ERA, second-worst in the American League.
Is Stroman's season a lost cause?
Stroman was supposed to anchor the starting five.
Instead he's been terrible, pitching to a 7.71 ERA, and now he's dealing with his second shoulder problem in a span of two months.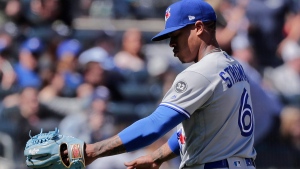 Whether it's shoulder inflammation, shoulder fatigue, or his state of mind thanks to the struggles, Stroman is just starting the process of rediscovering himself on the mound.
And he's doing that in Dunedin.
It's fair to wonder if Stroman will be able to get back to being the pitcher we saw post a 3.09 ERA in 2017 in time to have the impact the Jays will need.
If he can't, the rotation will be in trouble.
There's more depth this year
Instead of watching names like Darwin Barney, Ryan Goins, Jarrod Saltalamacchia, Mike Bolsinger and Mat Latos stepping in, the progress of the minor-league system has been on display over the last six weeks.
When general manager Ross Atkins has needed reinforcements, he's now turning to players like Teoscar Hernandez, Lourdes Gurriel Jr., Richard Urena and Anthony Alford.
A winter spent scouring for big-league depth has helped, and the Jays are better equipped to deal with the attrition that comes along with a 162-game schedule.
Most of that depth isn't quite ready
Believing they're ready for a call-up and a cup of coffee is one thing. Having them arrive and be ready to contribute on a day-in, day-out basis is another.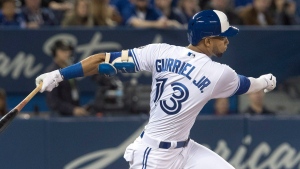 While it's nice that Atkins can reach into the upper levels of the minors for a piece of the future, other than Hernandez, most of them have shown they're not quite ready.
Gurriel, Urena and Alford have all shown they could use significant Triple-A time, which is what's going to happen as long as the veterans stay healthy.
Vladimir Guerrero Jr.'s bat is ready, but Jays aren't ready to call him up
There are three simple reasons why Atkins isn't interested in calling up the best prospect in baseball right now: One is about protecting the player, one is about protecting business interests and the other is about protecting the major-league club.
Guerrero Jr. just turned 19 in March. Throwing a player into the fire after 950 plate appearances in the minors isn't something any GM ever expects or wants to do.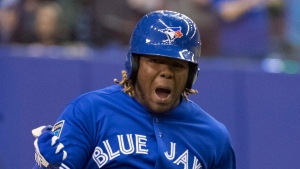 Sometimes, however, the player forces the issue, which is the path we're going down.
But Atkins and the Jays aren't there yet.
Service time considerations are the second reason, but that side can be justified by a team in contention. Will they be on July 1?
The third reason, protecting the team on the field in Toronto, is about Vlad Jr.'s defence and position.
Sticking a 19-year-old at DH isn't a smart developmental move, and neither is sticking him at third base to be eaten alive by screamers off the Rogers Centre turf.
There's really no obvious spot, unless you're fine with a teenage DH. Most baseball people don't think that's the smart play, despite Guerrero Jr.'s ridiculous talent.
Expect nothing when it comes to Tulowitzki
If Troy Tulowitzki contributes anything of consequence this season, it'll be a bonus.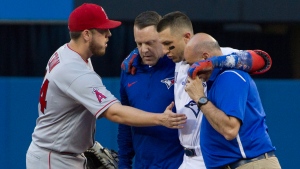 After double heel surgery to remove bone spurs in early April, Tulowitzki is slowly trying to make his way back, but as we've seen in the past with the oft-injured shortstop, bumps in the road are sure to appear.
No one has run away with his shortstop job, so there may be playing time available if the 33-year-old does make it back in late June or July, but he's just a $20-million lottery ticket at this point.
Morales might be toast, but what can you do?
Signed for three years and $33 million in November of 2016, Kendrys Morales provided 28 home runs and a negative WAR (-0.6) in his first season with the Jays.
His second is going to be even worse.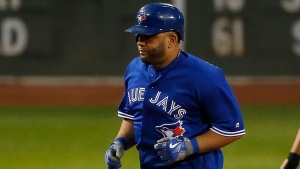 Through six weeks, not only is Morales sporting a .154/.250/.275 slash line, he's also the worst possible fit for a roster littered with players who could use a DH day once a week.
After making $10 million last season, Morales is earning $11 million this year, with another $12 million on the way in 2019.
Up to this point, he's the biggest free-agent investment this front office regime has made, and parting ways halfway through that contract might be seen as an extreme move.
Even if it might also be the right one.
Martin needs to prove age isn't catching up with him
Any time that your starting catcher blows out 35 candles on his cake before the season has even started, you have to be concerned.
At some point, Martin's terrific career will wind down and Father Time will win, just like he punched out Jose Bautista in the 12th round last year.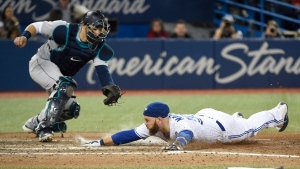 Martin has shown some signs of life over the past few days, but that doesn't change the fact he's slashing .172/.294/.376.
On the bright side, Martin contributes in ways that go beyond the slash line.
The defence is still strong, he's shown power with five home runs and he's still taking his walks.
The middle infield is a mess
In February, it was supposed to be Tulowitzki and Devon Travis once again forming the double-play combination on most nights.
Once it became clear Tulowitzki wasn't going to be ready in March that shifted to Travis and Aledmys Diaz.
In April, thanks to Travis not hitting a lick and unable (in management's eyes, anyway) to play every day thanks to his twice surgically-repaired right knee, the 27-year-old was demoted to Triple-A Buffalo.
It would be an understatement to call it a revolving door up the middle.
Through the first quarter of the season, the Jays are 20th in baseball with a .217/.280/.406 slash line (82 wRC+) out of the shortstop position, and 28th with a .200/.257/.297 slash line (49 wRC+) from second base.
Solarte has been better than expected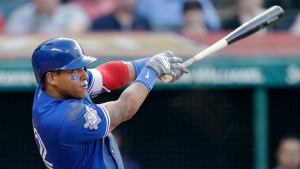 From his power (nine home runs) to his clubhouse presence (lots of dancing) to his versatility (all four infield spots played), Yangervis Solarte has proven to be an excellent addition.
He's already provided valuable insurance for Josh Donaldson, and he's essentially been the everyday player the Jays expected when they traded outfield prospect Edward Olivares to the San Diego Padres for him in January.
Grichuk has been worse than expected
You win some, you lose some.
While no one is closing the book on the Randal Grichuk era in Toronto, the off-season trade acquisition stumbled to a .106/.208/.227 slash line out of the gates, giving Teoscar Hernandez a chance to steal his job.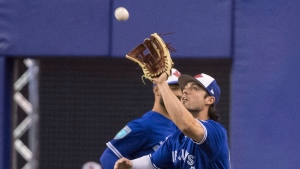 Like Morales, Grichuk's batted ball profile suggests he'll have better days, but hitting the ball hard isn't worth a whole lot when you're swinging through most of the pitches you don't make contact with.
There still may be a role for him in a platoon situation, especially with Steve Pearce's iffy track record of health.
Can the bullpen make it through the season?
The bullpen arms have saved the Jays' season thus far, but asking them to continue that trend may be a bit much.
Not only is this group overworked, they're also without lynchpin closer Roberto Osuna, whose legal problems aren't expected to go away anytime soon and a suspension is looming as he awaits his fate while on paid administrative leave ahead of his June 18 court date for an assault charge.
Atkins' winter bargain-bin shopping has provided depth in the form of former closers Tyler Clippard, John Axford and Seunghwan Oh, but it's an incomplete group without Osuna at the back end and no proven multi-inning long man to turn to when the rotation has faltered.
The bullpen ERA of 2.78 is the best in the American League, but the rotation will have to start pulling its weight in order to keep it that way.
Donaldson hasn't been the MVP candidate we expected
When you combined the contract year motivation with his second half of 2017, most arrived at the conclusion of Donaldson putting up a monster, MVP-type season.
That hasn't happened.
For the second straight April, Donaldson needed a DL stint, this time because of a mysterious, lingering shoulder issue, and he's yet to find that sort of form.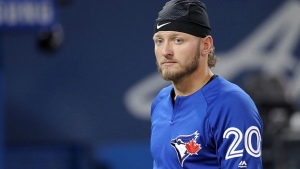 He's fully capable of turning it on and spending the next four months terrorizing pitchers, but his strikeout numbers are way up (30.1 per cent), and his walks and power are both down.
Not to mention the shoulder issue seems to have turned him into a below-average defensive asset.
Maybe that changes if he continues to regain strength as the season progresses, maybe it doesn't.
No matter how he's playing, Donaldson's name will be a hot topic over the next 10 weeks, leading into the July 31 trade deadline.