Why Carolina's commitment to Darling makes sense
The new Hurricanes goalie has a limited track record, but his numbers stack up well against well-established NHL starters, Travis Yost writes.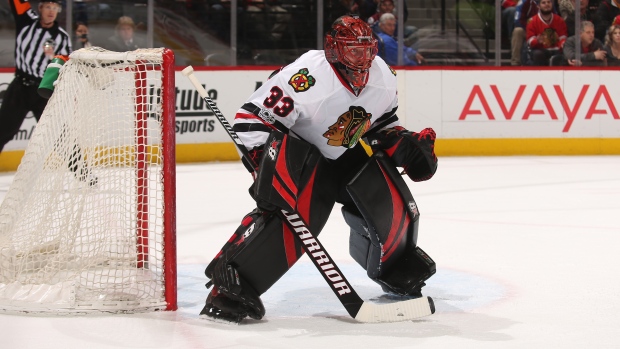 It's hard to think of many players with a more interesting jump to the National Hockey League than Carolina Hurricanes goaltender Scott Darling.
Darling, who turns 29 this December, didn't see NHL action until 2014-15. After spending two years at the University of Maine, Darling bounced around the Southern Professional Hockey League, ECHL and American Hockey League for years, and for good reason – his performances at lower tiers of professional competition were never particularly encouraging.
But something sure seemed to click a few years ago. Darling turned in some fantastic work for AHL Rockford in 2014-15, and then parlayed that into a sensational 14-game run for the Chicago Blackhawks. Since that time Darling has looked every bit the part of a goaltender ready to compete for an NHL starting job.
He makes all of the sense of the world for a Hurricanes organization loaded with skating talent, but one that's also struggled on the goaltending front. Since 2012-13, the Hurricanes have stopped 90.3 per cent of shots across all situations – 28th best in the NHL and only 0.3 percentage points ahead of the Calgary Flames, who occupy the cellar over this interval.
So not only did the Hurricanes have the cap space to tender a four-year, $16.6-million contract to a goalie with a strong but limited track record, they had an obvious need in terms of operational risk. The team has watched Cam Ward's performance slide as he has made his way through the aging curve, and they don't really have a ton of answers behind him. (Prior bets in names like Eddie Lack and Anton Khudobin haven't exactly yielded stellar results.)
One question that might come up as it relates to the Darling acquisition and signing is why Carolina made such a commitment to a goaltender with 75 games of NHL experience. And that's a fair thing to ask! It's not exactly commonplace for goalies with a limited top-level track record to ink multi-year deals worth 5 to 6 per cent of the NHL salary cap.
Here, it's worth emphasizing that calling Darling a player with 75 games of NHL experience might understate his actual talent level. Darling has been fantastic at stopping shots in those 75 games – to a degree that his peers are mostly well-established NHL starters.
To illustrate this, I pulled out both multi-year save percentages and quality start percentage (as calculated by HockeyReference – basically a way to show the percentage of games in which a goaltender met or exceeded the league average save percentage). I think Darling's placement on both fronts is pretty telling: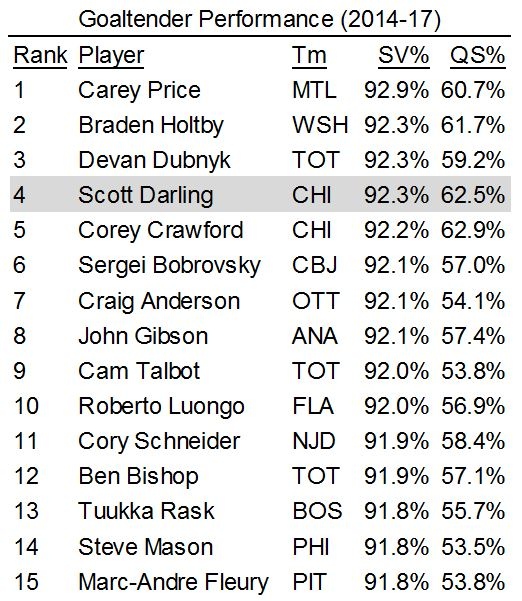 There are a lot – and I mean a lot – of strong goalies who sit behind Darling here (including his former teammate Corey Crawford), and two of the three guys he's punching up at in Carey Price and Braden Holtby are perennial Vezina candidates. Perhaps a better way to hammer home this point: 50 goalies have at least 75 games played over the last three years, and 46 of them have a worse save percentage.
The quality start measurement tells a similar tale. There, Darling is second in the entire league with 62.5 per cent of his starts meeting or exceeding the league average stop rate, which even bests names like Price (60.7 per cent) and Henrik Lundqvist (60.6 per cent). The only goalie ahead of him, funny enough, is Corey Crawford (62.9 per cent).
I think the above helps paint a supportive story of Carolina's move here. There just aren't many guys who can truly "fluke" into the upper echelon of goaltender performance. Although Darling's sample of games is limited, the company he's keeping is impressive. Even if you bake some degree of regression into Darling's expected save percentage over the next four seasons, you'd likely still endorse the idea of signing him on this exact contract.
To that end, it's hard not to like Carolina's position here. Darling might be good. He might be great. But he will almost certainly be an upgrade over the status quo. With a young and talented Hurricanes team looking to jump back into the playoffs, that's about all you can reasonably ask for.