Why the Sens traded Lehner - and hung on to Anderson
General manager Bryan Murray never seriously considered moving veteran netminder in the off-season, TSN's Ian Mendes writes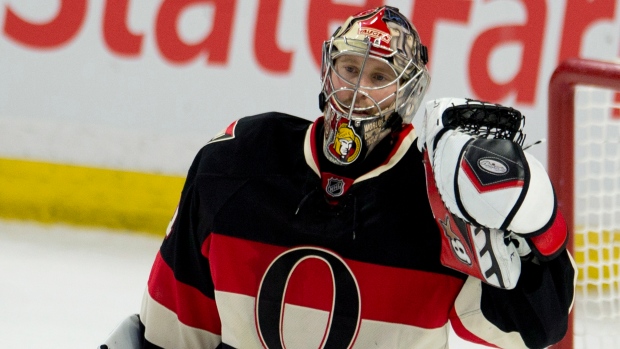 Craig Anderson admits he was a little bit nervous this summer when it became apparent the Ottawa Senators were going to trade a goaltender.

"My assumption was they were going to do one of two things. They were either going to move Robin or move myself. So you're just kind of waiting on the edge of your seat to see what their decision or plan was," Anderson told TSN.ca leading up to the Senators regular season opener in Buffalo.

In reality, the Senators had a plan all along. And at no point in time did general manager Bryan Murray ever seriously consider trading Anderson.

"No - it didn't make any sense," Murray said – emphatically shaking his head – when asked about how close he was to moving Anderson. "He can play three or four more years here. I still believe Robin Lehner is going to be a good goaltender in this league, but he's been somewhat inconsistent as we know. So I just felt to give the stability to this franchise that we needed, Craig was the guy."

While the trade rumours started to circulate leading up to the NHL Draft in June – and Anderson began to contemplate his future in Ottawa – Murray made sure he told Anderson's agent Justin Duberman that his client was not on the market.

"I talked to Craig's agent a number of times and told him 'Craig is not going anywhere. We're going to keep him here,'" said Murray.

Still, the rumours lingered that the Senators were open to trading either netminder at the NHL Draft in Florida. Anderson – who owns an off-season home just around the corner from where the draft was taking place in Sunrise – tried to stay away from reading any coverage of the team. But the story was actually unfolding in his backyard.

"The internet doesn't make it down to Florida, so I actually didn't catch too much," joked Anderson. "But obviously, you do hear some stuff. At the end of the day, rumours are rumours and I've played long enough to know that you're just a piece of the puzzle. The team can juggle those pieces any which way they want."

On June 26, Murray engineered a trade with his nephew Tim Murray, sending Lehner to the Buffalo Sabres in exchange for a first-round pick in that night's draft. Just down the road from the BB & T Center in Sunrise, Anderson exhaled when he got the news that Lehner had been dealt.

"When that day came there was a sense of relief," Anderson admitted. "Just knowing that I didn't have to move my family and change scenery and go through that thing I've done a couple of times in my career where you just go start somewhere fresh. "

Anderson is no stranger to having to make fresh starts. He was originally drafted by Calgary in 1999, but re-entered the draft two years later. He bounced around Chicago, Florida and Colorado without ever firmly establishing himself as a No. 1 goaltender for an extended period of time.
And even though he has been in Ottawa for four full seasons, he was constantly checking over his shoulder to see if Lehner was going to take his job. But that's no longer the case; Anderson is the unquestioned No. 1 netminder in Ottawa for the foreseeable future.
"After the deal was done I know it was relayed to Craig that we were going to give him the net here and just let him go play," said Murray.

***
Many people look at the amazing run Andrew Hammond had in the final 25 games of the regular season as the catalyst to force a trade in Ottawa's crease. Once the Senators signed Hammond to a three-year, one-way contract on May 20, it seemed like a foregone conclusion that either Lehner or Anderson would be moved.

In reality, though, the Senators decision to trade a goaltender came 10 days earlier, when they inked highly sought-after NCAA prospect Matt O'Connor to an entry-level deal.

"Hammond certainly helped and the way he played down the stretch was incredible. But signing Matt definitely gave us the depth," Murray explained.

With O'Connor now in the fold, the Senators had a young netminder with high NHL upside – thus making Lehner expendable. The club was growing frustrated with Lehner's inconsistency and felt like his progress had stagnated over the past two seasons. O'Connor would likely work better with goaltending coach Rick Wamsley in developing a long-term plan for his NHL success. At times – especially early in his career – it seemed like Lehner wanted to rush his arrival in the NHL. O'Connor, on the other hand, is preaching patience with his development.

"He's not going to push anyone out of the net because he's greedy or anything like that," Murray says of O'Connor. "He's going to push people out of the net because he's good."

Murray solicited Walmsley's opinion on which goaltender he should trade, considering it's his job to develop the netminders for the organization.

"I got asked and I had an opinion on what we should do. And obviously the decision was made to trade Robin," Wamsley said. "Robin kind of wanted a change and what not and the way Andrew Hammond played, it led to us getting the most value for Robin, so that's the deal that was made."

Ironically, the uber-patient O'Connor is going to start the season as an NHL goalie, because of a groin injury that is going to sideline Hammond for a couple of weeks. The 23-year-old O'Connor, who grew up in the GTA, has let the idea cross his mind that he could make his first NHL start on Saturday night at the Air Canada Centre against the Toronto Maple Leafs.

"Yeah, I might have visualized myself there in the crease at the ACC," O'Connor admitted with a laugh. "But I'm just excited to be here and contribute as best as I can. I really want to make them feel confident in the back end. But definitely, that would be a real treat."

O'Connor gives the Senators a tall, lanky prospect that they hope will make fans forget about Ben Bishop. But Bishop remains an ominous reminder about the danger of trading young goaltenders – especially within your own division. The Senators were well aware of the risk they took with trading Lehner to the Buffalo Sabres.

***
Murray has heard all of the criticism about his handling of Bishop at the trade deadline in 2013. Sending Bishop to the Lightning in exchange for Cory Conacher and a fourth-round pick seems like one of the most lopsided deals in recent memory. Still, that experience of sending Bishop to Tampa didn't deter Murray from shopping Lehner to Buffalo.

"I did it in the conference with Ben Bishop and I knew Ben was a good goalie. I really liked Ben as a person, but to be fair to the player, you have to give him a chance to go somewhere and have a career," explains Murray. "It's not my job to bury guys. It's my job to give guys a chance if they don't have an opportunity with our organization."

Murray's preference was to try and get Robin Lehner out of the conference. He had extended conversations with new Oilers GM Peter Chiarelli about Lehner, knowing that Edmonton was actively pursuing a goaltender.

"I got an offer from Edmonton. We talked long and hard, but the return we got from Buffalo was a first-round pick," Murray said. The Oilers, apparently, were only willing to offer a second-round pick in return for Lehner.

So the Senators had a decision to make: Get Lehner out of the conference for a smaller return or take a first-round pick and trade a goalie within the division. The Senators were enamored with NCAA prospect Colin White, who they felt they could get with the 21st pick overall from Buffalo. Once they were confident in being able to draft someone of White's calibre in that spot, they pulled the trigger on the deal with Buffalo.
"We got Colin White, who is going to be a top player in our organization down the road. If we made a mistake in trading within the division, then we made a mistake in trading him," Murray said. "But I think we're going to be fine. Buffalo is going to end up with a good goaltender and hopefully, we'll end up with a better goaltender."