Will Canada be shut out of NHL playoffs?
Things are so bad north of the border this season that a team with nine points in their last 20 games might be the nation's best hope for a postseason berth, Travis Yost writes.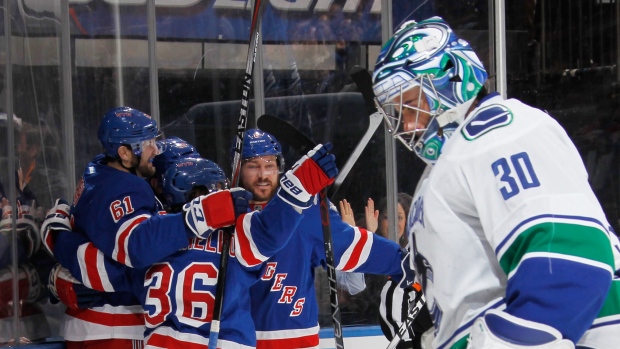 How dire is the state of NHL hockey in Canada right now?
I think you can make the case that the Montreal Canadiens are one of the better franchises operating north of the border right now. That's the same Canadiens team that's amassed nine points in their last 20 games – a 37-point pace over an 82-game season."
Montreal can't do much of anything right these days, and the talk swirling about head coach Michel Therrien's job security isn't going to cease until the team rights the ship. Despite the miserable state of things, you can still make a three-part defence of the Habs as one of Canada's best teams: (1) They have gone through this awful losing stretch without their best player; (2) They are really the only team with even moderately encouraging signs of decent performance at 5-on-5; and (3) The other six teams offer nothing more than a sliver of hope at breaking even this year.
As it stands right now, Canada's seven teams sit in the following place in the NHL standings: 22nd, 23rd, 24th, 25th, 26th, 28th, and 29th. Just about every one of those teams has earned their rightful spot as a contender — for Auston Matthews.
It shouldn't come as any surprise that all of these teams are losing the goal battle. Generally, that's how you find yourself at the bottom of the standings. The important takeaway to me is how many of these teams have regressed from last year's mark – a season in which five Canadian teams reached the postseason.

Six of seven teams (excluding Montreal) have negative goal differentials on the season, and five of the seven teams have considerable steps back from one year ago. Really, the only team that's made positive strides in the goal differential department is in Edmonton, and you can apportion at least some of that to the fact that last year's Oilers team was unbelievably poor. Also of note: this improving Edmonton team still sits dead last in the Western Conference.
But, goals can sometimes be a tad misleading – they come in relatively small bunches and may not give us the full story of whether or not a team is truly playing poorly. That's where I grow even more concerned about the state of hockey in Canada.
We know just about every team is losing the goal battle. But even if you expand the sample size by way of shot-based analysis, the picture is still horrifying.
Pictured below: a cumulative shot differential for every Canadian team.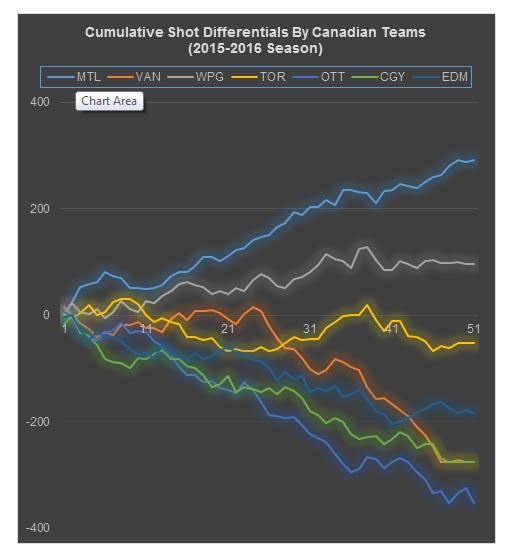 Let's just call it as it is: if you're under break-even at this point in the season, the chance of you winning a Stanley Cup is essentially zero. Even chasing down a playoff berth is a difficult task, since approximately 75 per cent of teams that qualify for the postseason have positive shot differentials by year end.
Maybe some of these teams had varying degrees of expectations entering the year, but I find it hard to believe that fans in Ottawa, Vancouver, and Calgary didn't expect significantly better than what they are observing in 2015-16. This is shambolic, Atlanta Thrashers-era hockey.
If there's one team I genuinely feel for a bit in this group of seven, it's probably Winnipeg. I think the Jets are being bitten by a cruelly competitive division, though their special teams – I'd argue their power play/penalty kill combination has been as bad as any team around the league – isn't helping them any. You have to wonder if Winnipeg would be in the playoff race if they played in the Atlantic or Pacific, particularly since they seem reasonably competitive at 5-on-5.
That leaves us with Montreal. Unlike most of Canada's fodder, the Canadiens have had bite at even-strength all year long. Two colossal changes have impacted results, however: they've lost arguably the best goaltender in the league long-term, and they can no longer buy a goal. We talked about this at length a week ago.
I'm no longer willing to call Montreal a good team, but if there's one candidate that so much offers bounce-back potential in this group, it's probably the Canadiens. Their team save percentage has cratered beyond belief with Price on the mend. Price's return to the lineup won't mean that the team can suddenly score goals again, but it should help mitigate some of the goals against issues that have been piling up for Therrien's club.
Perhaps that's putting lipstick on a pig. Actually, I'm certain that's the case. But the Canadian franchises are struggling mightily these days, and at some point, lipstick is all you have left.
The Takeaway
Is it possible we see zero Canadian teams in the playoffs? In one word: yes.