Wingels continues the fight for inclusion in hockey
The Ottawa Senators centre has a personal reason for being so committed to NHL's 'Hockey Is For Everyone' initiative, writes Ian Mendes.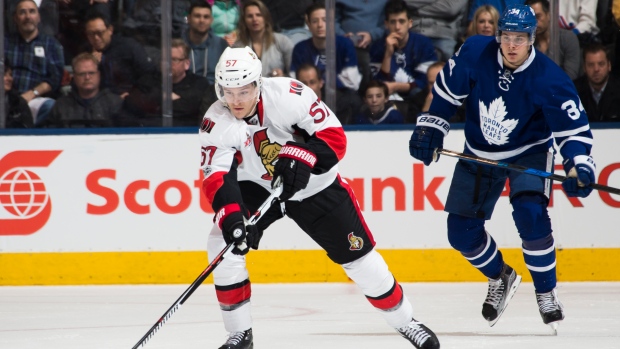 When the National Hockey League released the list of 30 team ambassadors for its 'Hockey Is For Everyone' initiative earlier this month, there was one name conspicuously absent.
Tommy Wingels has been a major advocate for the You Can Play Project – a non-profit entity committed to supporting the LGBTQ community and fighting homophobia in sports – and a group that partnered with the NHL for the month of February.
Wingels was set to be the San Jose Sharks' representative for the NHL's celebration of diversity in hockey, but his trade to the Ottawa Senators in late January negated that opportunity. Defenceman Dion Phaneuf had already pledged to be the Senators' representative, so Wingels was left off the list.
That 28-year-old centre has a personal reason for being so committed to promoting inclusion and diversity in the NHL.
When Wingels was attending the University of Miami (Ohio), Brendan Burke, the son of current Calgary Flames president Brian Burke, was the team's manager. In 2009, the 21-year-old Burke made the courageous choice to inform the team that he was gay. Wingels said Burke's openness brought the college team closer together.
"We accepted him and we cared about him as a person. We felt more comfortable as a team that he was willing to tell us that," Wingels told TSN.ca. "You think you know someone and then they tell you that, it's a bit of a shock. But you know what? Now you know them even better."
There has always been a sense that a gay hockey player would have a difficult time assimilating into the culture of a hockey locker room. But Wingels says his teammates never thought twice about Burke being around them on a daily basis.
"He was in the locker room and did the day-to-day stuff. It didn't matter. There are much more important characteristics to a person to dictate whether you like someone or not," Wingels said. "That stuff doesn't matter. …To each their own."
A few months after publicly coming out, Burke was tragically killed in automobile accident, but his impact would not be lost on Wingels and others. When Burke's older brother Patrick hatched the idea for the You Can Play Project, Wingels became a founding member to the group, which had a mandate to ensure respect and equality for all athletes, regardless of sexual orientation.
"I was part of the group that kind of came together and said, 'How can we honour Brendan? How can his drive, his passion, his determination to fight for equality for everyone in the game of hockey be kept on?'
"And so the You Can Play Project was created and I got on board right away," Wingels said.
Wingels believes that the friendship that was created with Brendan was life-changing for him, as it helped shape his views on the subject.
"I think when you have a personal connection and a friend who navigates through that sort of thing, it becomes important and you develop a greater passion for it," says Wingels. "It's something that I've taken pride in, trying to create a safer environment and open people's eyes and to create acceptance."
Even though Wingels isn't officially a You Can Play ambassador for the month of February, he's still diligently trying to help change the culture in hockey. He remains an active member on the advisory board and is trying to spread the message that a gay NHL player wouldn't be a distraction or cause problems inside a dressing room.
"All we can do as players, as media members and teammates is to create a safe environment if someone does want to come out," explains Wingels. "Hockey is such a family sport. I think a team is a family environment. So all we're trying to do is create that family environment."
Wingels isn't sure if he'll still be an active player when there is an openly gay NHL player, but he does believe that day is getting closer.
"I don't know when, but I think it's a lot sooner than we would have thought five years ago," he said.
Wingels applauded the league for trying to be open-minded and creating a month specifically geared towards the LGBTQ community.
"I love what the league is doing, but I hope at some point there's no need for it."