Woods cancels press conference for "precautionary reasons"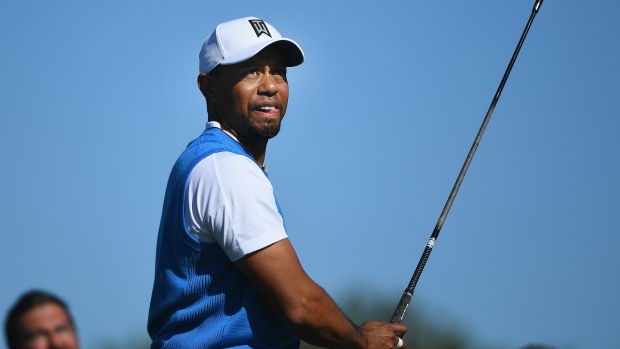 Last week, Tiger Woods withdrew from a golf tournament after one round. Then he withdrew from his next two scheduled starts. Now he's withdrawing from press conferences.
In the continuing saga of Tiger And His Ailing Back, the 14-time major winner announced he was missing his scheduled press conference on Wednesday at the Genesis Open for what his agent Mark Steinberg called "precautionary reasons." That was a day after he pushed it back from its scheduled Tuesday time slot.
Woods, of course, logged his most recent back problem in Dubai where his ailment was described as spasms that had nothing to do with the two surgeries he had last year. Now doctors have told him to "limit activities" and that's keeping him from Riviera Country Club and his meeting with the media.
Steinberg told ESPN.com that Woods is trying to do all he can "so that he can put himself in the best position to recover.'' He has reportedly seen doctors in California and is undergoing regular therapy to do all he can to get the spasms to calm down.
But with each missed appearance – whether it be a tournament or a press conference or a trip to the grocery store – the questions grow in number and the outlook for his return to form.
Perhaps the biggest question right now is whether Woods will be in any shape to play at Augusta National. It seems like a stretch to think that if he can't walk into a press room and sit for half an hour that he'll be ready to play for a major championship in six weeks.
Clearly this latest back problem is more serious than the initial prognosis. As one medical professional told me this week, a back spasm can be minor or severe, just a small nagging ache or something that won't let you stand up for any length of time. It can be gone in hours or last for weeks. It's just unpredictable.
In his latest comeback, Woods looked rusty but pain-free when he started out at the Hero World Challenge. It was the same at the Farmers Insurance Open at Torrey Pines where he missed the cut but didn't seem to be swinging in any pain. In Dubai, he looked stiff and uncomfortable in his only round before withdrawing.
Now, Woods is on the shelf – or perhaps more appropriately, the physiotherapist's table – yet again. We don't know when we'll see him again, either playing golf or sitting in a press room. At this point, it's a good bet that Tiger doesn't know either.