Woods enjoying his home game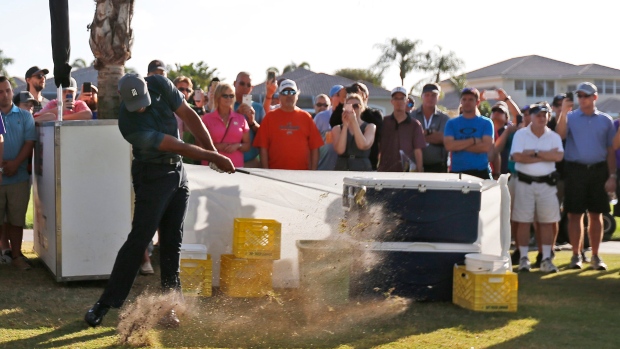 Homemade sandwiches and soccer parents from the neighbourhood.
This is what Tiger Woods has turned to in his return to golf.
Before we know it, the greatest player of his generation may be wearing a Tilley hat and a fanny pack.
In the third start of his latest comeback, Woods teed it up at PGA National, just a short hop from his home in Jupiter, Fla. Being so close meant a few differences for the 42-year-old golfer.
For instance, he was cheered on by a gallery that included the parents he sees while watching his kids' soccer games.
He also got some mid-round energy from a made-at-home sandwich, although he confessed he wasn't the one who put it together. Woods also didn't reveal if the crusts had been cut off.
The home game obviously appealed to the 14-time major winner as he put forth what is likely the best round since he returned to play following a spinal fusion. Woods carded an even-par 70 in blustery conditions.
Compared to his last round at Riviera just over a week ago, this was much cleaner and featured better ball-striking. Woods only pulled the troublesome driver from his bag a handful of times but managed to hit seven fairways, missing several others by just a few feet, along with 10 greens.
His short game and putting were strong, especially considering the greens were, in his words, "scratchy." Of the eight greens he missed, he got up and down six times.
There was one blip on his scorecard that came at the par-5 third hole. Woods found a fairway bunker off the tee, laid up to 150 yards but put his approach into a greenside bunker. He had trouble getting his ball onto the green from there and stickhandled his way to a double-bogey. Still, the overall play on the day was viewed as a positive.
"I feel like I'm really not that far away," said Woods. "I'm starting to really get a feel for scoring again and scoring in tournaments, and today was a day that I'm very proud of because I missed the ball in the correct spots. I didn't do that in L.A. I hit the ball in the wrong spots and consequently, I was down the road after two days."
Woods' score left him inside the top 25 and in very good position to play on the weekend, something he needs. The more competition rounds he gets the better he'll get, he believes.
"I'm trying to get better, more efficient at what I'm doing and also I'm actually doing it under the gun, under the pressure of having to hit golf shots," said Woods, who is playing on consecutive weeks for the first time since 2015, "and this golf course is not forgiving whatsoever. I was very happy with the way I hit it today."
Woods will play his second round on Friday, teeing off at 12:45 p.m. ET.