Tampa's top line chasing NHL history
Steven Stamkos, Nikita Kucherov and Vladislav Namestnikov form the best trio in hockey right now, and it isn't particularly close.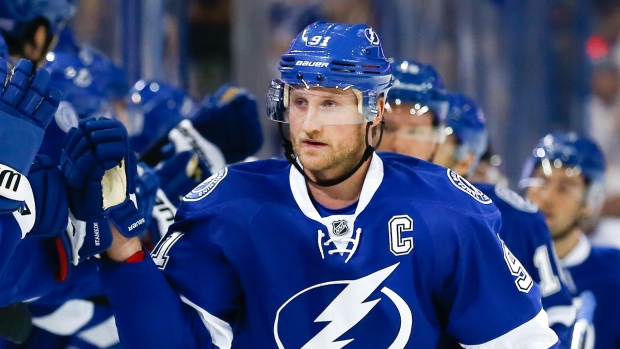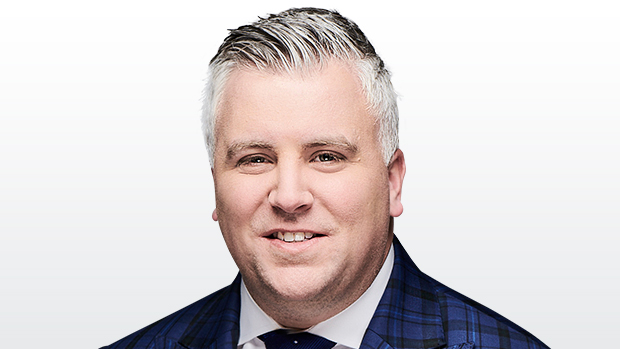 Steven Stamkos paused.
The spotlight has been shining on Stamkos and Nikita Kucherov – No. 1 and 2 in scoring – since they sprinted out of the gate as the fifth duo in the last 25 years to each net at least 20 points in the opening month of the season.
The Tampa Bay Lightning teammates' dominance has continued. Kucherov leads the league in goals (15) and Stamkos paces the pack with as many assists (21) as the No. 3 scorer has points.
Kucherov, 24, has at least one goal and one assist in five of his last eight games. Stamkos, 27, has nine multi-point games already.
But don't sleep on linemate Vladislav Namestnikov, Stamkos said.
"I know he flies under the radar, but he's a huge part of our line," Stamkos told reporters in San Jose. "It's fun. And we work hard as a line to get better. Vlady is a great player and he makes our line better."
Rapidly approaching the quarter pole of the season, it's apparent we incorrectly ranked the NHL's top lines last month.
Kucherov, Namestnikov and Stamkov – err, Stamkos – is hockey's top trio. And it isn't particularly close, except maybe from St. Louis' threat with Jaden Schwartz, Brayden Schenn and Vladimir Tarasenko.
They've combined for 29 of Tampa Bay's 64 goals, nearly as many as the Edmonton Oilers (32) or Carolina Hurricanes (35) have scored all season. Eighteen of those 29 are even-strength strikes, too.
Glancing at the NHL's scoring race – with No. 2 Kucherov now five points clear of No. 3 Blake Wheeler – Tampa Bay's top line is also chasing history.
It just might not look like it yet. You have to look big picture.
No line has finished 1-2-3 in NHL scoring since the famed "Production Line" of the 1949-50 Detroit Red Wings, when Ted Lindsay (78 points), Sid Abel (69) and Gordie Howe (68) dominated the Original Six. The 1944-45 Montreal Canadiens, with Elmer Each (80 points), Maurice "Rocket" Richard (73) and Hector "Toe" Blake (67), are the only other line to do it over the last 74 years.
The Lightning haven't even hit the quarter pole yet, but Namestnikov is quietly stalking the lead. He sits 23rd in scoring entering Thursday night's action, but he's just four points back of Wheeler for the third spot.
It's crazy to think it would be a possibility in a league that prides itself on parity. But with that line working so well – Stamkos and Kucherov have only played 6:57 of even-strength without Namestnikov this season – it's not out of the question that Namestnikov could keep pace.
With seven goals and 10 assists for 17 points in 16 games, the 24-year-old Namestnikov is already halfway to his career high of 14 goals, set in 2015-16. He scored just 10 all of last season.
He adds speed to an already dangerous line with two true snipers, including Stamkos, who has reinvented himself as a playmaker as much as a scorer.
Tampa Bay's skating has suffocated opponents. The Lightning (12-2-2) have a league-best 26 points for a reason; one of the trendy early season picks that has lived up to expectations.
"They were a man short and they looked like they had five more guys than us on the ice," Sharks forward Logan Couture told reporters Wednesday. San Jose had won four straight.
Three other times in NHL history have three or more teammates have occupied the top of the scoring list.
Most recently, the 1995-96 Pittsburgh Penguins, narrowly missed out on the feat. Mario Lemieux finished first, followed by Jaromir Jagr, and Ron Francis was one point away from third place – but they also weren't a line.
The 1954-55 Canadiens – with Bernie "Boom-Boom" Geoffrion, Richard and Jean Beliveau – finished 1-2-3, but they weren't a line since Geoffrion and Richard were both right wingers.
The 1973-74 Bruins had the NHL's top four scorers – Phil Esposito (145 points), Bobby Orr (122), Ken Hodge (105) and Wayne Cashman (89) – but Orr disrupted the Esposito trio from a 1-2-3 finish.
Then again, maybe the Lightning don't want Namestnikov to surge to No. 3 on the scoring list. Namestnikov is not only set to become a restricted free agent after this season, but none of those three teams who dominated the scoring list won the Stanley Cup that year.
Contact Frank Seravalli on Twitter: @frank_seravalli