Tatar scores late to lift Wings over Canucks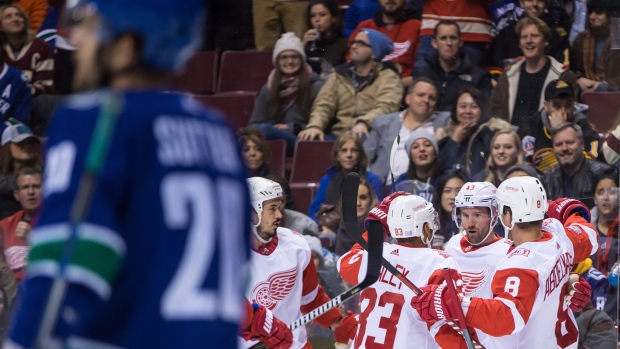 VANCOUVER — Tomas Tatar scored the go-ahead goal late in the third as the Detroit Red Wings edged the Vancouver Canucks 3-2 on Monday.
Martin Frk and Darren Helm also score for Detroit (8-7-1), which has won four of its last five following a six-game losing streak.
Jimmy Howard made 26 saves for the Red Wings after Petr Mrazek's 36-save shutout in Edmonton the night prior.
Daniel Sedin and Michael Del Zotto scored for Vancouver (7-5-2), which played its final game of a five-game home stand (2-2-1).
Jacob Markstrom made 26 saves in his fourth straight start for the Canucks.
Tatar scored the winner with 1:14 left shortly after a face-off. A deflected puck went right to him and he made no mistake with a wrist shot over Markstrom's right shoulder for his 200th career point.
Despite playing its second game in as many nights, Detroit came out more aggressive and opened the scoring less than five minutes in on a rush. A streaking Justin Abdelkader swatted his rebound off the back boards to Frans Nielsen, whose shot Markstrom kicked out right to Helm for the put-back.
The Canucks had a chance to tie it with Abdelkader off for interference later in the first, but Henrik Sedin missed on a wide open net. It was only the fifth shot on goal this season for the struggling captain.
Sedin got another chance in the second when Jake Virtanen sprung him for a breakaway, but Sedin put the puck squarely on Howard's jersey logo.
The Red Wings went up 2-0 at 15:15 on the power play with a goal that had Canuck fans groaning. Frk's slapshot through traffic rebounded to Canucks defenceman Chris Tanev, who appeared to miscalculate a clearing attempt and shovelled the puck right into his own net. Frk was credited with the goal.
The Canucks rallied to tie it in the third with goals 2:14 apart. First Daniel Sedin battled for a loose puck in the Detroit crease before backhanding it in to make it 2-1 at seven minutes in. Then Bo Horvat found Del Zotto in the slot and the defenceman wristed the puck over Howard's shoulder, as the crowd erupted. It was Sedin's first goal in seven games and Del Zotto's first of the year.
Notes: The Canucks wore lavender jerseys in warm up as part of Hockey Fights Cancer Awareness night. ... Vancouver recalled forward Brandan Gaunce from Utica (AHL).