Tavares in 'no rush' to re-sign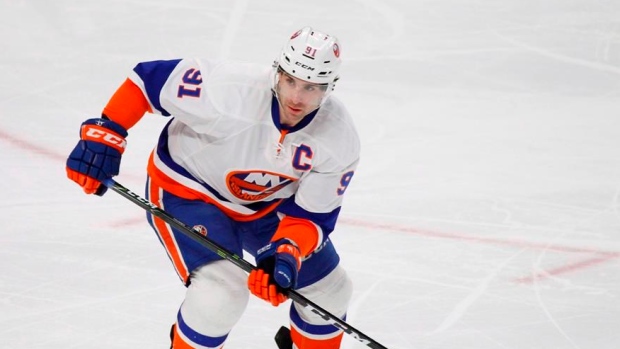 John Tavares isn't revealing any details about his next contract, but the New York Islanders captain made it clear he's in no rush to sign an extension this off-season.
Tavares became eligible to sign an extension on July 1 and while rumours placed terms at around eight years and $80 million, there has seemingly been little progress made on a new deal.
"For me, there's really no rush," Tavares told Arthur Staple of Newsday on Wednesday morning. "I'm trying to determine things, let the process run its course, keep the lines of communication open, keep it all internal and it's been good so far . . . In terms of signing a new contract, there's a lot that goes into it. To really dive into all the details, get into all the conversations I've had with Garth (Snow), the team and Doug (Weight), I don't think it's productive to the situation and the negotiating. I prefer to keep it all internal, that's the best way to keep it all open, honest and healthy."
The 26-year-old has stated his desire to remain with the Islanders throughout the summer and reiterated that again Wednesday. He did admit, however, that he's waiting to see how a proposal from the Islanders to build an arena at Belmont Park plays out. The ice at the Barclays Center has been a problem since the team moved in two years ago and one teammate argued it caused Tavares' season-ending knee injury in March.
"The possibility with Belmont and that (request for proposals) coming out, there's great potential there," Tavares said. "We'll see where it goes. A lot of those things are out of my hands. Some things I don't try to worry about them too, too much. I'm just a hockey player. I try to be as best prepared as I can be.
"It's a big decision obviously because it's eight years of my career, really entering into my prime years and a great opportunity for myself to achieve what I set out to achieve when I was a kid, making it to the NHL, wanting to win a Stanley Cup and wanting to do that with the Islanders."
Entering the final season of his six-year, $33 million deal, Tavares said he doesn't plan to let his contract become a distraction for the team and hopes to repeat the success Steven Stamkos had in his contract year. Stamkos played out his contract with the Lightning and signed an extension just days before free agency opened in 2016.
"It's only a distraction if you let it become a distraction," the centre said. "It's not something that every single day I stress and worry about. I'm trying to just be myself, prepare for the season like any other season. Try to be the best captain I can be, the best player I can be for the Islanders and be the best teammate I can be. I think everybody knows me pretty well, how I approach things. I think some of that comes from the media standpoint and I understand why the questions get asked. But at the same time all I can control, and all we can control as a team, is how we approach every day and how we can get better and achieve our ultimate goal.
"Everyone's circumstances are different, everyone's situation is different. I think the year (Steven) Stamkos re-signed, (Tampa) was a game away from the Finals. So that was a team that didn't let that situation affect them, nor do I think it should. For me, it's just focusing on being a hockey player and the way I've approached every season."
The Islanders made some key changes this off-season in hopes of fielding a competitive team to convince Tavares to stay. New York added Jordan Eberle from the Edmonton Oilers and traded Travis Hamonic for a haul of draft picks.
Tavares told Newsday he believes the Islanders are in position to contend for a Stanley Cup after missing the playoffs a season ago.
"Yeah, absolutely," he responded when asked if he believed the Isles were contenders. "We missed the playoffs by a point after a poor start. We were about as resilient as we could've been - there's not much reward for that, but I think just knowing the group we have, even after losing some good players and strong personalities that were there a long time, that we have a lot of talent and a lot of character.
"We're right there. We've just got to find a way to get over the hump, figure out what it takes on a daily basis. For sure, I believe we're a contender."
Tavares had 28 goals and 38 assists in 77 games last season and has 537 points (235 goals, 302 assists) in 587 career NHL games. The two-time All-Star has finished in the Top 10 in scoring twice in his career.