Tavares took less money to come home
The perfect pitch convinced the star centre to chase his childhood dream with the Maple Leafs, Frank Seravalli writes.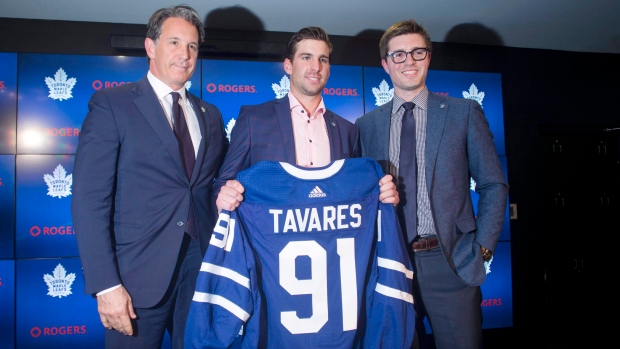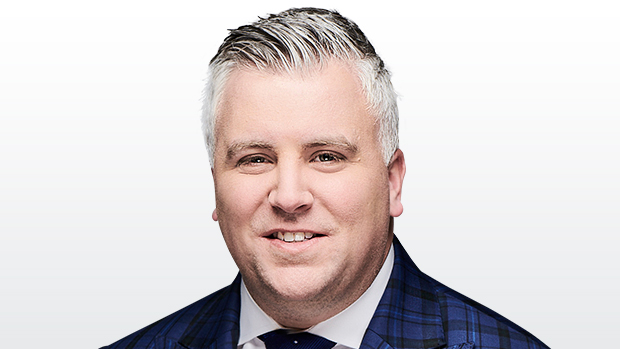 The tide began to turn on Thursday, the sirens from the shores of Lake Ontario pulling John Tavares closer to home.
Six teams sung for Tavares. They all struck a chord.
"Every team made a great case," Tavares said during his introductory press conference in Toronto on Sunday. "As we got back from L.A., I just felt like my heart was in two places: where I'm from and the place that I've been for a long time, the place that made me the man I am."
Two years ago, the Toronto Maple Leafs swung and missed on Steven Stamkos. They misread the play. They tried to sell Stamkos on all that Toronto had to offer as the self-proclaimed centre of the hockey universe, how his pockets could be lined with sponsorship dough.
The pitch was more low-key this time. It hit all the right notes.
There was a video. They laid down ice in Scotiabank Arena for just one day this summer and Mitch Marner played a starring role. Auston Matthews worked Tavares on the phone later in the week. Mike Babcock clearly defined Tavares' role and optimal linemate in Marner.
"I think the most important part was presenting the players he was going to play with and be with every day on the team," GM Kyle Dubas said. "I think our guys were very good in letting him know how we operate and what we could offer."
Turns out, the Maple Leafs won on what they alone could offer.
The decision that turned the hockey world on its axis, with Tavares becoming just the second superstar in NHL history to leave his first team via free agency, boiled down to one boyhood photo.
Tavares himself sleeping in bed sheets adorned with Maple Leaf logos.
"It's time to live my childhood dream," Tavares said.
There is no place like home. It wasn't about linemates, facilities, blind loyalty or dollars. Tavares left as much as $14 million on the table, since the San Jose Sharks were believed to have offered a seven-year, $91 million deal.
This was about being a fan again.
"As a kid, cheering for the Leafs, you start to get those feelings again," Tavares explained. "It was hard to turn down this opportunity. I felt that the timing couldn't be beat."
Make no mistake, this was an agonizing decision. Tavares didn't look like a man who just had $15.25 million wired into his account earlier in the day as a signing bonus. There was no ear-to-ear smile, thinking about what he left behind on Long Island.
"My gut, my heart was torn," Tavares said. "My heart was tearing about just trying to figure out what I wanted to do … It was maybe the uncomfortable thing to do, but I didn't want that to hold me back from the opportunity and what we could do."
This was all part of the Brendan Shana-plan. The day he was hired he spoke about restoring pride in wearing the Maple Leaf, restoring pride in playing for Toronto.
The truth is the type of pitch that wooed Tavares wouldn't have been possible even as recently as two years ago with Stamkos. That summer, the Leafs were the 30th place team, it was before Matthews and before Marner was Marner.
"That was something that I recognized when I first got here," Shanahan said. "There were changes that needed to be made."
The change, Shanahan explained, was that the Maple Leafs needed to feel "safe."
For a player of Tavares' ilk to come home, he needed to know that the city's hopes would not live or die on his shoulders alone. So many players before Tavares wanted to be the hero that brought glory back to the Leafs, but it wasn't even a reasonable bet for most of Tavares' lifetime to think they had a chance to be truly successful.
"When you grow up somewhere, sometimes it's harder for those players to come home," Shanahan said. "They want to feel safe. It's not just you, it's your family, the people you grew up with that are going to come on this journey with you."
Dubas succinctly said the pitch to Tavares was on "a definitive basis" of what the Maple Leafs are and "not a speculative one."
For all that Tavares loved about the New York Islanders, they were purely speculative. After one playoff series win in nine seasons, new general manager Lou Lamoriello could only sell Tavares on hope.
Suddenly, Lamoriello sounded like a jilted lover when he said in the Islanders' statement that Tavares enjoyed "great individual success" after his captain chose his former team.
The irony is that Tavares left to chase team success. He made the difficult decision and took the road so few superstars have taken, and was willing to stand in the spotlight and choose the place that had been "unsafe" for so long.
There are so many lingering questions about how the Maple Leafs will navigate the turbulence ahead with contracts pending for William Nylander, Matthews and Marner.
Those will be answered another day, after the Leafs take a run at a Stanley Cup with cap space to spare – alongside a star who only wanted to do it at home.
"It was quite the process," Tavares said. "I believe this team's got such a great opportunity. All seven years are a window to win. You start to get all those emotions coming, it really just feeling right."
Contact Frank Seravalli on Twitter: @frank_seravalli​