Taylor, Hearn both survive at Wyndham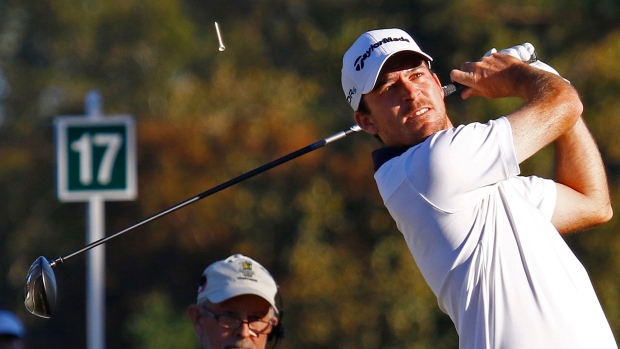 Nick Taylor saved his best for last while David Hearn gave himself some hope as the regular season of the PGA Tour came to a close at the Wyndham Championship on Sunday.
Taylor posted the best round of his season – actually, the lowest of his PGA Tour career – in the final round of the tournament. His 63 was good enough to move him from 129th on the FedEx Cup points list to 119, giving him full privileges for next season. It also means he'll play this week in the first round of the FedEx Cup playoffs.
"It's just nice to be able to get it done," Taylor said from New Jersey where he was preparing for the first playoff event. "I've been hitting it well and I just started putting better. I putt a lot into last week so it's great to see it come together."
To say Taylor has been grinding it out down the stretch the last few months might be an understatement. The 30-year-old has played eight of the last nine weeks, racing to the finish line in hopes of staying above the all-important 125 mark.
He hardly touched a club on the one week he had off, preferring instead to rest both his body and his mind. That allowed him to show up at Wyndham prepared for what he knew would be a stressful week.
"Early in the week I was thinking about it a lot," he admitted. "When I was playing it wasn't too bad but Saturday night I didn't sleep much. I was just running scenarios through my head all night."
While the final event no doubt ratcheted up the pressure, it's easy to look back at many points during the season and see what are now important moments. I walked along with Taylor's wife, Andie, the last few holes of his second round at the RBC Canadian Open. As she looked on nervously, Taylor bogeyed the 17th hole to fall to four-under, just one above the cutline. But a solid drive and iron to the green on 18 set up a final-hole birdie to keep him playing on the weekend.
During the course of the year, there are probably dozens of such points where what seem like inconsequential swings can often add up to be important. And although he only earned a handful of points for his finish at Glen Abbey, it helped push him onto the right side of the FedEx Cup ledger in the end.
"I can look at lots of different weeks where a shot here or a shot there made a difference. It all adds up."
Taylor now gets to essentially play for house money for the first playoff event. That said, he still wants to try and go as far as possible in the post-season.
"I've got a lot of confidence right now so I'm excited for this week," he stated. "It will be nice not to have that pressure."
Hearn, meanwhile, was also in position to move inside the 125 cutline after finishing three rounds just one shot back of the lead. But he could only manage a final-round 70. He tied Taylor in eighth spot, marking his best finish of the season and ending the year in 138th place on the FedEx Cup points list.
While he didn't earn full playing privileges, Hearn did get himself some starts for next season by getting into the 126-150 category – he came into the tournament ranked 156th.
The category is where he played this past season and managed to start 21 events. While that may sound positive – and, in many ways it is – Hearn won't be able to pick and choose where and when he plays. He'll have to tee it up whenever an opportunity presents itself. But he doesn't seem worried about that.
"I'm happy, considering I was outside 150 going in," he said. "Obviously I want to get back to playing the way I know I can and compete on the PGA Tour so that's the goal heading into next season."
Hearn will try to improve his standing by playing the Web.com Tour finals starting this week in Ohio. That tournament pits 50 golfers from the Web.com Tour – including the top 25 who already have PGA Tour privileges locked up – and PGA Tour players who finished 126-200. There are 25 more spots available in the four-tournament shoot-out.
"I was outside of the top 150 for most of the year so I had always planned on playing [the Web.com finals]," he added. "It would be nice to improve my status."
By the way, there were lots of comments on Hearn's interview with Golf Channel's Lisa Cornwell after his third round in which he was just a shot off Brandt Snedeker's lead.
In it, he appeared to say that he was more focused on keeping his playing privileges than winning the tournament - at least that's what the commentators seemed to be suggesting.
But it was never Hearn's intent to say it that way.
"She basically asked me the same question three times so I didn't know how to answer it differently," Hearn chuckled. "But what I was trying to say was I didn't want to focus just on winning – of course I wanted to win – but I just wanted to go out and play my game and let things take care of themselves."
Hearn didn't play as well as he had the first three days but overall, he was pleased with his result and even more optimistic about where his game is.