Team-by-team look at the quarterback situations
This off-season could see unprecedented movement at the quarterback position nearly league-wide. TSN.ca takes a look at each team's QB situation heading into the off-season.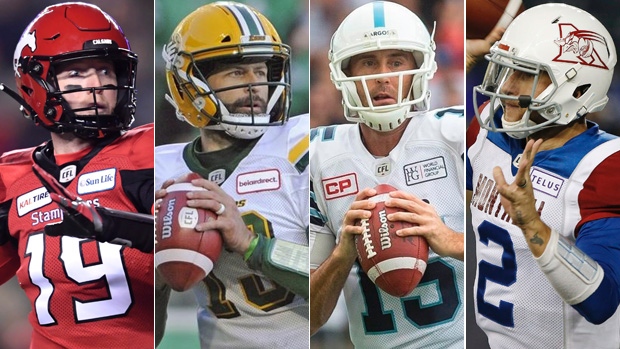 This off-season could see unprecedented movement at the quarterback position nearly league-wide. TSN.ca takes a look at each team's QB situation heading into the off-season.
BC Lions
Both Jonathon Jennings and Travis Lulay have expiring contracts this off-season. Jennings started 10 games this season, but gave way to Lulay down the stretch of the regular season.
"Jennings, who threw for 5,000 yards just two years ago, really hasn't been a fit the last couple of seasons," TSN Football Insider Dave Naylor said. "He's expected to move on."
Lulay returned from injury mid-season to lead the Lions into the playoffs, but the question concerning the 35-year-old is if he suits up again next year.
"Lulay's got a decision to make about whether retirement is in his near future or whether he's going to continue to play," Naylor said.
"I've said every year the last few years and it's been genuine, that I have to sit down and think about it," Lulay told reporters after the Lions lost to the Hamilton Tiger-Cats in the Eastern Semi-Final. "It does take a toll putting all that extra time and energy into just being on the field."
Lions GM Ed Hervey could look to bring current Edmonton Eskimos starter Mike Reilly back to BC as a free agent this winter.
Calgary Stampeders
The Stampeders' plans at quarterback depend on whether or not 2018 Most Outstanding Player Bo Levi Mitchell signs in the NFL. Mitchell has made it clear he loves the city of Calgary and the Stampeders, but if he gets a legitimate shot with an NFL team, he's expected to take it.
"At this point if I sign a contract right now (with the Stampeders) it'd be long-term," Mitchell said at the team's Grey Cup rally on Tuesday. "To commit to this city and this team for a long time. But before I do that I have to know. I'm an athlete, I'm competitive, I grew up in Houston, Texas, and I gotta know."
If things don't work out in the NFL, Mitchell has already said he'll only play for the Stampeders and the team will make sure they have room for him.
"The Stampeders I believe are going to try to be prepared, and keep some money aside in the event that things don't work out for Bo," TSN's Farhan Lalji said.
Edmonton Eskimos
Reilly is a pending free agent, with the Eskimos already making it clear they want him back. But the decision still lies with Reilly, who said he will take his time determining his future.
"I think for Mike Reilly things are a little bit more wide open," Lalji said. "He didn't necessarily make any commitments at his season-ending news conference about staying in Edmonton and I would not expect him to sign anything until a new CBA is put into place. Edmonton is doing their part: they brought Jason Maas back (as head coach), they elevated Jordan Maksymic to offensive coordinator."
"It's not a rush decision, we have plenty of time," Reilly said at his season-ending news conference. "I'm certainly going to take my time to make sure that I've thought everything through."
One factor that could make Reilly's decision harder is an expected push from the Lions and his old GM to sign him.
"There are many who believe that Hervey is going to make a massive push to bring Reilly back to BC where he started his career," Lalji said. "Hervey was of course the general manager who brought Reilly to Edmonton and gave him his first shot. Reilly also lives in the Seattle area, and he and his wife have family there, so there are some obvious proximity concerns that would play into BC's advantage."
Saskatchewan Roughriders
Both starter Zach Collaros and backup Brandon Bridge, who saw plenty of action for the Roughriders this season filling in for an injured Collaros, are on expiring deals.
"Things are wide open at the quarterback position," Lalji said. "Health a big concern for Collaros, both on his side but also for any potential team that wants to bring him in, given how this season ended.
"As for Bridge, he just wants a legitimate opportunity to compete. I'm not sure he believed he got that in Saskatchewan.
"As for the Riders themselves, they're open to all options."
Winnipeg Blue Bombers
Matt Nichols is expected to be back behind centre with the Blue Bombers next season as Winnipeg is one of only three teams whose starter is under contract for 2019. Nichols started the year hurt, but finished with 3,146 yards, 18 touchdowns, and 13 interceptions in 14 regular season games, and led the Blue Bombers to the Western Final.
Hamilton Tiger-Cats
The Tiger-Cats also have their starting quarterback under contract for next season. Jeremiah Masoli took over starting QB duties under June Jones midway through the 2017 season, and was named the East Division nominee for Most Outstanding Player last season.
Toronto Argonauts
The Argonauts' QB plans could rest on whether veteran Ricky Ray returns from a neck injury he sustained early in the season.
"Ray is still waiting for some medical reports in the month of December which will tell him even if he has the option to want to come back in 2019," Naylor said. "But I think the sense is no one will be surprised if Ray has played his last game in the CFL."
For Ray's part, he didn't close the door on a return when talking to reporters earlier this month.
"Obviously I still have the feelings of wanting to play, but I just have to make sure that it's the right decision for me."
If Ray doesn't return, the QB picture in Toronto gets a lot murkier.
"They struggled with McLeod Bethel-Thompson and James Franklin at the quarterback position," Naylor continued. "So there could certainly be some changes there in Toronto."
Ottawa Redblacks
Trevor Harris, who led the team to the Grey Cup this past year, is on an expiring contract but he's made it clear his top priority is to stay in Ottawa.
"I don't plan to enter free agency and find who the highest bidder is," Harris told reporters after the Grey Cup. "When I came here in 2016 I took less than what I was offered elsewhere. I'd like to finish my career here if I could."
Lalji said the process of keeping Harris may have already begun for the Redblacks.
"When they signed that deal they also put the framework in place for a 2019 deal but they didn't put pen to paper on that deal because of the expiring CBA."
"When you look at the situation around Harris, he's very happy in Ottawa right now … I don't think he necessarily wants to move around much anymore so you could see a scenario where he potentially wants to use the framework of that deal as a launch point to a new long-term deal. But either way, all signs point to Harris returning to Ottawa."
Montreal Alouettes
The Alouettes are the third team to have the quarterback they plan to start the 2019 season with under contract, but just who that quarterback is has yet to be determined. During his season-ending news conference, Alouettes head coach Mike Sherman didn't guarantee Johnny Manziel would be the team's starter next season, and said he, Antonio Pipkin – who started six games for the Als this season – and the team's other QBs can use the off-season to get a leg up on the competition.
"We're going to push the envelope on all our quarterbacks, (Manziel) included, to be the very best they can be," Sherman told reporters. "This off-season is critical, it'll be the defining moment on who the starting quarterback is going to be. And if (Manziel) wants to be the starting quarterback, he's going to have to bust his butt just like the rest of the quarterbacks are going to have to bust their butts this off-season.
"So we're going to know exactly where John is and where Pipkin is and where the other quarterbacks are based on what they do in this off-season."