Team Canada Aims for Three-Peat as TSN Delivers World Championship
Led by a decorated roster featuring a slate of returning gold medallists, two-time defending champion Team Canada aims for a three-peat at the 2017 IIHF World Championship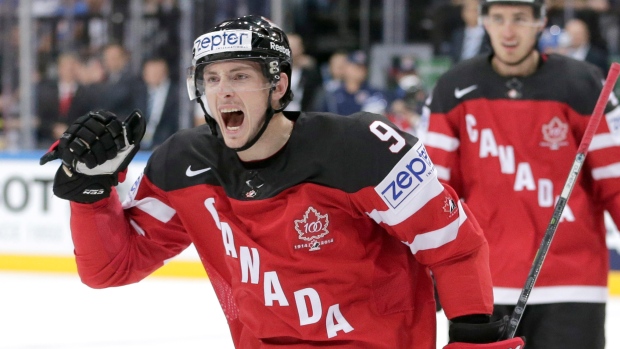 TORONTO (May 1, 2017) – Led by a decorated roster featuring a slate of returning gold medallists, two-time defending champion Team Canada aims for a three-peat at the 2017 IIHF World Championship– one of the 60+ iconic championships that live on TSN. Once again, Canada's Sports Leader exclusively delivers complete live coverage of all 64 games of the tournament, running May 5-21 from Paris, France and Cologne, Germany.
TSN drops the puck on the tournament with four games this Friday, May 5, including Team Canada facing off against Team Czech Republic at 2pm et on TSN. A complete broadcast schedule is available at TSN.ca, where fans can also find all the latest news, scores, extended highlights, must-see clips, original features, interviews, and much more.
TSN subscribers can also access live streaming and on-demand viewing of the network's exclusive live coverage of the 2017 IIHF Word Championship through the TSN GO mobile app, with French-language coverage available on RDS.
Calling all of Team Canada's games from Paris are TSN Hockey's acclaimed broadcast team of play-by-play commentator Gord Miller and analyst Ray Ferraro, with Laura Diakun reporting from rinkside. Play-by-play commentator Dennis Beyak and analyst Shane Hnidy call preliminary round action from Cologne, with Tessa Bonhomme reporting from rinkside. TSN Hockey Insider Darren Dreger contributes news, analysis, and interviews throughout the tournament.
Hosting the network's coverage from the TSN Studio are Rod Black and Bryan Mudryk, who are joined throughout the tournament by analysts Bob Errey, a two-time Stanley Cup champion and world champion, and Dave Reid, a two-time Stanley Cup champion.
TSN Radio stations across Canada are also set to deliver exclusive, live coverage of select games from the 2017 IIHF World Championship with a focus on every Team Canada game, with Jon Abbott delivering the call alongside analyst Dave Tomlinson (visit each station's official website for programming info). In addition to live game coverage, all stations follow the latest breaking news and analysis from the tournament. TSN Radio's coverage is also live streamed on each station's official website, on the TSN GO mobile app, and on the iHeartRadio mobile app.
Team Canada Roster (via Hockey Canada)
Canada's National Men's Team roster was selected by the Team Canada management group comprising general manager Ron Hextall, assistant general manager Sean Burke, director of player personnel Larry Carrière and Scott Salmond, vice-president of hockey operations and national teams with Hockey Canada. Selections were made with input from the team's coaching staff, including head coach Jon Cooper, assistant coaches Gerard Gallant and Dave Hakstol, and goaltending coach Dave King.
The list of the first 22 players confirmed to suit up for Canada's National Men's Team in the 2017 IIHF World Championship include:
Five players who were part of the team that captured gold at the 2016 IIHF World Championship (Matt Duchene, Michael Matheson, Ryan O'Reilly, Calvin Pickard, and Mark Scheifele)
Six gold medallists from the 2015 IIHF World Championship (Tyson Barrie, Couturier, Duchene, Giroux, MacKinnon, and O'Reilly)
Five players who have captured gold at the IIHF World Junior Championship (Brayden Point, Eric Comrie, Josh Morrissey in 2015; Giroux, Wayne Simmonds in 2008)
Team Canada enters the tournament as two-time defending champions, with a shot at capturing three consecutive gold medals for the first time since 1952. Since 1931, Canada has won the IIHF World Championship 20 times, the second most of all competing nations. Canada's National Men's Team has also captured 11 silver medals and six bronze in that span. With a victory at this year's tournament, Canada can tie Russia for the most championship wins in tournament history.