Team Canada eliminates USA at World Cup
Canada's 4-2 win over Team USA Tuesday eliminated their cross-border rival from the World Cup of Hockey and marked just how far apart the programs remain on the ice, Frank Seravalli writes.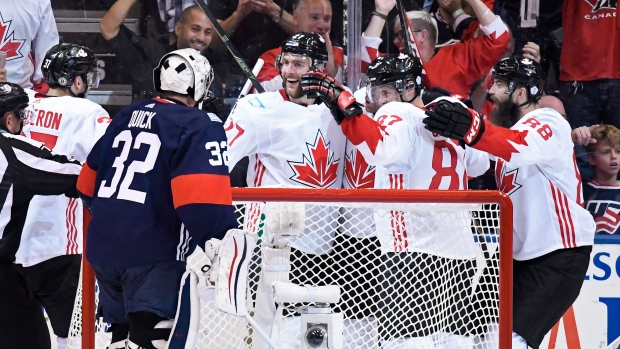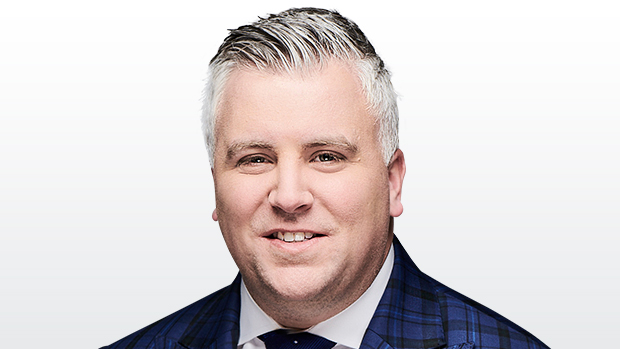 TORONTO — It was an average performance by Team Canada standards, but as the seconds ticked off, the red-drenched Air Canada Centre felt vindicated. Again.
The Canadian faithful weren't going to pass on an opportunity to give it to USA Hockey, the program which has spent the past two decades billing itself as on level ground with Hockey Canada, so they broke out in song.
Nah, nah, nah. Hey, hey, hey. Goodbye.
And with that, it was goodbye to Team USA in the 2016 World Cup of Hockey. The American roster purportedly built solely to take down Team Canada on Canadian soil fell flat on its face. Canada eliminated Team USA on Day 4 of the tournament with a methodical 4-2 win that wasn't even as close as the final score might have indicated.
"There were times tonight that I didn't think we were even close to being as good as we're capable of being," coach Mike Babcock said. "But it was an opportunity to get better today, and now we're set up to play more games in the tournament, which is real positive."
Team Canada and Team Europe will advance to the semifinal round this weekend from Group A, regardless of the results over the final two days of preliminary action.
Tuesday night's do-or-die showdown marked just how far apart the two cross-border rival programs remain on the ice. It was the low water mark for USA Hockey in the last 30 years.
Canada is now 6-1 against the United States in best-on-best competition since the Americans captured the 1996 World Cup of Hockey, an event that was supposed to be a watershed moment.
The United States has not won a best-on-best international tournament in two decades. And Tuesday's result, failing to advance past the preliminary round for the first time since the 1987 Canada Cup (a span of eight tournaments), indicated USA Hockey is spiraling in the wrong direction.
"I feel like we let our country down. We let ourselves down," Ryan Suter said. "It's just disappointing. You come into this not knowing how many more chances you're going to get and to be out after two games is extremely disappointing."
Meanwhile, Canada has maintained its masterful domination from the 2014 Olympics. They have surrendered a total of four goals in their last eight international games, dating back to Sochi.
Fingers will be pointed at Team USA coach John Tortorella, who failed to utilize his best roster in this tournament, including scratching star defenceman Dustin Byfuglien for the opener.
"I think we let some people down," Tortorella said. "It's on my watch. I certainly feel responsible for that."
Excuses will be made for the fact that the Americans were neutered by the creation of Team North America, missing out on the services of rising stars such as Johnny Gaudreau, Jack Eichel, Seth Jones, and Auston Matthews. (That doesn't account for Team Canada missing Connor McDavid, or that Duncan Keith and Tyler Seguin were injured.)
But the blame should rest at the feet of the USA Hockey management staff, including Dean Lombardi, Paul Holmgren, Brian Burke and Jim Johansson. They tried to overthink the tournament's mission, which is to ice the best roster possible.
It seemed Phil Kessel, who finished second in Conn Smythe Trophy voting, was never going to make the roster - regardless of his offseason hand surgery. That's why Kessel wasn't wrong to pile on after Team USA's loss on Twitter.
Babcock reminded on Tuesday that it is all about the players. And the United States is still a long ways off.
"Sometimes we get way too caught up talking about structure and systems and all that, and it's just the players are better," Babcock said. "I had that same structure and we finished dead last last year. I was the worst coach in the National Hockey League, if you remember correct.
"So let's put things in perspective. It's called players, really good players. And when you're fortunate that they let you coach really good players, you look like a pretty good coach sometimes."
The United States managed two goals in two games. Hart Trophy winner Patrick Kane netted zero. They were overmatched from top to bottom. The United States lost to the best hockey team in the world on Tuesday. But as Suter reminded, their fatal blow was falling to Team Europe out of the gate – not losing to Canada.
"You guys can beat up the roster all you want," Tortorella said. "You look at some of those players on our roster, there are some pretty good skill players, and we just simply did not do enough offensively. And we self-inflicted quite a bit in the two games. We gave some easy goals, and you just can't do that in a short tournament."
This Team USA ended up being a poisonous concoction of personnel and scheme. And the players were left holding the bag, searching for answers.
"To come so close in Vancouver, to beat Canada early in the tournament, and then lose to Canada in overtime in the 2010 Olympics, and then to go to Sochi and play, it wasn't really the style that we wanted to play, so that was disappointing. We had a chance to win a bronze medal there, and we didn't," Suter said. "And then to come here, and flop like we did is extremely disappointing."
Contact Frank Seravalli on Twitter: @frank_seravalli