Teenager Barrett leads Canada past China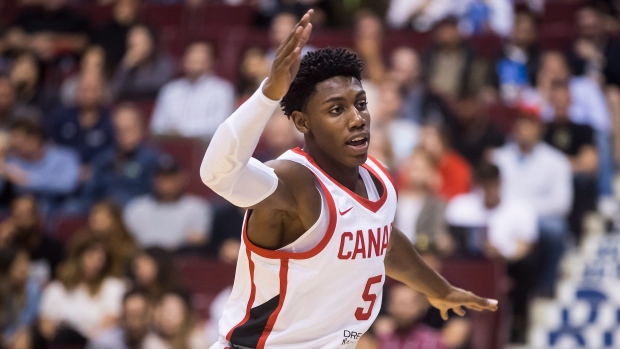 VICTORIA — R.J. Barrett had a game-high 21 points as Canada's men's senior basketball team beat China 108-72 on Sunday in the back half of the Pacific Rim Basketball Classic.
The 18-year-old Barrett, from Mississauga, Ont., made his national senior team debut on Friday when Canada beat China 97-62 in Vancouver.
"Huge honour. I try to represent my country every year if I can and I'm definitely thankful I got this opportunity," said Barrett.
Canada had four players score in double digits by the end of the third quarter in Sunday's rout.
Andrew Nembhard contributed 18 points as the Canadians hit 20 three-pointers in the contest.
The Canadians open with a 12-2 run and led 22-4 after the opening quarter. Dillon Brooks had seven first-quarter points and Canada carried a 24-point advantage into halftime.
"I liked our defensive intensity," said head coach Jay Triano.
"I think we have to be a little bit more better with our communication on defence. As the game went on today, I thought we let them kind of get some open looks that we usually do a pretty good job of taking away."
The two-game series was a warmup as Canada prepares for World Cup qualifying matches against the Dominican Republic on Friday at Toronto's Ricoh Coliseum and the U.S. Virgin Islands July 2 at Ottawa's TD Place.
Canada has a 3-1 record in Group D of the American Qualifiers which also consists of the Bahamas, Dominican Republic and the U.S. Virgin Islands. Each team faces the other three teams on a home and away basis with the top three teams from each group advancing to the second round.
Canada can secure first place in the group by beating the Dominican Republic by at least 12 points and scoring a win over the U.S. Virgin Islands.
The next round of qualifying continues with games in September, November and February 2019.
The last time Canada qualified for the World Cup was 2010.