Ten takeaways from Babcock's media session
While Detroit Red Wings head coach Mike Babcock was insistent on Friday that new decision has been made on his future with his contract set to expire this summer, TSN's Mark Masters parses through what the Olympic gold and Stanley Cup-winning coach had to say and offers 10 takeaways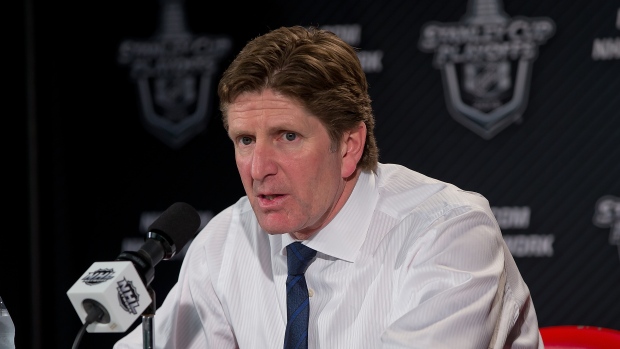 DETROIT – It is the greatest guessing game going in the NHL these days. Everyone wants to know: which bench will Mike Babcock be standing behind next season?
"I think some of you think there's this grandiose plan or something," Babcock told a huge group of reporters on Friday as the Detroit Red Wings cleaned out their lockers. "There has been no plan. There's no odds on anything. There hasn't been enough thinking going on yet."
The 52-year-old Babcock, whose current contract with Detroit expires this summer, thinks this is all a bit much.
"What I found is that every time I speak right now, someone tries to read into what I said," Babcock went on. "I wouldn't read anything into it, because there's nothing there, because I don't know myself. And if you think I'm trying to snow you, I'm not. I don't have any idea. I'm going to go through it in a logical manner and make some decisions."
That said, let's read into what Babcock said on Friday:
1. Babcock doesn't want to be a general manager and isn't yearning for a bigger say in player personnel decisions.
"I am part of making decisions here, but I have no skill-set to be the general manager," Babcock explained. "Anybody who thinks I want to go somewhere to be a general manager, they're talking to the wrong guy. I'm a coach, I love to coach. I love the players, I love the competition, I like being close to the ice. I love what I do and I think I'm good at it.
"So, do I want to have input? Yes. Do I have input here? Lots."
2. Money is not the key factor.
Wherever Babcock signs, his next contract is going to almost certainly make him the highest-paid coach in the NHL. And Detroit general manager Ken Holland made it perfectly clear on Friday that, if Babcock leaves, it won't be because the offer wasn't rich enough.
"Look at the (Detroit) Tigers and the Red Wings," Holland said. "When it's been time to step up, Mr. (Mike) Illitch steps up as good as any owner has in professional sports in my opinion. I want Mike to stay. Money isn't going to be an object."
3. Happy wife, happy life.
For Babcock, he will lean heavily on his wife, Maureen, as the couple decides together what to do next.
"I talked to my wife yesterday morning for the first time (about this) and everyone thinks Ken Holland's the boss, but actually my wife's the boss and that conversation didn't go very well, didn't last that long."
Why didn't the conversation go well?
"Well, it just got heated up pretty quick. Just one of those things."
4. Babcock must weigh his history in Detroit against the mystery of a new market.
It's hard, after all, to leave a situation that you know inside and out and with which you feel comfortable.
"The Ilitch family has looked after me and we've had a great hockey team," Babcock said reflecting on his decade in the Motor City. "We're the only team in the NHL that has made the playoffs 10 times in that time. I'm proud of what we've done here."
Overall, Detroit has made the playoffs in 24-straight seasons. It has been a remarkable run.
"The great thing about being here is the expectations are high," Babcock said. "I put expectations on our board all the time. Our owner expects you to be successful. I love that about this place. You're supposed to win. You're not supposed to be out, you're not supposed to have the team picture and the end of April or May."
Asked what his sales pitch to Babcock will be, Holland didn't hesitate: "My sales pitch is what's gone on the last 10 years."
"Mike knows the city, the passion of our fan base, the commitment of our ownership, we're going into a brand new building in two years," Holland continued. "He knows our young players. I think Mike knows what goes on here."
5. This has been an emotional time for Babcock.
He admitted that the aftermath of the Game 7 loss to the Tampa Bay Lightning was the toughest moment of his entire coaching career in Detroit. To put that in context, the Wings lost a close Game 7 in the Stanley Cup Finals in 2009. They lost in overtime against the Chicago Blackhawks in Game 7 of the second round in 2013 after leading the series 3-1. In 2011, Detroit came within a whisker of climbing out of an 0-3 hole against the San Jose Sharks in a second-round series losing another tight Game 7.
There have been some bitter defeats during his tenure. So why did this one sting so much?
"Was that because I thought in my heart we were going to win that series and we should still be playing, was that because of what's coming?" Babcock mused. "I don't know the answer to that, but I just know that there's a 24-hour rule in my house for sulking and I used all 24 hours."
6. Babcock has to decide if the Wings can still contend for a Cup.
It doesn't sound like he's made a decision one way or the other on this.
"We're not a million miles away," he said. "The way we played against Tampa Bay in Games 3-7, you think you're a Cup contender and you're out in the first round three out of four years. It's depressing."
In his post-game news conference on Wednesday, Babcock pointed out that Detroit's core players – Henrik Zetterberg (34), Pavel Dastyuk (36) and Niklas Kronwall (34) – are all in their mid-30s. He called this leadership group the best one he has ever coached in pro hockey.
Meanwhile, Johan Franzen's health remains a major question mark as he continues to recover from his latest concussion. He hasn't played since January 6 and Holland wasn't sure the 35-year-old would be ready for training camp.
"At one point this year, we had 15 kids under the age of 28," Babcock said. "We need the push from those kids. When I first got here, Datsyuk and Zetterberg and Kronwall were making older players that were here, they made them better. They were the kids that came and made them better and gave them another opportunity."
Babcock said he knows what he'll get from the veterans on the roster. The question is whether young players like Gustav Nyquist and Tomas Tatar can take another step forward and whether prospects like Anthony Mantha, Dylan Larkin and Teemu Pulkkinen can live up to their potential.
"They have to if we want to win," Babcock said. "That's the million-dollar question. Or millions-and-millions-of-dollar question."
The goaltending situation is also unsettled after 23-year-old Petr Mrazek stole the starting job from veteran Jimmy Howard down the stretch.
There are a lot of moving parts. It's up to Holland to convince Babcock the future is as bright as the past.
7. Nostalgia matters.
Babcock's three children have now all graduated high school so there is no concern about uprooting them.
"They still grew up here," Babcock pointed out when that fact was brought up. "I still go home to Saskatoon. My dad moved all over the world in the north when he was in the mining business and we stayed in Saskatoon. I still have a house outside there. Roots are important."
8. Babcock is not going to let this drag on.
So many teams – Buffalo, Toronto, Philadelphia and San Jose all have job openings – are waiting to see what he'll do and he knows it.
"I'm flattered, I really am," Babcock said after initially balking at the idea suitors would be lining up if he chose to hit the open market. "But this is what I'd say to you: my wife and I will go through a process and Kenny and I will go through a process and within 10 days we'll have a plan. I'm not letting this go forever and neither is Kenny. We'll decide what we're going to do."
If Grand Rapids, Detroit's AHL affiliate, wins on Saturday to force a Game 5 in its first-round series against the Toronto Marlies, then Babcock plans to make the drive to the game with Holland on Sunday. Oh to be a fly on the wall of that car during that multi-hour commute.
Holland says ideally he'd have a final answer from Babcock by the end of May.
9. The Wings definitely want Babcock back.
There was some speculation that after a few years of playoff disappointments, perhaps Detroit wouldn't be all that disappointed to see Babcock go. It would open the door for a younger, cheaper coach to take his spot. Grand Rapids bench boss Jeff Blashill, for example, is an NHL coach in the making, per Holland.
But Holland heaped praise on Babcock during a media session that lasted more than 30 minutes on Friday.
"I think he's done a fabulous job of pushing our players and making them accountable and having structure," Holland said. "Did the players like Scotty Bowman every day? Did the players like Mike Babcock every day? Probably not. I like that. You come to work and you don't really feel like working, but the boss makes you work. At the end of the day when you analyze everything as a player he's a fabulous coach to play for."
Babcock was asked if he believes sometimes players simply need a new, fresh voice to get them over the hump.
"Did we play hard? Were we organized?" Babcock asked rhetorically. "I don't feel that at all. Maybe they do. You'd have to ask the general manager. I don't think he thinks that."
10. Babcock knows he's had it good.
I asked the coach if there was anything else in his career, which has prepared him for what he's about to go through. He reflected on the fact he had been fired before and been looking for a job before. But there is one key difference this time:
"When I went some place before, there was always a better job. There's no better job."