Ten to watch in March Madness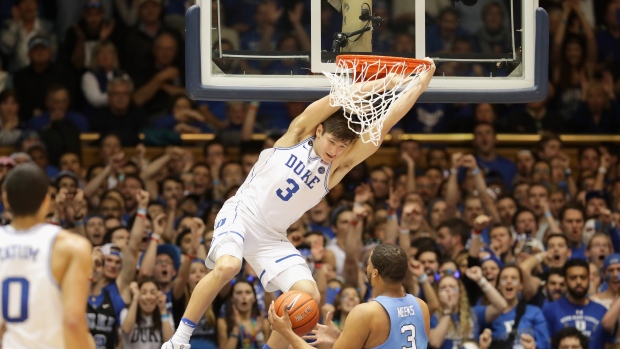 With the 2018 edition of March Madness expected to be one of the most wide-open NCAA Tournaments in recent memory, let's take a look at 10 players for you to keep tabs on as the Big Dance begins.

#9 Alabama Crimson Tide

Collin Sexton, PG (Freshman)
NBA COMPARABLE: Reggie Jackson
STATS
PPG

19.0

APG

3.5

RPG

3.8

FG%

.444

MPG

29.9
VITALS
After an SEC Tournament that saw the Crimson Tide upset top-seeded Auburn in the quarterfinals, Sexton has seen his draft stock rise and will likely now compete with Oklahoma's Trae Young to see who the first freshman point guard off the board will be. Long, explosive and unafraid of contact, Sexton is one of the most dynamic attacking players in this year's Tournament. Though his jumper is improving, Sexton still struggles with an inconsistent shot at times. He wears his heart on his sleeve, which can be a detriment to his game.
#10 Texas Longhorns

Mo Bamba, C (Freshman)
NBA COMPARABLE: Nerlens Noel
STATS
PPG

12.9

RPG

10.4

BLK

3.7

FG%

.541

MPG

30.2
VITALS
The first thing you'll notice about Bamba is his immensity. He has a standing reach of 9'6 and a 7'10-wingspan. Bamba can be everywhere in the paint and is a complete vaccuum on the boards. He's got very soft hands and knows how to find looks for teammates. Bamba is slight for his frame, though, something that will be more of an issue once he gets to the pro game. His offensive skills pale in comparison to what Bamba does on the other side of the ball.
#4 Arizona Wildcats

DeAndre Ayton, C (Freshman)
NBA COMPARABLE: Karl-Anthony Towns
STATS
PPG

20.3

RPG

11.5

BLK

1.9

FG%

.616

MPG

33.4
VITALS
Ayton is a double-double machine and could very well be the first person to hear his name called by Adam Silver on draft night. Ayton possesses a level of coordination that few his size do, meaning that the awkwardness often associated with a seven-footer just isn't there. A fine shooter who also runs the pick-and-roll with ease, Ayton's game shows few weaknesses. If there's anything to work on, coach Sean Miller wants to see Ayton stop settling for poorer looks when it comes to shot selection.
#5 Kentucky Wildcats

Shai Gilgeous-Alexander, PG (Freshman)
NBA COMPARABLE: Andre Miller
STATS
PPG

13.9

APG

5.0

STL

1.6

FG%

.485

MPG

33.3
VITALS
The most high-profile Canadian in this year's Tournament, Gilgeous-Alexander anchors the backcourt of one of the more unheralded Wildcats squads in recent memory. At 6'6, Gilgeous-Alexander is more combo guard than pure point guard, but is capable of playing at either position. While not as explosive as Sexton or Young, Gilgeous-Alexander is still a capable scorer off of the dribble and a durable attacker. Gilgeous-Alexander has a propensity for steals, but is just as apt to turning the ball over himself, something he'll need to curb as he prepares to transition to the pro game.
#10 Oklahoma Sooners

Trae Young, PG (Freshman)
NBA COMPARABLE: Steph Curry
STATS
PPG

27.4

APG

8.8

RPG

3.9

FG%

.420

MPG

35.3
VITALS
A volume scorer, Young is the most highly touted point guard prospect since Steph Curry. Young is a terrific shooter, capable of hitting from just about anywhere, and can operate off the dribble just as capably as he can catch and shoot. Young's commitment to fitness is impressive with many convinced that he will grow into his 6'2 frame. A run in the Tournament for the Sooners - which isn't exactly likely - could help propel Young into the top five in the draft come June.
#2 Duke Blue Devils

Grayson Allen, G (Senior)
NBA COMPARABLE: Bobby Sura
STATS
PPG

15.7

APG

4.5

STL

1.7

FG%

.429

MPG

35.2
VITALS
The biggest heel in the NCAA takes to the March Madness stage for one final time. Allen is a borderline first-round pick this summer and there's a lot to like about his game, but he can't seem to help himself when it comes to dirty play. Take last week's game in the ACC Tournament when Allen threw a hip check on UNC's Garrison Brooks to try and slow down a fast break. If stuff like this was few and far between, you could chalk it up to isolated incidents, but it's not and this kind of play has become Allen's MO.
#1 Villanova Wildcats

Mikal Bridges, G/F (Junior)
NBA COMPARABLE: Otto Porter Jr.
STATS
PPG

18.0

APG

2.1

RPG

5.4

FG%

.521

MPG

32.6
VITALS
A redshirt freshman when the Wildcats won it all in 2016, Bridges has evolved into one of the best shooters in the Big East. Shooting at .433 from beyond the arc, Bridges' jump shot is a thing of beauty with a terrific release. His length allows him to guard multiple positions and cover a lot of ground, making Bridges one of the best two-way players available this June. In order to make that jump to the NBA, though, Bridges is going to have to put on some mass and maybe get his hands a little more dirty when it comes to physicality.
#8 Missouri Tigers

Michael Porter Jr., F (Freshman)
NBA COMPARABLE: Kevin Durant
STATS
PPG

12

APG

1

RPG

10

FG%

.294

MPG

25
VITALS
First, a note - the above stats are not Porter's season average. They are from Mizzou's second-round loss to Georgia in the SEC Tournament, the only full game in which Porter appeared. The much-hyped freshman picked up a back injury two minutes into the Tigers' first game of the season and was sidelined for the remainder of it. In his return against the Bulldogs, Porter wasn't at all sharp and struggled with his shot. But Porter is an X-factor in what appears to be a wide-open West region. A win against FSU in their opener for the Tigers could set up a date with #1 Xavier and a healthy Porter could be enough to spring an upset of the Muskateers.
#3 Michigan State Spartans

Miles Bridges, F/G (Sophomore)
NBA COMPARABLE: Jae Crowder
STATS
PPG

16.9

APG

2.8

RPG

6.9

FG%

.463

MPG

31.2
VITALS
Capable of highlight-reel dunks and sheer explosiveness, Bridges will be fun to watch because he's apt to whip up something spectactular out of nowhere. A terrific defender at the wing with above-average passing vision, Bridges will need to hone his shot to take the next step to the pro game. The knock against Bridges is, of course, his size. He's probably too undersized to play the post and his wingspan of 6'9 might cast aspersions upon how he'll translate to the NBA.
#2 Duke Blue Devils

Marvin Bagley III, C (Freshman)
NBA COMPARABLE: Chris Bosh
STATS
PPG

21.1

RPG

11.5

APG

1.6

FG%

.605

MPG

33.4
VITALS
Arguably the most NBA-ready player in this edition of March Madness, Bagley brings a wealth of talent to the table. With impressive control of his nearly seven-foot frame, Bagley is quick, has good hands and a deft touch in the paint. When hauling down boards, Bagley can be relied upon for a smart pass to get the breakout started. While there are few holes in his game, that doesn't mean that there aren't things for him to work on improving, starting with better decision-making, especially down low.
Canadians to watch in the 2018 NCAA Tournament

CANADIANS IN MARCH MADNESS
POS/YEAR
PLAYER
SCHOOL
HOMETOWN

G/Fr.

Emmanuel Akot

Arizona

Winnipeg

F/Jr.

Kyle Alexander

Tennessee

Scarborough, Ont.

G/Fr.

Nickeil Alexander-Walker

Virginia Tech

Toronto

F/Fr.

Oshae Brissett

Syracuse

Mississauga, Ont.

G/Fr.

Christian David

Buffalo

Milton, Ont.

F/Fr.

Isaiah Jasey

Texas A&M

Ottawa

G/Fr.

Dominic Johnson

Buffalo

Windsor, Ont.

F/Fr.

Mfiondu Kabengele

Florida State

Burlington, Ont.

G/Jr.

Nelson Kaputo

St. Bonaventure

Toronto

G/Jr.

Kimbal Mackenzie

Bucknell

Oakville, Ont.

F/Jr.

Jelani Mofford

UNC-Greensboro

Mississauga, Ont.

F/So.

Nolan Narain

San Diego State

Hamilton, Ont.

F/Fr.

Gabe

Osabuohien

Arkansas

Toronto

G/Sr.

Kassius Robertson

Mizzou

Toronto

F/So.

Jackson Rowe

Cal State-Fullerton

Toronto

F/So.

Aher Uguak

Loyola-Chicago

Edmonton

F/So.

Kalif Young

Providence

Vaughan, Ont.