TFC hosts Sporting KC with home opener success on their side
Toronto FC welcomes Sporting KC to BMO Field to open their 11th Major League Soccer home schedule tonight at 7:30pm et/4:30pm pt on TSN4. TFC has a 6-4-0 all-time record in home openers, with many names of the past and present responsible for their early season successes and failures.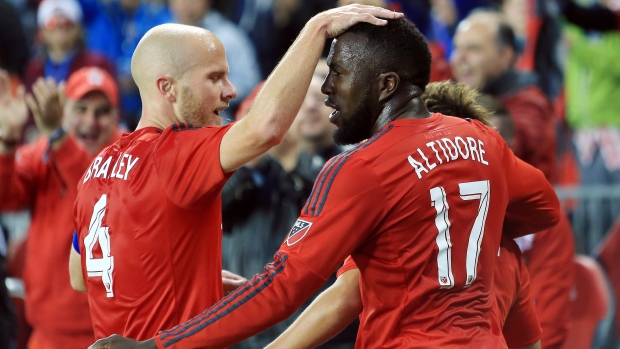 Toronto FC welcomes Sporting KC to BMO to open their 11th Major League Soccer home schedule tonight at 7:30pm et/4:30pm pt on TSN4. TFC has a 6-4-0 all-time record in home openers, with many names of the past and present responsible for their early season successes and failures.

Saturday, April 28, 2007 – KC Wizards 1- Toronto FC 0
In search of their first Major League Soccer point and goal, the league's only Canadian franchise (at the time) played their first home game at BMO Field against Kansas City Wizards in front of 20,148 fans.
The fans brought what head coach Mo Johnston called a "European atmosphere" and braved 11-degree weather to watch TFC try to achieve a better result than they had found in road games against Chivas USA, New England Revolution and the same Wizards team that ran them off 3-0, three days prior.
Despite the raucous crowd and a much better effort from the squad, Wizards striker Eddie Johnson scored the only goal of the game in the 81st minute to give the win to the visitors and leave Toronto FC still searching for that first marker and first point in franchise history.
While the rest of the season would not be much better for Toronto FC, the wait for that first point and goal would end two weeks later in a 3-1, home victory over Chicago Fire. Striker Danny Dichio would get that goal and subsequently be red carded in the same match, cementing his legacy as a team legend.
Toronto FC finished 2007 with a 6-17-7 record, dead last in the MLS.

Saturday, April 19, 2008 – Toronto FC 1 – Real Salt Lake 0
With Mo Johnston moving into a general manager role, head coach John Carver took charge of his first regular season game at BMO Field as Toronto FC welcomed Real Salt Lake to open their second MLS home schedule.
Newly signed Rohan Ricketts made an immediate impact for his new side and French international player Laurent Robert smashed home the only goal on a 31st-minute free kick just outside the box to secure the three points for Toronto FC.
Despite a better start to the season, TFC brought up the rear in the Eastern Conference with a 9-13-8 record, finishing ahead of only Western teams San Jose Earthquakes and Los Angeles Galaxy.

Saturday, April 4, 2009 – Seattle Sounders 2 – Toronto FC 0
"It was a disgrace," Carver said after his second home opener in charge of Toronto FC. "We've had our backsides kicked."
The expansion Seattle Sounders were on the road for the first time in their franchise history and they showed how far ahead of third year Toronto FC they were thanks to first-half goals by Freddie Ljungberg and Steve Zakuani to put a 2-0 contest on ice before the first 45 minutes had expired.
Amado Guevara had TFC's best chance of the game when he headed off the crossbar in the 69th minute, but offensive inspiration came few and far between for the home side.
"We were second to everything today and they looked sharper than us," said Toronto FC captain Jim Brennan.

Thursday, April 15, 2010 – Toronto FC 2 – Philadelphia Union 1
Dwayne De Rosario was the newly minted captain of the squad and he celebrated his promotion by scoring both goals in a 2-1 victory over Philadelphia Union to open the 2010 home schedule.
With the Union reduced to 10-men thanks to a red card shown to Danny Califf in the 34th minute, De Rosario wasted little time getting his team on the board with a goal on the subsequent free kick.
He converted from the penalty spot in the 82nd minute to complete the job.
Following the dismissal of Carver the previous season, new coach Preki was making his BMO Field debut and had his team on the front foot early in the season.
Unfortunately, the former MLS original and former Chivas USA head coach would not last the season after being fired along with Mo Johnston with six games left on the schedule.
Toronto FC would miss the playoffs for the fourth straight season.

Saturday, March 26, 2011 – Toronto FC 2 – Portland Timbers 0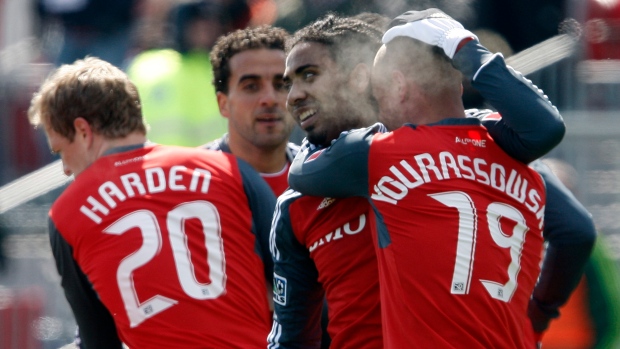 For the third straight season, Toronto FC welcomed an expansion franchise for their home opener and, for the second successive year, a player grabbed hold of the game and made it his own.
New striker Javier Martina scored twice, including a highlight-reel, one-touch finish for his second of the game, to lead the home side to a 2-0 victory as Aron Winter eased into his first season on the touchline for Toronto FC.
"Great, honestly great," Winter said of his first match in charge at BMO Field. "Only the weather was not so good."
This was the first time Toronto FC did not sell out their home opener, announcing a crowd of 20,086 though the temperature was below the freezing mark.
At the end of the 2011 season, TFC once again found themselves near the bottom of the standings, posting a 6-13-15 record with only the New England Revolution behind them at the end of the season.

Saturday, March 24, 2012 – San Jose Earthquakes 3 - Toronto FC 0
Chris Wondolowski and Shea Salinas combined to ruin Aron Winter's second home opener as head coach as the San Jose Earthquakes rolled to an easy 3-0 victory.
"You can lose a game, but not the way we lost the game today," Winter said of his team's heavy defeat. "There are a lot of things we didn't do well today,"
Captain Torsten Frings was injured the week prior in a 3-1 loss to Seattle Sounders and did not play in the home-opening defeat.
'Keeper Stefan Frei also missed the contest after suffering a broken fibula in practice the day before.
Winter would not see a third home opener and, in fact, was gone from the team in June after they stumbled to a 1-9-0 start to the 2012 season.
Paul Mariner would replace him, but after the team finished the season on a 14-game winless streak and with a franchise worse 5-21-8 record, he too would be shown the door.

Saturday, March 9, 2013 – Toronto FC 2 – Sporting KC 1 (at Rogers Centre)
After playing six straight home openers at BMO Field, Toronto FC opened their seventh home schedule at Rogers Centre in front of 25,991 fans.
With new head coach and ex-QPR defender Ryan Nelsen at the helm, Welsh striker Robert Earnshaw front flipped his way into Toronto FC lore with two goals and two emphatic celebrations to lead the home team to a 2-1 victory.
It wasn't an easy day at Rogers Centre as Sporting KC charged hard in the second half to get their marker and pressure Toronto FC right to the final whistle.
"We've got to take baby steps in a way to become a very good team," Nelsen said after the victory. "Yes, this will help in a lot of ways but we've still got a lot of work to do. We need to improve the team, we need to improve everything."
Another disaster season for Toronto FC would end with the team near the bottom of the standings and a 6-17-11 record.

Saturday, March 22, 2014 – Toronto FC 1 – DC United 0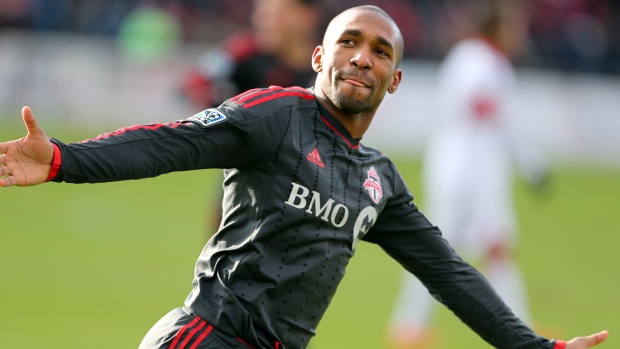 It was a Bloody Big Deal and it was an even better start to the season as new acquisition Jermain Defoe paid immediate dividends.
After making his high profile transfer from Tottenham of the English Premier League, Defoe scored the only goal in Toronto FC's home opening victory over D.C. United that ran their overall record to 2-0 for the first time in franchise history.
"We knew expectations were high, we knew the crowd would be out, we knew the field conditions meant it was going to be about who made a mistake and who took their chance," coach Nelsen said following the win.
Toronto FC had a lot of new blood on the pitch as Michael Bradley and on-loan 'keeper Julio Cesar also made their home debuts at BMO Field.
Despite the hype and hot start to the season, head coach Ryan Nelsen would be dismissed at the end of August and Defoe would be back in the Premier League by the start of the next season after Toronto FC and Sunderland completed a player swap involving American international forward Jozy Altidore.
Toronto FC would miss the playoffs again, falling eight points shy of Sporting KC for the final spot in the Eastern Conference.

Sunday, May 10, 2015 – Houston Dynamo 2 – Toronto FC 1
After replacing Ryan Nelsen in 2014, Greg Vanney took charge of his first home opener at BMO Field as Toronto FC opened their ninth season still looking to secure their first trip to the playoffs.
Sebastian Giovinco, who signed with Toronto FC in the offseason and was expected to join the team following the conclusion of the Serie A season, was also on hand to debut in front of the home fans after leaving Juventus five months earlier than expected.
Jonathan Osorio found the net for Toronto FC, but it was goals from Boniek Garcia and Will Bruin that made the difference as Houston Dynamo spoiled the party with a 2-1 victory.
Due to renovations at BMO Field, Toronto FC opened the season with seven straight road games
Giovinco would have a major impact for TFC, setting the MLS single-season points record and capturing the MVP award.
He, along with Jozy Altidore and Michael Bradley (now captain of the team), would lead Toronto FC into the MLS Cup playoffs for the first time in franchise history.
But Toronto FC's time in the playoffs would be short-lived as they would be eliminated in the knockout round by Montreal Impact 3-0.

Saturday, May 7, 2016 – Toronto FC 1 – FC Dallas 0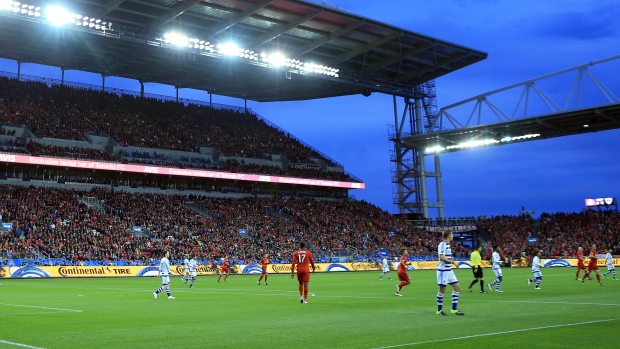 After another construction delay, Toronto FC opened BMO Field under the newly-installed roof and in front of 30,025 fans with a 1-0 victory.
After eight road games to open the campaign, the fans were in full voice to welcome home the team and Sebastian Giovinco rewarded them with a full scale performance. He fired 10 shots on goal and set up Tsubasa Endoh for the only goal of the game to earn the points.
"He does so much for us in terms of creating things, chances both for himself and others," said Vanney. "It's impressive. No matter how many times you see it, it's still impressive. It never changes."
Riding that momentum, Toronto FC was in the chase for first in the Eastern Conference for the entire season, eventually finishing third, four points behind New York Red Bulls.
TFC would storm through the playoffs eliminating Philadelphia Union, New York FC and Montreal Impact on their way to capturing the Eastern Conference and earning the right to host the MLS Cup.
Unfortunately for Toronto, they would lose the championship game to Seattle Sounders on penalties after a scoreless full time and extra time battle.