The 10 most-anticipated prospect debuts in Blue Jays history
Ahead of Vladimir Guerrero Jr.'s long-awaited debut Friday night, Scott Mitchell looks back at other Blue Jays prospects who entered the majors with serious hype.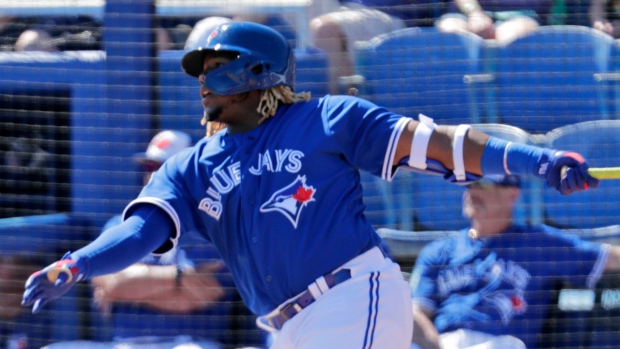 TORONTO — The Vladimir Guerrero Jr. hype train has been cruising at warp speed for over a year now.
Finally, on Friday, it makes its long-awaited stop in Toronto, likely for at least the next seven seasons.
The minor-league journey began for Guerrero with his first professional at-bat in the Blue Jays organization on June 23, 2016, and the rest has been documented on social media ever since.
The hype may have some comparables around baseball, but never this close to home.
All pipelines have good prospects. The Jays have had their fair share over the years.
But there's only one top prospect in baseball at a time and even fewer that elicit serious conversations about a Hall of Fame future.
When the word generational is thrown around, things start to get serious.
Where does the anticipation of Vladdy Jr.'s debut rank amongst past Jays' prospect arrivals?
You likely know the answer to that question, but this list – one that could've run 20 deep and left a lot of big names on the cutting room floor – attempts to subjectively sort that out:
10. RHP Roy Halladay
Age: 21, 129 days
Expected to form a dominant one-two punch with fellow right-handed pitching prospect Chris Carpenter, Halladay debuted on Sept. 20, 1998, on the road against the Tampa Bay Devil Rays, lasting five innings and giving up a of couple earned runs.
The memory of a ho-hum debut didn't last long, however, as Doc came within one Bobby Higginson swing of a no-hitter his next time out, which was his final start of the season.
There's a bust in Cooperstown that provides evidence of how the rest went.
Debut season numbers: 1-0, 1.93 ERA, 14 IP, 9 H, 2 BB, 13 K
9. SS Tony Fernandez
Age: 21, 64 days
Named by Baseball America as the top prospect in the organization in both 1983 and '84, Fernandez was called up in September of '83, getting into 15 games down the stretch.
The overall numbers were muted, but it was Fernandez's glove that started providing the highlights early on, before he really broke out in 1986 with a .310 batting average in a ridiculous 727 plate appearances.
Debut season numbers: .265/.324/.353 with 0 HR, 2 RBI in 34 at-bats
8. OF Shawn Green
Age: 20, 322 days
Green's rise to prospect prominence was steady.
In 1993, the year he made his debut on Sept. 28 with an O-fer effort against the Milwaukee Brewers, Baseball America had him as the 47th best prospect in the game.
A year later, still without a full-time role in the majors, BA bumped him up to No. 28.
Heading into the 1995 season, Green's stock was still on the rise, with BA placing him as the sixth-best minor-leaguer in the sport, and he responded by finally carving out a role and slowly repaying the faith evaluators had from the get-go.
Debut season numbers: .000/.000/.000 in 6 at-bats
7. RHP Kyle Drabek
Age: 22, 281 days
The key piece in the trade that sent Halladay to the City of Brotherly Love, Drabek was supposed to one day lead a revamped Jays' rotation back to prominence.
Arriving Sept. 15, 2010, in Baltimore, the son of Doug Drabek – maybe bloodlines aren't everything? – allowed three runs over six innings against the Orioles and it looked like happy days were ahead.
Not so much.
Over the next two seasons, Drabek would post ERAs of 6.06 and 4.67, before elbow problems set him back and his career never recovered.
Debut season numbers: 0-3, 4.76 ERA, 17 IP, 18 H, 5 BB, 12 K
6. OF Vernon Wells
Age: 20, 265 days
Drafted fifth overall in 1997, it took Wells a couple of years to find an everyday job after debuting in 1999 with a 24-game cameo in the majors. Despite an 0-for-3 day in his first game, Wells would make 92 trips to the plate as a 20-year-old and held his own for the most part.
The next two years provided up-and-down moments at both the major- and minor-league levels, but Wells broke out in a big way in 2002 with a 23-homer campaign.
Debut season numbers: .261/.293/.352 with 1 HR, 8 RBI, in 88 at-bats
5. OF Travis Snider
Age: 20, 209 days
Welcome to the Internet.
With prospect consumption growing each and every off-season, Snider was as hyped as any Blue Jays prospect in the 2000s.
Unfortunately, the ending wasn't anything to write home about, as the lefty would never be able to carve out a regular role in his career, and only played parts of five seasons in Toronto.
Snider picked up a hit in his debut against the New York Yankees on Aug. 29, 2008, but he was never able to come close to living up to the expectations that had Baseball America calling him the sixth-best prospect in baseball heading into 2009.
Debut season numbers: .301/.338/.466 with 2 HR, 13 RBI in 73 at-bats
4. OF Derek Bell
Age: 22, 199 days
Drafted in the second round in 1987, Bell scuffled to begin his minor-league journey, but busted out in a massive way in 1991 while repeating Triple-A with the Syracuse Chiefs, leading Baseball America to name him their minor-league player of the year.
The right-handed hitting outfielder was an attractive package of speed and power, evidenced by his .346 batting average, alongside 13 homers, 12 triples and 27 stolen bases that season.
Bell debuted at home against Seattle that same year with an O-fer.
He would eventually put together productive MLB seasons, but none with the Jays. He was shipped to the San Diego Padres in exchange for outfielder Darrin Jackson prior to the 1993 season.
Debut season numbers: .143/.314/.143 with 0 HR, 1 RBI in 28 at-bats
3. 3B Brett Lawrie
Age: 21, 199 days
A fan base starved for success combined, once again, with social media making it much easier to gain information and get excited about prospects made Lawrie a big deal.
Mix in a Canadian birth certificate, and big things were expected from the infielder who was acquired from the Brewers in December of 2010 in the Shaun Marcum trade.
Lawrie looked like a star in the making out of the gates, including a multi-hit effort in his first game Aug. 5, 2011, in front of the home fans.
But after posting a .953 OPS in his first season, Lawrie's numbers would drop each year, before he was wisely shipped to Oakland as part of the package to acquire Josh Donaldson.
Debut season numbers: .293/.373/.580 with 9 HR, 25 RBI in 150 at-bats
2. OF Lloyd Moseby
Age: 20, 201 days
Still the highest draft pick in franchise history at second overall in 1978, Moseby was an early homegrown stud for the franchise and would eventually help form a powerful outfield trio alongside George Bell and Jesse Barfield.
Another player who made his debut at home, Moseby collected a pair of hits against the New York Yankees on May 24, 1980, and went on to appear in 114 games in his rookie year.
It took Moseby a while to provide impact, but his 5.8 fWAR and 6.9 fWAR seasons in 1983 and '84 showed just how good he was at his peak.
Debut season numbers: .229/.281/.365 with 9 HR, 46 RBI in 389 at-bats
1. 3B Vladimir Guerrero Jr.
Age: 20, 41 days
The hype is there.
The impact will be, too.
Enjoy