The craziest 23 minutes in NHL history
The hockey world was flipped on its axis with three seismic transactions on a summer Wednesday afternoon, Frank Seravalli writes.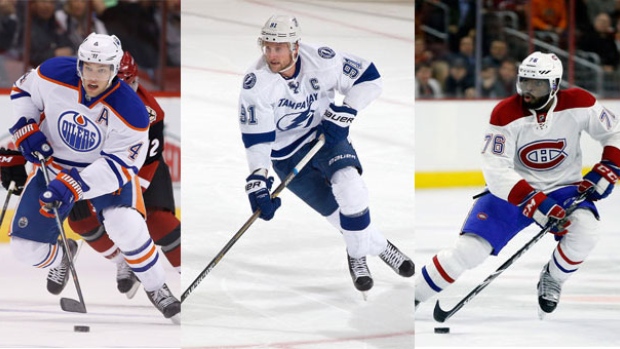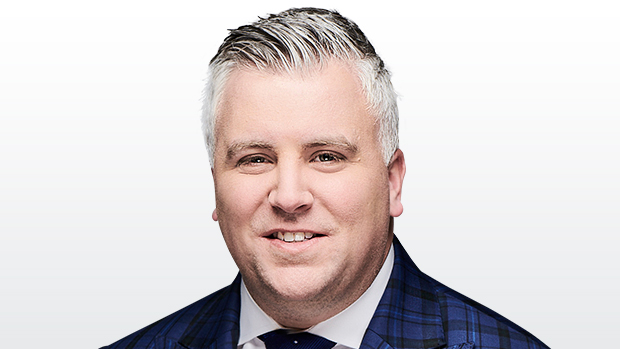 If you blinked, you might have missed the craziest bleeping 23 minutes in NHL history.
Things started in Edmonton at 3:34 pm et Wednesday when Taylor Hall was traded to New Jersey in a one-for-one swap for defenceman Adam Larsson.
The move was immediately panned across the Twitterverse as a lopsided deal: A 24-year-old left winger with an 80-point season under his belt for a 23-year-old defenceman who has had a rocky start to his NHL career.
"I think you have to reserve judgment on this before you start the Twitter war," Oilers general manager Peter Chiarelli said some 90 minutes after pulling the trigger.
In short order, the Hall trade was hockey's third biggest news item.
Exactly 20 minutes later, at 3:54 p.m., the Montreal Canadiens dealt P.K. Subban to the Nashville Predators in a shocking straight-up deal for Shea Weber. That came six days after GM Marc Bergevin said it was unrealistic to think Montreal would trade its cornerstone defenceman before his no-trade clause kicked in on Friday.
"It's not even listening to offers. I'm taking calls," Bergevin said on June 23. "I'm not shopping P.K. Subban. I can tell you that."
Three minutes after his departure put Rue Sainte-Catherine up in arms, Subban's childhood teammate took himself off the market — just two days before he was scheduled to become the youngest superstar ever to hit free agency.
News broke at 3:57 pm that Steven Stamkos re-signed with the Tampa Bay Lightning on an eight-year, $68-million deal, putting to bed a year-long saga with more twists and turns than a Game of Thrones season.
In 23 minutes, the hockey world was flipped on its axis with three seismic transactions - all in enough time for one long but exhilarating bathroom break at work.
By the end of it, it was impossible to determine which Canadian fan base was hit hardest: Edmonton, for seeing a sure thing in Hall dealt for a potential No. 2 or 3 defenceman? Montreal, for watching Subban get traded for another top blueliner who is four years older and has an equally expensive contract that is four years longer? Or Toronto, for enduring the 365-day tease that only a hometown boy like Stamkos could provide?
Stamkos, 26, became the first big fish Maple Leafs president Brendan Shanahan failed to reel in after prying both Mike Babcock out of Detroit and Lou Lamoriello out of New Jersey. Stamkos reportedly met with the Maple Leafs on Monday. He could've been the one piece to turn Toronto's rebuild into a restart, the league-leader in goals since 2008 by any player not named Alex Ovechkin.
Alas, Stamkos is staying in Tampa Bay — where his roots were too deep, the net financial offer too strong, and the terms just flexible enough to allow the Lightning to remain as one of the perennial powers in the Eastern Conference.
The Oilers are trying to do the same in the West. Hall offered Edmonton's best chance to return a top-pairing defenceman, but few imagined he would net solely Larsson. After a bumpy first three seasons, Larsson has rebounded into a 22-minute per game player, but he is not a big offensive contributor (18 points in 82 games last year) and not a regular on a top-unit power play.
Chiarelli admitted Larsson is "not a sexy defenceman," but said he has faith in his potential.
"I feel very strongly about this player," Chiarelli said, having traded both the No. 1 (Hall) and No. 2 picks (Tyler Seguin) from the 2010 draft in his career. "I feel he's only scratched the surface. I could see his game trending up and it was time to act on it."
Hall said he was disappointed to leave Edmonton just as it appeared the franchise was turning the corner, with both a palatial arena opening in October and Connor McDavid on the precipice of becoming a top player in the league.
"I was a little shocked at first," Hall said in a conference call. "I was disappointed not to see it through in Edmonton. I feel a little slighted. It's pretty hard not to feel slighted or be disappointed … I do take this as an indictment on me as a hockey player … It's pretty hard to not feel slighted or be disappointed, but I'm going to do everything in my power to make New Jersey proud they made this deal."
The Oilers were believed to be kicking the tires on both Kevin Shattenkirk in St. Louis and Subban as possible solutions to balance their blueline with left and right-handed shooters. Montreal was reportedly asking for emerging centre Leon Draisaitl in return.
Subban read through all of those trade rumours last week, saying he wasn't all that surprised to be moved. There were reports of his unpopularity in Montreal's dressing room, which Bergevin vehemently denied last week.
"I think that with a lot of the chatter that kind of happened over the little while, I'm a firm believer that usually where there's smoke, there's fire," Subban said in a conference call with Nashville reporters. "At no point did I obviously want to leave Montreal or even was given a notion from anybody that I would be traded, but we know the way the business works. As hockey players, we don't often believe the stuff that we see or we want to read things or hear things in the media, but when things are buzzing around that long, you have to think that there's stuff going on."
Subban, 27, has collected the second most points of any defenceman over the last four seasons, with 22 more than Weber in nine fewer games. Subban captured the Norris Trophy in 2013 and already checked almost all of the statistical boxes over Weber. Predators GM David Poile gushed about him Wednesday as the ultimate "modern defenceman."
The Canadiens opted for more of a traditional blueliner, a savage body-checker with a cannon from the point and the most goals among defencemen in the last four years.
Weber, who turns 31 in August, is just about the polar opposite from Subban in every way — playing style, temperament and personality. Nashville already paid him $56 million in real dollars for the first four seasons of his staggering 14-year, $110 million deal — yet they were still willing to move on in order to land Subban.
Wednesday's news happened so fast it was hard to wrap your mind around one transaction before the next one broke.
Weber was reportedly relaxing on his boat near Kelowna when the news broke on Wednesday afternoon. He, too, was shocked. It's amazing the vessel didn't capsize given the tidal wave of news in those 23 minutes.
"When I heard the news, obviously, it was a little bit surreal," Subban said. "But it happened."
Contact Frank Seravalli on Twitter: @frank_seravalli