The inside story of Gritty's rise to fame
As Gritty celebrates his first birthday, TSN Senior Hockey Reporter Frank Seravalli takes you behind the scenes of the meteoric rise of the National Hockey League's most popular mascot.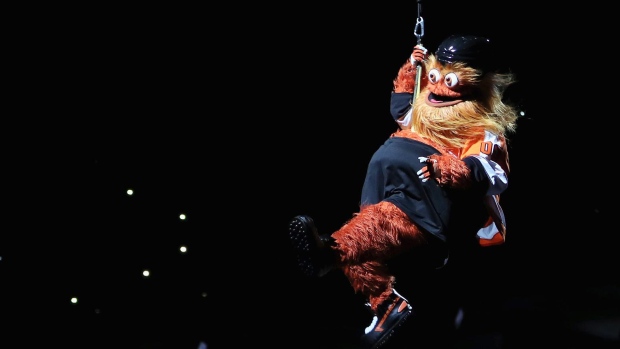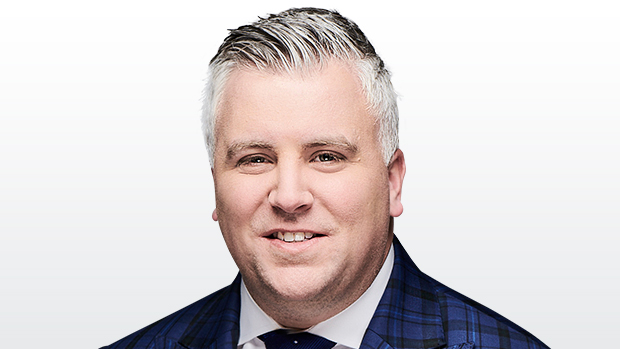 PHILADELPHIA - He came in like a wrecking ball.
No, really, hockey's biggest offseason addition - Philadelphia Flyers mascot Gritty, not John Tavares - swung suspended from the rafters like a wrecking ball as he dropped into his regular-season debut at Wells Fargo Center on Tuesday night.
It was a monstrous night for the Broad Street Beast, who was born on Sept. 24 to reviews so ugly that he somehow became the internet's most lovable fur ball in 12 hours.
Not only was Gritty the most googled term in North America for the first day of his life but he also required a four-person security detail with earpieces at the Flyers' home opener to manage the swooning Gritizens of Philadelphia.
An entire row of stoic NHL scouts whipped out their phones to take photos of Gritty as he walked through the press box pregame.
He was the Flyers' unquestioned MVP as they were thumped 8-2 by the San Jose Sharks in their worst season-opening loss in franchise history.
"Some of it comes down to Grit," goaltender Brian Elliott correctly said postgame.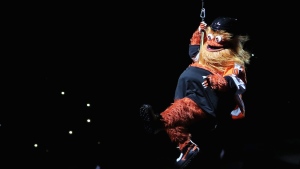 Grit happens.
But how did this all happen? Is Gritty's popularity a case of accidental marketing brilliance or all part of the Flyers' plan? Maybe a bit of both.
Tuesday night marked Day 16 A.G., or "After Gritty," as it is now known in Philly. Here is an inside look at Gritty's first 24 hours in the world:
SARAH SCHWAB, Flyers director of marketing: "We were excited for him to be out in the world, but we were nervous. Gritty's first appearance was at a museum with 600 kids. We were all set up in the back, kind of waiting and thinking: 'We'll see how this goes …'"
JOE HELLER: Flyers vice-president of marketing: "There were a little bit of nerves. We knew the reaction was going to be mixed."
SHAWN TILGER, Flyers chief operating officer: "It was a risk."
HELLER: "The reaction wasn't good. We were checking our phones, the tweets were pouring in. 'What is this thing?' We watched it in real time."
KEITH JONES, Flyers/NBC television analyst: "My first thought was that thing is curiously Philadelphian. It's a mascot with an edge."
WAYNE SIMMONDS, Flyers forward looking at his first photo of Gritty just one hour after his birth: "That's not my mascot. Never seen that thing before in my life."
OSKAR LINDBLOM, Flyers winger: "We'll see how gritty he is."
SCHWAB: "The rest of the afternoon went by, it was like: FIRE THE MARKETING DEPARTMENT! Fans wanted to tie cinderblocks to our shoes and throw us in the Delaware [River]."
CLAUDE GIROUX, Flyers captain: "First days are hard, but it gets better."
HELLER: "Part of it was tradition. We haven't had a mascot, so why did we need one now? The truth is we'd been talking about a mascot since the 2016 All-Star Game. We did over 100 different sketches. We figured no animal can represent who we are. We didn't want to go into aviation. A human-type character doesn't work unless you're a university. We needed a monster-type creature.
"That's when we said we need something you would see from Monsters Inc."
SCHWAB: "Let's just say he's got a unique look. He's more endearing in person."
HELLER: "It came down to safe or crazy. We looked around the league and said, 'Let's go crazy.'"
SCHWAB: "We planned for the mixed reaction. Our mascot consultant said it would be two weeks to two months for a mixed reaction time and that we needed to be ready with a plan to further integrate him."
HELLER: "The Penguins kind of did that for us. The reaction wasn't good until the Penguins sent a tweet that said, 'lol ok' in reply to Gritty's first tweet."
GRITTY: [inaudible grumbling]
Gritty responded: "Sleep with one eye open tonight, bird."
HELLER: "All of the sudden, our fans started turning, like, 'Okay, Gritty is going to stick it to the Penguins, I'm on board with that.'"
TILGER: "Gritty became like a little brother. You know, I can pick on him, but you can't. I think that's when people really jumped on-board."
HELLER: "Twitter started to light up with his antics on the ice that night for his first game. Gritty was on his back seconds into his first skating act. I'll never forget, I was up there and I turned to a Flyers colleague and I was like 'Did that look planned to you?' He said 'No, he just fell square on his back.' Then he shot someone in the back with a T-shirt cannon."
SCHWAB: "By the time I walked back to the office, which is like five or six minutes, he put out a tweet that said, 'Nobody told me ice was slippery.' Barstool picked it up. Within about 10 minutes, Good Morning America called and said, 'We're obsessed with Gritty.' It was late at night. That was really the first time I'd heard anyone say that."
HELLER: "The cherry on top was the Kim Kardashian tweet."
SCHWAB: "That was all Gritty. He's hilarious; he walks around with his phone in his back pocket. He sent that tweet at like 10:30 or 10:45 p.m."
HELLER: "I remember walking in my door, sitting on my step and seeing the likes on Twitter – it was like 1,000, 2,000, 3,000 – it just kept climbing, all the way to 58,000 likes. It was blowing up; it was like, 'Holy [bleep].' I think that's when Gritty started winning everyone over.
"You figure, he debuted at 11 a.m. and before 11 p.m. he was totally liked. I mean, there were a couple people hung up on his looks, but we had stuff lined up for the haters – like mean tweets and stuff – but we didn't even need that. People changed their minds already. It was a combination of him in the suit, his antics on the ice and social media. It was like the perfect storm."
Like a mother of any newborn, Schwab said she barely slept that first night.
SCHWAB: "I don't think anyone slept that night. I know I slept for maybe two hours. I had to be back at the rink at 4 a.m. for Gritty's appearance on Good Morning America. I came in and Gritty was having his coffee. I'm like, 'Did you sleep?'"
GRITTY: [shakes head no]
SCHWAB: "Jimmy Fallon set the rest in motion. We had a game that night. I knew we were going to take him up to Fallon's show, but there was no way we were going to get him out of Midtown Manhattan and back in time for the game."
HELLER: "By then, everyone was anticipating his next game. We needed to have him there."
TILGER: "I said let's get a helicopter. We had to have him back. You can't have him miss the game making an appearance – then he would be a sellout."
SCHWAB: "I never would have ever imagined that we would need a helicopter to ferry our mascot around because of demand."
HELLER: "We knew Gritty made it when Conan [O'Brien] and John Oliver used replicas of him. I have no idea how they made a suit in four days that took us four months."
SCHWAB: "He had a dressing room right next to Ricky Gervais. An intern brought in an autograph book. I was paging through it, the autographs were Steven Tyler, Hillary Clinton, Ethan Hawke, John Cena ­– all these big names, and Gritty had his own page. He even trolled Jimmy Fallon. He wrote, 'James, loved you in Fever Pitch — Gritty.'
"What a trip. He was in his full gear in the helicopter, helmet on, and 20 minutes later we were back in Philly. He even had his own police escort back to the arena. We've gotten police escorts for famous acts like Bono and U2, but our building operations were more nervous getting Gritty back inside for our preseason game."
HELLER: "The popularity, we would've never guessed in a million years. There was a plan. We wanted to go all-in, we wanted to make waves. But the scale is beyond our imagination."
GIROUX, to Gritty: "Thanks for making time for the little people."
SCHWAB: "Each day has just gotten wilder and wilder."
TILGER: "We knew that like any icon in Philadelphia, he was going to have to earn his respect. Gritty is just like Philadelphia. We can pick on each other, but when somebody else tries to get involved, we stick up for each other."
Contact Frank Seravalli on Twitter: @frank_seravalli​