The Mitchell Report: Borucki battles for second MLB win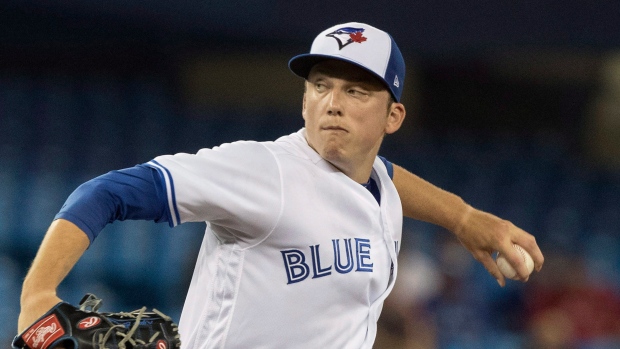 Ryan Borucki allows four earned runs and nine hits over five innings but gets some help from his offence to secure his second-career win as the Toronto Blue Jays avoid a sweep by the Boston Red Sox with an 8-5 victory Thursday night in the final game of their three-game series at Rogers Centre. TSN Baseball Reporter Scott Mitchell provides his key takeaways from the series:
GAMES 112-114, AUG. 7-9: RED SOX at JAYS
RESULT: Boston wins series 2-1
RECORD: 52-62
STREAK: W1
1—Reid-Foley on verge of joining Borucki in rotation?
The Boston Red Sox have been able to do what six other teams could not so far: Solve Ryan Borucki.
The 24-year-old lefty's worst start since his MLB debut at the end of June was a three-inning effort July 13 in Boston, and the BoSox again got to Borucki for four earned runs over five innings on Thursday night.
Thanks to the offence, Borucki battled and was still able to secure his second-career win, but he also gave up his first home run as a big leaguer, watching a J.D. Martinez line drive sail over the wall in left field.
Borucki ended up allowing nine hits over five frames, walking three and striking out a pair.
His ERA still sits at a pretty 2.81 through eight starts.
The next time through the rotation, there's a chance Borucki is joined by another top prospect, as Sean Reid-Foley is being considered for Monday's start after Mike Hauschild was sent to Triple-A on Thursday.
After a tough 2017 season, Reid-Foley has been one of the better developmental stories this year, dominating Double-A for eight starts before continuing to deal in Buffalo.
Through 15 starts with the Bisons, the 22-year-old right-hander holds a 3.50 ERA, a number that's backed up by even more impressive peripherals with 10.3 K/9 and just 2.9 BB/9 in 82.1 innings.
If the Jays decide to hold off on another promotion for Reid-Foley, lefty Thomas Pannone, who was recalled Thursday and was available out of the bullpen but not used, could be an option if he's not needed for an extended appearance over the next three days against the Tampa Bay Rays to close out the six-game homestand.
2—MVP candidates dotting Red Sox roster
The Red Sox sit atop the standings for a number of reasons, but none more evident than the production being provided by Martinez and Mookie Betts.
Both are legit MVP candidates with seven weeks to go in the season, and both tore through Blue Jays pitching over the past three games.
Martinez started the series hot, collecting three hits in each of the first two games, and then bashing his 35th home run of the season Thursday night.
In his first season in the AL East, Martinez is already proving to be a thorn in the Blue Jays' side, as he now sports an OPS well over 1.100 against Toronto.
Betts is also a huge problem for the Jays, one that isn't going away anytime soon.
The 25-year-old outfielder has driven in 52 runs against the Jays in his young career, the most he has against any opponent.
On Thursday, Betts went triple, single, double in his first three at-bats, before drawing a walk in his fourth trip to the plate.
In the ninth inning, he completed his first-career cycle, smacking a line drive home run to left field off of Ken Giles, whose odd struggles in non-save situations continue.
Those with MVP votes later this year will have an awful time choosing between two of the most productive hitters in baseball, which likely won't help either's case.
3—Grichuk, Hernandez providing the power
With team performance mattering little as the Jays play out the string, individual performances are all there is to talk about as players vie for job security heading into 2019.
While Teoscar Hernandez, who hit his 18th home run of the season Thursday night to tie Justin Smoak for the team lead, is a lock to be part of the equation next season, Randal Grichuk continues to provide hope that maybe that long-awaited breakout is still coming.
Grichuk matched Hernandez's home runs on back-to-back days Thursday to give him 16 on the season, and since June 3, the soon-to-be 27-year-old is slashing .281/.333/.557 with an .890 OPS.
The awful start to his Blue Jays tenure hasn't been forgotten, but maybe it should be now that he's posted two-plus months of consistent, above-average production.
4—Middle infielders suddenly producing at the plate
It's mostly gone unnoticed over the past three weeks, but the double-play combo of shortstop Aledmys Diaz and second baseman Devon Travis has been doing some serious damage at the dish recently.
Coming into the night Thursday, Diaz had six home runs and owned a .352/.368/.759 slash line over his past 15 games, while Travis is slashing a healthy .295/.353/.462 since July 1.
Manager John Gibbons has been particularly impressed with Travis, who's currently as healthy as he's ever been as a big leaguer.
"He looks like the old guy," Gibbons said. "We've been waiting on that."
How the middle infield spots shake out over the next calendar year is one of the more interesting situations on the roster to monitor.
With Bo Bichette on his way and the Lourdes Gurriel Jr. middle infield experiment continuing, there isn't much margin for error for Diaz and Travis.
Competition, however, is never a bad thing.
5—Sanchez goes three innings in first rehab start
It's been a long time since we've seen Aaron Sanchez on a mound — June 21 in Anaheim to be exact — but the 26-year-old enigma was finally able to make a rehab start Thursday afternoon.
Sanchez, who mysteriously hurt his right index finger on the West Coast and hasn't been seen in seven weeks, threw three innings for the Gulf Coast League Blue Jays, allowing four earned runs on five hits, striking out four and walking a pair.
The results matter little and it was a good first step for Sanchez, but Gibbons said he'll likely need a couple more rehab tune-ups before he rejoins the big-league rotation.
UP NEXT: Tampa Bay Rays at Rogers Centre
FRIDAY, 7:07 P.M.: LHP Blake Snell (12-5, 2.27) vs. RHP Marco Estrada (5-8, 4.65)
SATURDAY, 4:07 P.M.: TBA vs. RHP Sam Gaviglio (2-4, 5.08)
SUNDAY, 1:07 P.M.: RHP Tyler Glasnow (1-2, 4.14) vs. RHP Marcus Stroman (4-8, 5.20)
VLAD WATCH: As expected, Triple-A hasn't provided Vladimir Guerrero Jr. with much of a challenge. One night after hitting his first home run with the Buffalo Bisons, Vladdy Jr. crushed another and finished the night 2-for-4 to raise his International League average to .462.​