The Mitchell Report: Blue Jays confident Sanchez will get past latest finger scare
A bruised and battered Toronto Blue Jays rotation returned home from California to some good news. TSN Baseball Reporter Scott Mitchell checks in with news and notes on the Jays.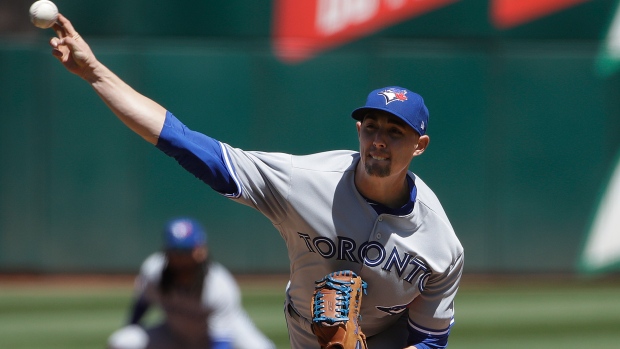 The Toronto Blue Jays, with their bruised and battered rotation, returned home from California to some good news as they opened their two-game series against Kevin Pillar and the San Francisco Giants on Tuesday night. TSN Baseball Reporter Scott Mitchell checks in with news and notes on the Jays.
TORONTO — A bruised and battered Toronto Blue Jays rotation returned home from California to some good news.
Forced to watch and worry as Aaron Sanchez left his Sunday start at the Oakland Coliseum with a split nail on his right middle finger, manager Charlie Montoyo arrived at the Rogers Centre on Tuesday with confidence that the 26-year-old right-hander will be able to make his scheduled start on Saturday.
The Jays were playing it safe when Sanchez was removed after four innings and 59 pitches against the Athletics, but both management and Sanchez, himself, believe a bullet has been dodged.
"He showed it to me, but I didn't have my glasses on," Montoyo joked prior to Tuesday's series opener against the San Francisco Giants. "So I said, 'Which one is it?'"
Finger troubles have been following Sanchez around for more than two years now, which had most expecting the worst this time around, too.
From blisters and an ill-advised procedure to shave down part of the same nail on his middle finger in 2017 to surgery on his right index finger last September, the last time we saw a fully healthy Sanchez was the 2016 playoffs.
But early on this season, Sanchez had started to look like his old self, regaining velocity and getting back to using his full repertoire, including the curveball, which he had to ditch at points due to the lingering finger issues.
After using the hook 12 per cent of the time during his 20 starts in 2018, Sanchez has upped that usage to 20.8 per cent.
Not only has he been using the pitch more, he's been having success with it, as the .045 batting average against would suggest.
Of Sanchez's 23 strikeouts in 26 innings this season, 13 have come on the curveball, while his sinker, four-seam fastball and changeup have combined for 10 Ks.
If Sanchez escapes this injury scare and makes it out of Saturday's start against the A's unscathed, Montoyo has decided to go with a four-man rotation until a fifth starter is needed May 4.
Off days this Thursday and next Monday allow that to happen, giving Montoyo some more roster options over the next couple of weeks.
His rotation will now consist of Clay Buchholz on Wednesday, Marcus Stroman on Friday, Sanchez on Saturday, and then Trent Thornton on Sunday, with Thomas Pannone and Sam Gaviglio on hand as depth until they're needed to replace Matt Shoemaker, who the Blue Jays say will undergo season-ending ACL reconstruction sometime in the next two weeks.
INJURY UPDATES
Despite winning six-of-seven games on a road trip through Minnesota and Oakland, the Blue Jays returned home with a lengthy list of injury updates.
Other than the news top prospect Bo Bichette had suffered a fractured hand when he was hit by a pitch at Triple-A on Monday — he's going for a second opinion, but Bichette will be out for weeks after preliminary X-rays revealed a break of the second metacarpal — most of the updates were fairly positive.
Here's the rundown:
​​— Ryan Borucki (elbow) is still shelved after receiving a cortisone shot on April 12, but he's scheduled to be re-evaulated Friday. Placed on the 60-day IL recently, Borucki's earliest possible return date is May 27.
— Clayton Richard (knee) is long tossing and is slated to throw his first bullpen this weekend.
— Off-season free-agent acquisition David Phelps (Tommy John) will throw his second bullpen Friday as he approached the 13-month mark of his surgery. The typical Tommy John recovery period is 12-14 months.
— John Axford is still shut down with the right elbow stress reaction that ended his spring training, but he's set to be re-evaulated at six-week mark Friday.
— Still no baseball activity for Dalton Pompey as he's continuing with "concussion rehab," according to the team.
— Outfielder Jonathan Davis (ankle) is rehabbing at Triple-A Buffalo, going 0-for-2 with a pair of walks in his season debut with the Bisons on Monday.
— Second baseman Devon Travis (knee surgery) is hitting soft toss down in Dunedin, but still has not begun running. Travis had the meniscus in his left knee repaired in mid-March and was given a four-to-six week timeline.
— Julian Merryweather, otherwise known as the Josh Donaldson trade return, threw live batting practice last week with no issues and a two-inning sim game Tuesday in Florida. The 27-year-old righty, who missed the entire 2018 season after undergoing Tommy John surgery, will throw live BP again Saturday, before being re-evaluated for a potential rehab assignment and a return to game action.