The Mitchell Report: Sanchez's command wavers, Jays back at .500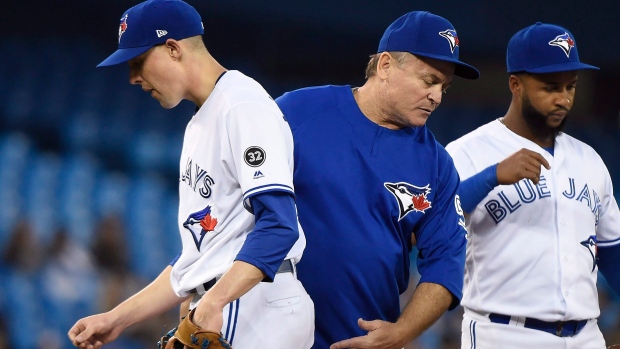 Toronto starter Aaron Sanchez struggled in four innings of work, giving up four earned runs on five hits, as the Oakland A's whipped the Blue Jays 10-5 at Rogers Centre on Thursday night. TSN Baseball Reporter Scott Mitchell provides his key takeaways from the game:
GAME 44, MAY 17: ATHLETICS AT JAYS
RESULT: 10-5 loss
RECORD: 22-22
STREAK: L1
1—Sanchez can't get rotation on a roll
The Jays were hoping J.A. Happ's gem on Wednesday would kickstart the rotation finding a groove, but that didn't happen. Aaron Sanchez needed 29 pitches just to get out of the first inning with the bases full, and it didn't get much better from there, as his night ended after walking the leadoff batter in the fifth inning. The big blow was a Khris Davis two-run homer in the third inning, the fifth fence-clearer Sanchez has given up this season. There was nothing wrong with the stuff, evidenced by the 18 swinging strikes Sanchez got A's hitters to wave at, but the command wavered once again. In total, Sanchez threw 97 pitches and watched his ERA jumped from 4.08 to 4.47 thanks to four earned runs. He's scheduled to toe the rubber again next Wednesday against the Los Angeles Angels.
2—Streak comes to an end
The Jays finally lost a game when scoring five-plus runs, dropping their record to 18-1 when crossing the plate at least five times. The loss also dropped the Jays' record to 11-12 at home, and they're now just 3-9 in their last 12 at Rogers Centre.
3—Pillar still productive at the dish
On the one-year anniversary of his homophobic slur and subsequent two-game suspension last May in Atlanta, Kevin Pillar came up with his eighth multi-hit game of the month, including his 18th double, which leads the team by a wide margin. Pillar's starts to the last two campaigns have been eerily similar. Last year through May 17, Pillar was slashing .305/.357/.497 with six home runs, and this year he's followed that up by slashing .310/.346/.512 with four homers. Last year, he cratered after the hot start, so we'll see if he can sustain it this time around.
4—Solarte, Smoak neck and neck for RBI lead
Justin Smoak and Yangervis Solarte came into the night tied for the team lead in RBI, and they both added one to that count in the fifth inning to stay tied with 26 apiece. Smoak doubled home Richard Urena to jumpstart a three-run frame, and Solarte, the very next batter, drove in Curtis Granderson with a single. While Smoak has quite a ways to go to equal last year's career-high of 90 RBI, Solarte is well on his way to surpassing his career best of 71, set in 2016 with the San Diego Padres.
5—Gibbons won't confirm Saturday starter
Prior to the game, manager John Gibbons wouldn't confirm that Joe Biagini will start Saturday's game, despite the fact the team wrote it in the game notes and he's listed as the probable starter. The intrigue grew when instead of calling on Sam Gaviglio when Sanchez's night was over early, Gibbons turned to Seunghwan Oh in the fifth inning. Gaviglio hasn't pitched since Sunday, which would leave him well rested for a Saturday switcheroo.
UP NEXT: LHP Brett Anderson (0-2, 8.16) vs. RHP Marco Estrada (2-3, 5.32) on Friday, 7:07 p.m.
VLAD JR. WATCH: Guerrero Jr. broke up Binghamton Rumble Ponies starter Nabil Crismatt's no-hitter with an infield single in the sixth inning and later scored on a Harold Ramirez single, but that's all he could muster in four trips to the plate Thursday. The 1-for-4 night dropped his average from .415 to .410.​