The Monday Nine: Conners continues his cut streak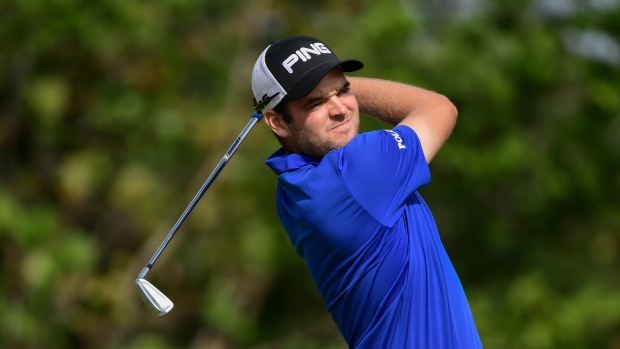 1. Corey Conners continued his good play on the PGA Tour with a tie for 39th at the Sony Open. In his brief PGA Tour career, the Listowel, Ont., product has never missed a cut, playing the weekend in his first six starts.
While his play has been consistent, his best finish so far is a tie for 30th. He's currently 113th in the FedEx Cup standings.
"I didn't have my best ball-striking week but it was nice to know that my putter and short game were able to save me a little," Conners said from Hawaii. "The golf course was awesome and I enjoyed my first trip to Hawaii. I'm looking forward to getting some work done the next few days and getting back at it in Palm Springs."
2. Being in Hawaii on Saturday meant Conners had to go through the scare of the erroneous ballistic missile alert. Like many in Hawaii, he was a touch freaked out and said the message that came on his cell phone wasn't very pleasant for he and his girlfriend Malory.
"I wasn't sure what was going on," he said. "The hotel made an announcement to stay in our rooms. That definitely got me worried a little bit as obviously a lot of thoughts flood your mind."
Conners said after about 30 minutes a correction went out confirming it was false and everyone breathed a sigh of relief.
"That was definitely the talk of the course [on Sunday] as everyone was describing their feelings."
3. The Golf Channel was sent scrambling on Sunday at the Sony Open when the union that represents the audio and video workers on their tournament broadcasts walked off the job as part of a labour disagreement. According to Associated Press, the two sides have been negotiating for nine months without settling.
How severe was the impact on the broadcast? The show relied heavily on a camera from the overhead blimp. Only the last groups were seen on the air with a skeleton broadcast team. The cameras that did operate were often shaky and missed balls in the air. But the biggest indicator might be that Jerry Foltz, who usually serves as a walking commentator, was seen working the tower camera on the 16th green.
4. Brooke Henderson was one of the notables at that Diamond Resorts tournament in Orlando over the weekend, a fun tournament where pros from the PGA Tour, Champions Tour, LPGA Tour and celebrities all play off the same tees and collect points for their performance. Henderson was the top LPGA Tour player finishing tied for seventh. Playing at 6,600 yards, she shot rounds of 66-67-68.
"I feel like my game is in a really good spot and hopefully I can continue to make more birdies and make some weeks coming up very exciting," Henderson told LPGATour.com.
She starts the new season in the Bahamas in two weeks.
5. Speaking of the Bahamas, a couple of guys who didn't fare so well there this past weekend were Web.Com Tour rookies and Canadians Seann Harlingten and Stuart MacDonald. The two shot 84 and 87 respectively in their first rounds and followed up with rounds of 77. Needless to say, they had the weekend off.
MacDonald's rounds included a nine and an 11. The tournament was rocked by rain and thunderstorms, which made conditions exceptionally difficult.
6. Adam Hadwin returns to the site of his 59 this week when he plays at the CareerBuilder Challenge this week and he's hoping to gain a little momentum back at the site of his great round.
While it's early, Hadwin hasn't found the form he enjoyed at the start of last season where he recorded a win and five top-20 finishes by the end of March.
After a break over Christmas, Hadwin returned to action at the Sentry Tournament of Champions and ended up 32nd in a field of 34. That's actually his best finish in his four starts this season.
His stats show that into and around the greens, usually the weakest part of his game, have been lacking and he's spent a considerable amount of time at home in Phoenix working on that part of his game with coach Ralph Bauer.
7. There are seven Canadians playing this week at the CareerBuilder Challenge. In addition to Hadwin, Nick Taylor, Mac Hughes, David Hearn, Ben Silverman and Conners, Mike Weir will play on a sponsor exemption. He won this tournament in 2003.
Weir just finished up at the South African Open where he missed the cut by a couple of strokes. He's hoping to get a few more starts on the PGA Tour through invites and will also play on the Web.Com Tour as he tries to get his game back on track after a long list of injuries and surgeries.
Weir, who will turn 48 in May, is still 35th on the PGA Tour's career money list with $27.9 million.
8. The Champions Tour starts its season this week with the Mitsubishi Electric Championship in Hawaii with Stephen Ames the lone Canadian.
The field consists of major winners from the last five years, tournament winners from the past two seasons as well as a few sponsor invitees.
Ames won his first event on the 50-and-over circuit last year, also compiling seven top-10 finishes to end up 18th on the Charles Schwab Cup points list. He earned just over $1 million.
9. By the way, Ames was one of six Canadians to bank more than $1 million last season, the most in this country's history. The others were Hadwin ($3.455); Hughes ($2.355); Graham DeLaet ($1.603); Brooke Henderson ($1,504); and Taylor ($1.504).