The significance of Karlsson picking up that puck
It's easy to see why Sens fans feel like they've been down this road before with a Swedish captain who also doubles as the face of the franchise, Ian Mendes writes.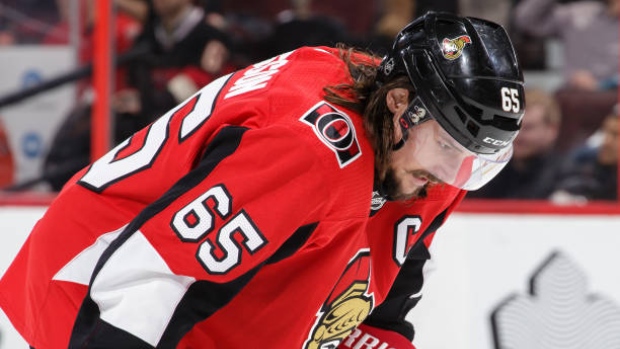 If you're into numerology you'll certainly appreciate the connections between the Ottawa Senators and the number 65.
The Senators are currently sitting with 65 points in the Atlantic Division.
Their goal differential just happens to be -65.
When the players looked up at the scoreboard at the end of Monday night's final home game at Canadian Tire Centre against the Winnipeg Jets, it only stood to reason that they would see a 6-5 final.
And in perhaps the strangest coincidence of all, Monday's game marked exactly 65 weeks – to the day – until Erik Karlsson hits free agency on July 1, 2019.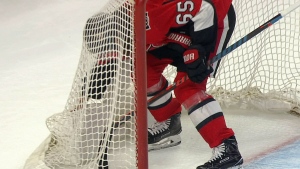 So when No. 65 in the red jersey reached down to fish out the game puck as time expired, it left Senators fans wondering if Karlsson had in fact played his last game in Ottawa.
The move was eerily reminiscent of Daniel Alfredsson scooping up the puck as time expired during the Senators' lopsided Game 4 loss on home ice to the Pittsburgh Penguins in the 2013 playoffs.
At the time, Alfredsson brushed off the gesture, joking that "I've got a lot of kids at home" and simply wanted to pick up a souvenir for them.
But a few weeks later, Alfredsson left the team in a messy departure that culminated with him signing a free-agent deal with the Detroit Red Wings. In hindsight, picking up the game puck was our first clue that Alfredsson wasn't coming back.
When Alfredsson picked up that puck, he was in complete control of his destiny. He was a pending free agent and most figured he was simply wrestling with retirement. The idea that he was contemplating changing teams never crossed anybody's mind at the time.
So you'll have to forgive Senators fans if they're experiencing a case of depressing déjà vu, because it feels like they've been down this road with a Swedish captain who also doubles as the face of the franchise.
Sens fans are thinking, "I've seen this movie before and I didn't like the ending."
However, the Karlsson situation is radically different than Alfredsson's in that the current captain still has another year left on his contract. And Karlsson picking up the game puck on Monday wasn't our first clue that he might be on the way out the door. Instead it was the latest in a series of clues that have left a trail that is clearly pointing in that direction.
It started with Karlsson's comments about not wanting to take a hometown discount on his next contract in late November. That was followed by word leaking that the Senators had asked for Karlsson's no-trade list at some point during the season. In December, owner Eugene Melnyk suggested that the club's payroll would be directly tied to ticket sales and revenues – a strong hint that a salary slash could be on the horizon.
In January, general manager Pierre Dorion said he wouldn't rule out a Karlsson trade, citing precedence with the Wayne Gretzky blockbuster. This seemingly left the door open a crack for a Karlsson trade, but by the time the trade deadline hit, that door was busted wide open. Dorion admitted that multiple teams had contacted him about Karlsson, but the general manager couldn't make a strong enough trade at the deadline to justify trading a generational talent.
The Senators have also stated they're headed in a new direction, with a renewed focus on scouting, drafting and developing players. If this is the new reality, does a $10 million dollar-per-season defenceman fit within the plan? And more importantly, would Karlsson even want to be part of a significant rebuild?
While nobody has said anything concrete, even the most amateur numerologist can put two and two together here.
In a vacuum, Karlsson picking up that puck on Monday night could be brushed aside as a meaningless gesture. But when added to the list of aforementioned events, it begins to carry a degree of significance.
Picking up that game puck Monday night was simply Karlsson acknowledging that he could have played his last home game for the Senators. Players only reach for pucks for two reasons – milestones and mementos. That game carried no significant milestone for Karlsson, so it stands to reason that he picked it up as souvenir.
But the question needs to be asked: Why would somebody want a souvenir from a season he would like to completely forget?
Karlsson is one of the most savvy, connected players in the game. He pays attention to social media and is completely aware of the stories that are swirling around him on a regular basis. So when he met with reporters on Monday night, he offered up an honest explanation for his actions.
"I was down there and I saw it was in the net, so I just picked it up and decided to keep it," he said. "I'm a social guy. I read a lot of things and I'm not reading too much into it, but obviously the word is out there [from the media]. It's not something I've thought about going into this game and it's not something I'm going to think about for a while."
Karlsson may not think about his for a while, but Senators fans may spend the next 65 days obsessing over this until we get into the month of June.
And then we might finally get a little more clarity about what the future holds for No. 65 in Ottawa.