The two Marty's enter Hockey Hall of Fame together
Martin Brodeur and Martin St. Louis will enter the Hockey Hall of Fame together as first-ballot inductees this fall along with Alexander Yakushev and Jayna Hefford in the players category, and Willie O'Ree and Gary Bettman in the builders category, with all six receiving at least 13 of the 17 'yes' votes required for entry, TSN Senior Hockey Reporter Frank Seravalli writes.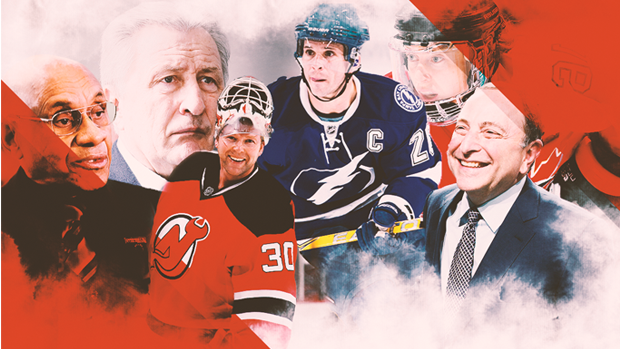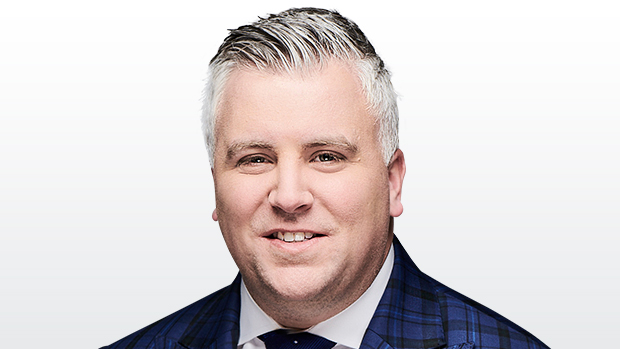 One man handled the puck so deftly as a goaltender that the NHL created a rule to curb his skill.
The other refused to be curbed because of his vertical challenge, proving wrong naysayers who doubted a 5-foot-9 undrafted player could make in the NHL.
The two Marty's – Martin Brodeur and Martin St. Louis – will enter the Hockey Hall of Fame together as first-ballot inductees this fall. They were elected on Tuesday alongside Russian star Alexander Yakushev and women's hockey star Jayna Hefford, as well as Willie O'Ree and Gary Bettman in the builder category.
The Class of 2018 will be enshrined at the Hall of Fame on Nov. 12 in Toronto.
All six received at least 13 of the 17 'yes' votes required for entry, with one fewer voter casting ballots than normal after the passing of selection committee member Bill Torrey.
There was little Brodeur, three-time Stanley Cup champion and owner of 12 individual NHL records including most wins in league history (691), would be inducted on the first try.
"It was exciting," said Brodeur, who was sitting next to Hall of Famer Larry Robinson at the St. Louis Blues prospect camp when he got the call. "Even though there's a lot of talk, until you get the phone call from the proper people, it's something you always think: 'What's going to happen? How's it going to happen?'"
Brodeur, now 46, said he stepped away to "soak it in" when his phone rang with a Toronto area code – knowing Hall of Fame chairman Lanny MacDonald would be on the other line.
The NHL literally re-wrote the rule book, adding the trapezoid behind the net to limit goaltender's ability to play the puck, because Brodeur was so strong in breaking up forechecks and aiding his team on the breakout. He captured the Calder Trophy as rookie of the year in 1993-94, took home four Vezina Trophies in five seasons (2003-08) and his Devils teams allowed the fewest goals against in the league in five campaigns. He spent all but seven of his 1,266 regular-season games in a New Jersey uniform, save for a short run as a 42-year-old with the Blues, where he remains as an assistant GM.
St. Louis, now 43, was not as much of a first-ballot slam dunk as Brodeur, but his Hart and Ted Lindsay trophies separated him from the pack. Only three of the 52 eligible Hart Trophy winners have not been selected to the Hall (Jose Theodore, Al Rollins and Tommy Anderson).
"It was not a sprint to get in," St. Louis said. "I'm glad that I'm in. For me to join the great players that are in now is unbelievable."
It is almost as unbelievable as St. Louis' career itself. After a four-year career at the Univ. of Vermont, the undersized St. Louis waffled between the NHL and AHL/IHL for three seasons before the Calgary Flames let him walk in 2000. He was passed over in the NHL Expansion Draft that summer, then latched on with the Tampa Bay Lightning.
He only went on become the first-ever Lightning player to have his number retired.
That's because St. Louis led Tampa Bay to the franchise's only Stanley Cup when he paced the Bolts and the league in scoring in 2004. He later won a second Art Ross trophy in 2013 when he became the oldest player ever to win it at age 37. He went out on a high note with 52 points in his final NHL season. St. Louis racked up 1,033 points over 1,134 games, was named the most gentlemanly player as Lady Byng winner three times, and paved the path for small players to star in today's game.
"When people tried to discourage me along the way, that's just life," St. Louis said. "I definitely used that as motivation in trying to prove people wrong."
O'Ree, now 82, proved an entire sport wrong when he became the first player to break the NHL's colour barrier in 1958. A total loss of vision in his right eye hampered his playing career, leaving him to just 45 NHL games played, but he joined the league in 1996 as ambassador for the Hockey is for Everyone program.
Since then, he has logged more than one million miles on the road, literally building the game by reaching 100,000 young people to open their eyes to the possibility of playing hockey.
O'Ree said he was "pacing" the halls of his house on Tuesday waiting for word, wondering whether this would be the moment 60 years in the making. His has been an incredible life dedicated to the NHL, one long overdue of hockey's ultimate honour.
"Congratulations Mr. O'Ree," Flyers forward Wayne Simmonds tweeted. "Finally in your rightful place."
Hefford, now 41, is also in her rightful place after helping Team Canada to four Olympic gold medals and seven IIHF World Championships. The Canadian Women's Hockey League named their most outstanding player award the Jayna Hefford Trophy in her honour.
"I have chills and am very proud," Hefford said. "I am happy for this incredible honour and especially want to share it with my family."
Yakushev, now 71, actually wasn't able to be tracked down at the time of Tuesday's election because he was playing pick-up hockey in his native Russia. He is best known here for starring for the Soviets in the 1972 Summit Series, with only Phil Esposito's 13 points topping Yakushev's 11. He often lived in the shadow of teammate Valeri Kharlamov on the international stage but was a bona fide star in his own right as the Soviet league's scoring champion, later coach of the Soviet national team and became a referee at major international events.
Bettman will enter the Hall with mixed reviews. His contributions to the game are innumerable. During his 25-year run as commissioner, the NHL has grown from 24 teams to 31 and increased revenue from $400 million to $4.5 billion. Hockey barely had a pulse in the United States when he took over in 1993.
But Bettman has also presided over three work stoppages and a fourth may soon be on the way. Now 66, Bettman is under contract through the 2021-22 season. The former NBA executive who has been ostracized by traditionalists as "not a true hockey man" will now be enshrined in hockey's hallowed Hall forever. That caught even him by surprise.
"When I received the call from Lanny and John Davidson, I was literally speechless," Bettman said. "I really wasn't focused on whether this was happening now, I was really focused on whether Willie O'Ree was going to be selected because that to me was a very important act for the Hall to take. I'm delighted Willie is going to be going in and I'm going to be going in with him."
Contact Frank Seravalli on Twitter: @frank_seravalli​