The unlikely emergence of Yohann Auvitu
Meet Yohann Auvitu, the 27-year-old New Jersey Devils defenceman who never watched NHL games because to dream would be too unrealistic. Now, with his MBA thesis on hold, the France native is pulling down power play duty for the Devils, writes TSN's Frank Seravalli.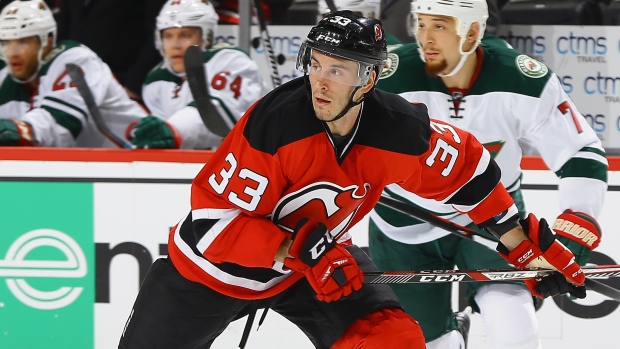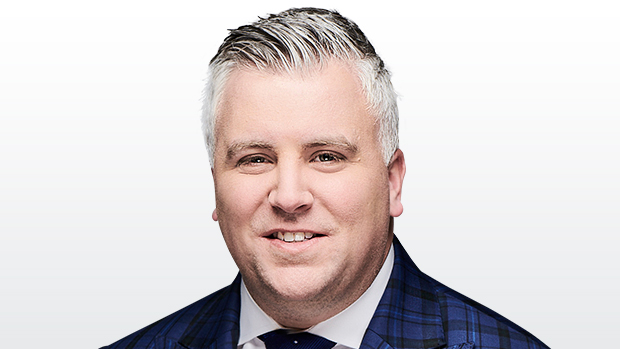 NEWARK, N.J. - Most hockey players grow up dreaming of the NHL. New Jersey Devils defenceman Yohann Auvitu never wasted any time thinking about that — it seemed too unrealistic for a boy from the outskirts of Paris, France.
As recently as six months ago, Auvitu didn't even follow the NHL.
"I wasn't watching a single game here," Auvitu said. "Of course, I knew who the big stars were, but I never watched."
Instead, Auvitu (pronounced oh-vee-too) earned a bachelor's degree in international business while he climbed the hockey ranks in Finland, from junior to second tier to the Finnish Elite League.
Thinking his playing career would only last a few years, the 27-year-old Auvitu is a few pages short of finishing his thesis for a master's in business administration at JAMK University for Applied Sciences in central Finland.
But that is on hold now, since Auvitu is chewing up 17 minutes per night on the Devils' blueline after leading the team in scoring during the preseason. The Devils snapped him up on a two-way contract on May 27 after an impressive showing with Team France at the World Championships in Russia.
Auvitu was named Finland's top defenceman last season, but what hooked the Devils was a conversation between general manager Ray Shero and Auvitu. Shero said NHL teams could pluck a player or two from every World Championship, considering there is little risk in offering a two-way contract, but Shero wanted to be sure Auvitu would fill the need.
"I said to him, 'Look, if this doesn't work out, after two or three months, you can go back home,'" Shero explained. "He looked at me and said 'No. If I'm coming, I don't want to give up.' I was like 'Wow.' That's when I knew we had the right guy. He's a really interesting guy."
Auvitu said he never wavered.
"That's not how I do it," he said. "If you make a commitment and choose to come here, why would you want to go to the KHL after two or three months? If they would've sent me down right away, it would've been a life experience. I'm learning here on and off the ice no matter what. I think I would learn as much in the AHL. It's a different perspective here."
It's hard not to be impressed when talking to Auvitu, who speaks five languages and lives in his girlfriend's native Russia during the off-season. He had never set foot on North American soil before Devils development camp in July, so that was Auvitu and his girlfriend taking photos on the banks of the Hudson River like other tourists.
"He grabbed us," Devils coach John Hynes said Thursday. "When you got to know him, we were interested in his path to the game. He's worldly, he's got worldly experience. He's a unique person, but his path has been impressive and something we all recognize as not exactly normal."
The supposed pinnacle for Auvitu was to earn a spot on the French national team. But Auvitu's game has improved at every level, thanks to a fanatical approach to training. Part of Auvitu's work ethic comes from the fact that around Paris, you were lucky to practice once a week, said Flyers forward Pierre-Edouard Bellemare, one of the other two active NHLers from France.
"When he first made the national team, Yohann was so serious. He was so concentrated on every little detail that you almost needed to tell him to relax," Bellemare said. "It's not until many years later that you understand why, when you see him get to the NHL.
"In France, Antoine Roussel and I are known as hard workers. But Yohann makes us look like we're lazy. He is an unbelievable player. I am so proud he has made it to the NHL with us."
Auvitu said the first time he realized he had a shot to make it was this summer, when he received an invite to skate and train informally with Finland's NHLers in Helsinki.
The challenge, Auvitu said, was first to make the Devils. Now he has to prove he deserves to stick. His latest learning curve is the transition from the NHL preseason intensity to the regular season. It has been an adjustment, but one Hynes said Auvitu is capable of making.
"He can work the blueline. He makes good decisions with shot opportunities, but he can also distribute the puck well," Hynes said. "We like his ability to run the power play. He skates well, he joins the rush well, and he transitions the puck well."
Auvitu has one assist in six games so far. He is playing equal minutes to New Jersey's second pairing and mans the point on the second power-play unit with Mike Cammalleri, earning 2:45 of power-play action per game so far.
It's amazing where life can take you – but Auvitu is trying to block that out, too. He said he hasn't allowed himself to have a starstruck, welcome-to-the-NHL moment so far.
"If I thought like that, that would mean I don't belong here," Auvitu said. "I worked to be here every day. So I don't want to be like 'Oh, wow, I'm here' because that would mean I'm completely unconfident, that I didn't believe in the work I'm doing to be here. It's a big change, but it has been good so far."
Contact Frank Seravalli on Twitter: @frank_seravalli