There's more to Brent Burns than beards, booming slappers
"Have a seat," said Brent Burns, pointing to a nearby chair. "How are you, anyway?" And with that commenced a 48-minute Q and A with one of the game's most interesting characters courtesy of TSN Hockey Insider Pierre LeBrun.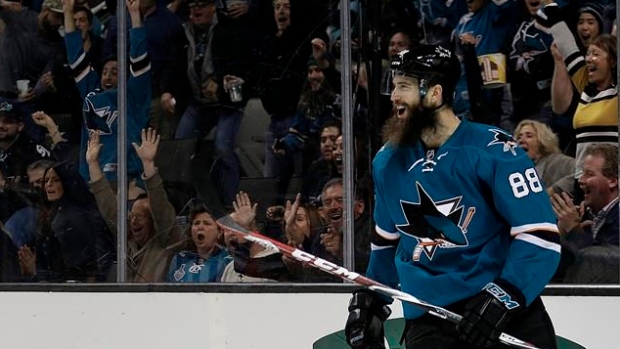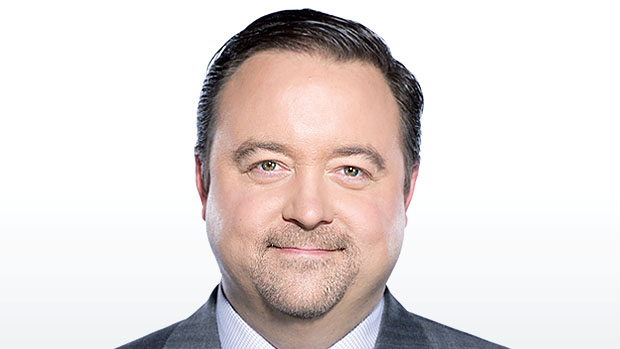 TORONTO - Brent Burns has left his hotel door open. It is 11:15 p.m. on a Monday. He's predisposed to his hotel bed, his legs wearing something that looks like it was made by NASA and attached to a machine.
"It helps with circulation," he grins. It's in fact the NormaTec Pulse Recovery System. So, I just learned something, five seconds into our chat. You always do hanging while around the San Jose Sharks superstar defenseman, who on this night is once again wearing his Kuiu camouflage top.
"Have a seat," Burns, 31, points to a nearby chair. "How are you, anyway?"
And with that commences a 48-minute Q and A with one of the game's most interesting characters. Here's an edited version of it (the full version would have been a book):
Pierre LeBrun: You had dinner with your parents tonight. Where do they live now and what do they do?
Brent Burns: They still live in Barrie [Ontario, about an hour north of Toronto]. My dad works at a local brewery in Barrie, Flying Monkeys. My mom works at Costco in Barrie; I think she just got promoted to manager at the photo lab, so I get all my pictures from my mom [grins].
LeBrun: Hockey parents make big sacrifices. Would you be here today without them?
Burns: Oh, absolutely not. It's crazy. My dad was and is still a huge hockey fan. I've had two huge hockey influences. Obviously other than coaches and teammates, major lifetime influences in hockey were my dad and Jari [Byrski, a renowned skating/skill development coach in Toronto]. Jari from the skill set that I've learned from him, abilities on the ice, and just growing in the game. But my dad also when it comes to skill set and work ethic and training. Those are my two biggest influences. My dad still has every one of my games as a kid on video. It's pretty cool to go back at look at different highlights and tournaments.
LeBrun: You were nominated for the Norris Trophy last season. You were always a very good player and even played forward for a time, but why do you think your game has got to a whole other level later in your career?
Burns: I don't know, it's just crazy. I mean, I always think a lot of it is how you're used and you're thought of. I really feel great with [where] the coaches have put my mindset and made me feel on the team and use me. But also, when I came to San Jose and was able to see guys like Jumbo [Joe Thornton], Patty Marleau, Pavs [Joe Pavelski], Cooch [Logan Couture], at the time Clowey too [Ryane Clowe], you could just learn so much from those guys; all very, very different but extremely elite in different areas. I'm really close with Jumbo, and this guy is just a legend, it's crazy. Look at his career numbers and the thing is, he's still elite. He's in unbelievable shape. He's a guy that you heard weird stuff about, but then when you talk to anyone that's played with him, they say, 'No, he's the best guy I've ever played with.' This guy loves hockey. His passion is unreal. His work ethic. His energy. And he's arguably still one of the best players in the league. So if you yourself aren't working, there's something wrong with you.
LeBrun: Your age, 31, was certainly mentioned after you signed an eight-year extension, but I know you keep yourself in incredible shape ...
Burns: I'm feeling better and better. I've never felt better than I do at this time. I've been in the league a long time but ... you learn how to deal with things better. I remember my first NHL game, I was sitting in the room after the game and I said, 'That's just the first one? That was unbelievable. I gotta do that again?' It was like, 'Holy s---, I don't know if I'll be able to do that. This is insane.' I was an 18-year-old kid playing his first game in Chicago and I think I got buried like three times on my first shift. I was like, 'Oh, my God.' It was crazy. ... I've learned a lot about just the way to think about going into a game. What makes Jumbo elite, I get to hear little things he says, there's a reason he's elite. Just to pick up little things has helped me a lot. I just really love the spot I'm in right now, we've got a great bunch of guys, a great mix, a great coaching staff, we generally love coming to the rink.
LeBrun: Let's talk about your big RV. How many years have you done the RV vacation trip?
Burns: Two years. It was probably about 30 days two years ago. Last summer was pretty much the whole time. From when we lost [in the Cup finals], we packed it up in two days and we were gone. The kids started school on the 12th [of August] and we were home for that.
LeBrun: What are you reading these days?
Burns: Still reading Game of Thrones, and I'm also reading The Nuclear Jihadist. It's a true story about the CIA and the nuclear weapons getting into Pakistan and trying to prevent it and what happened. It's a pretty crazy book. I go back and forth with Game of Thrones. I've also been watching lots of shows. I've been watching "Vikings," "Hell on Wheels" and "Black Sails."
LeBrun: You should be on "Vikings" with that beard of yours.
Burns: I know! And "Black Sails," too. If you can help me get on one of those two shows, that would be huge: "Black Sails" and "Vikings." I like shows that are kind of historical but also tell a story.
LeBrun: Let's talk Twitter. How do you feel about social media?
Burns: I never got into Facebook. With Twitter, I have fun with it. If something is being said or something is happening, I can say something. Twitter's kind of my way of getting news and seeing what's happening around the league. That's the easiest way for me. It's been fun, I have fun with fans on there and in other cities.
LeBrun: You played for Team Canada in the World Cup of Hockey. What about the Olympics? You'd certainly be in line if the NHL goes to South Korea. But it doesn't sound positive at this point in terms of participation. How do you feel about that?
Burns: I love playing for Team Canada, world juniors, world championships, World Cup, the people at Hockey Canada have been incredible. Yeah, any time I can play. I tell guys all the time about the world championships, for Canada, you've got to go. They treat you unbelievably. You have life experiences. I have a family and now you get to share those experiences with them. I remember one time we were playing in Czech [in Prague, 2015]. We had the early game and the U.S. was playing after. My little guy [five-year-old Jagger] was down near the room and all of a sudden he was gone. I looked down the hallway and couldn't see him. All of sudden a couple of USA guys came over and said, 'Burnzie, you looking for your son? He's right here in our room.' They were getting ready for their semifinal game and my son, wearing his Team Canada "Burns" jersey, is right there in their dressing room [big laugh]. I was like, 'Oh, sorry guys.' ... Yeah, anytime playing for Team Canada. But [the Olympics are] a business, too. I get where they're coming from. That's above my pay grade. I know it would be an unbelievable opportunity to play and a huge honor. But that's a tough one. It would be a really cool country, too. I always look at that. It's far away and it's cool. It's great to travel and get those experiences.
LeBrun: Your little guy plays hockey, right?
Burns: Yup. How about this for a mean joke: They have seven or eight teams in his Junior Sharks league. They all wear the junior Sharks logo but then it's all the NHL teams. Well, they put my kid and Patty Marleau's kid on the Penguins. My kid is just crushed. I was like, 'Who did this to us?' It's funny.
LeBrun: OK, almost done here, and I know you're obviously far, far away from retirement, but have you ever thought about what you'll do next?
Burns: I mean, I've always wanted to join the military. ... I've always wanted a ranch, I love animals obviously, love the outdoors. I don't know though, I don't really think about that too much.
LeBrun: Let's put it this way, I don't picture you as a coach or GM in the NHL. You've got other interests beyond hockey.
Burns: Yeah, no, I wouldn't probably at all [want to work in NHL]. I've given up so many other interests and hobbies [because of hockey] that I really want to get into more. I love road biking, I love jiu-jitsu, I've always had an interest in long-range shooting, learning long-range ballistics, I've always wanted to take courses in that ...
LeBrun: Everyone knows your love for animals, snakes and dogs and everything. What dogs do you have now?
Burns: We had two huskies and we lost our female right after our RV trip this year. We have our male left. He's 10 and he's in unreal shape. But we definitely tell he's lost his mate and he's very lonely. So we've got a puppy coming at Christmas.
LeBrun: What breed?
Burns: A Leonberger, there's not a lot of them in the U.S. [flips on his computer to show a picture of the breed]. They're big dogs.
LeBrun: My goodness, that's the size of a horse!
Burns: Yeah, they're big. Really great temperament, cuddly. Just love it. I've been looking into these dogs for like two years.
LeBrun: Brent, thanks a lot for your time tonight. Always a blast.
Burns: Anytime.