There's no place for the Rangers to hide Girardi
Veteran defenceman exemplifies New York's struggle to handle Ottawa's team speed, Travis Yost writes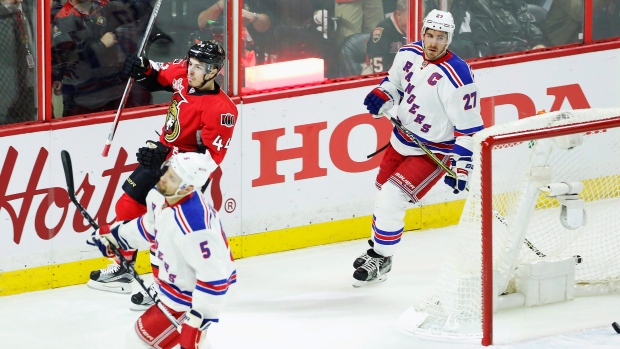 Having fallen behind 2-0 in their second-round series against the Ottawa Senators, the New York Rangers know they have little margin for error going forward.
Surely the series deficit is killing Alain Vigneault and the Rangers coaching staff right now. The games played in Kanata were incredibly even, and with a little puck luck it's possible the Blueshirts could be heading back to Madison Square Garden with the series tied.
But the Rangers have been far from perfect. The team – specifically the blueline – has struggled against the Ottawa forecheck. They've turned pucks over in the defensive third, lengthening the opposition's cycle. They've also turned pucks over in the neutral zone, keying avoidable Ottawa counterattacks. Their struggles in the series have put an increased burden on the forward group to clean up messes, and that hasn't always ended well.
No sequence better exemplified the above than Jean-Gabriel Pageau's first odd-man rush goal in Game 2. The run of play appeared harmless – defenceman Dan Girardi was collecting the puck in the neutral zone with little immediate pressure. Girardi had a few options – skate and push the play north, circle back on the play, or find an open passing lane to a teammate. He chose a fourth option: throw the puck against the boards into no man's land, launching a lethal Ottawa rush.
These plays have become far too common for the Rangers blueline over the years, with Girardi as the most frequent contributor. His degradation has hampered the team for some time now. Girardi was never an offensive contributor, and his defensive game has diminished on something of an exponential curve.
So goes the story of most rugged 'defensive defencemen' as they accumulate mileage on the body – they can't move the puck or skate well, so they end up spending just about every shift trying to survive in the defensive zone.
The Rangers have curiously kept Girardi playing big rotation minutes despite the red flags. Perhaps the Rangers don't see those flags. Perhaps they feel that despite those issues, he's still one of the best six options the team has. Perhaps they think he complements Ryan McDonagh's game, and vice versa.
Whatever the case, Girardi is playing a lot – through Sunday, only a handful of players this postseason have racked up more 5-on-5 ice-time.
It's important not to mince words on this: Girardi is getting crushed out there. It was true in the Montreal series and it's true in the Ottawa series. He is 47 shots underwater through eight games, good for eighth worst out of about 250 regular playoff skaters. And it's not a blip on the radar – it's been a consistent theme for Girardi this season, and really, much longer than that.
Here's a snapshot of the Rangers in 2016-17: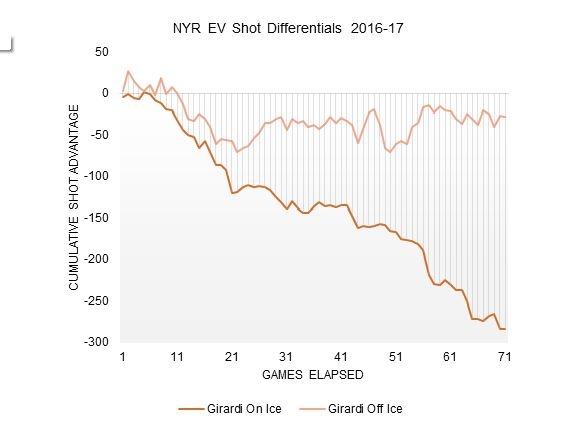 Reading this is pretty simple: The New York Rangers are an average 5-on-5 team when the Girardi unit isn't on the ice and a pretty horrific one when he's out there. Girardi has been worth -250 shots over the course of 71 games played, or about -3.6 per game. That's pretty significant and there are plenty of goals against in that number.
An average unit with superstar goalie Henrik Lundqvist can get you pretty far. A bad one can't.
Even just as it pertains to the postseason, these shot differentials add up in a bad way. In the Rangers case, look no further than how their offence has produced in the 150 minutes that Girardi has been out there at even strength. They have all of one goal to show for it, or 0.4 goals per-60 minutes. It's unfathomably quiet production.
It's easy to pick on Girardi (and perhaps unfair to an extent – there are other players in the lineup who aren't producing either), but consider the situation the Rangers are in here. Girardi is essentially matching Ottawa captain Erik Karlsson minute-for-minute in this series. In Ottawa's case, Karlsson's going to play about half of the game, and in those minutes Ottawa almost always emerges victorious.
This, and maybe this alone, is what makes Ottawa so tough to beat. If you can't contain Karlsson in his minutes, you must dominate the Sens in the minutes he's not on the ice. In New York's case, Girardi is getting at least some of those minutes (he's also surely playing head-to-head with Karlsson as well).
So if Ottawa is winning all of the Karlsson minutes, and New York's losing all of the Girardi minutes, how much time is left for the Rangers to win the scoreboard? Not much.
There are many instances in which a player is overplayed and would serve his team better in a more insulated and less burdensome role. I don't think this is the case here. There isn't any opportunity in this series to hide a player like Girardi. Ottawa has too much team speed on both sides of the ice. In a modern era built for tape-to-tape passing and high-speed forechecking, Girardi – a defender from another era – is exposed.
Vigneault has shown incredible commitment to Girardi over the years, but I would not be surprised to see a healthy scratch at some point in this series. Girardi's best years are well behind him, and if the Rangers are to get back in this series, they need someone who can skate and distribute from the back end in those minutes.
That likely means a combination of increasing Brady Skjei's minutes and either reducing Girardi's minutes to a third-pairing role, or considering a player like Kevin Klein in his stead.