'This one is for us' - Bradley pens letter to TFC fans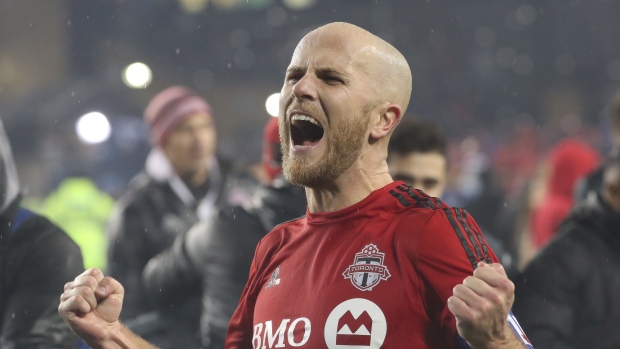 With Toronto FC clinching the Supporter Shield, captain Michael Bradley penned a letter to the team's fans on Monday, explaining that the accomplishment was part of their plan to improve on last season.
The letter, posted on Toronto FC's official website, was written as follows:
This one is special. This one is for us. And by "us" I mean everyone who has played a part in helping Toronto FC win the 2017 Supporter Shield. Everyone at the club, and everyone in the stands.

There's a story to tell about this trophy and why it means so much to us. I'm not usually one to share things that come from inside our locker room, but this time I'll make an exception.

When we sat down as a group early in pre-season this year, we talked about this idea of being different. The loss in the final was still clearly on everyone's mind, but we understood that the only way to ever give ourselves a chance at redemption was to play 90 minutes at a time, for 34 games. Go after every game with the same mentality that we played with during the second half of last season. Worry about the rest later. Our mentality, our commitment and our fearlessness combined with the way we played meant that we had stepped on the field every game thinking we were going to win. Now the challenge was to do it all season long. Week in and week out. No nights off. No tossing points away. No coasting through the hot summer months. We wanted to win. Every game. Every trophy. We wanted to be different.
Of course we wanted MLS Cup. Our chance at redemption. But first we set a goal to win the Supporters Shield. To be the best team in the league from start to finish. And we set that goal for several reasons. The first reason goes back to what I just described, being different. In a long season it can be so easy to lose track of things, to take your foot off the gas. But winning the Shield, to be on top of the league after 34 games, would mean that we had done exactly what we talked about. It'd mean that we went after every game from 1 to 34 like it was the only thing that mattered.

But just as importantly, to win the Shield would guarantee that the last game we play this season will be at BMO Field. If anyone is going to end our season, they're going to have to do it on our field, in our weather, with our supporters, our fans, and the entire city of Toronto behind us. Our team knows that's what you want, the opportunity to help carry us one step further than we got last year. To walk into BMO Field on a cold Toronto night ready to push us over the top.

So, like I said, winning the Supporters Shield is special.
For us.
TFC became the first Canadian club to be crowned the best team in the MLS regular season, with a 4-2 win over the New York Red Bulls on Saturday.