Thomas rips Broncos' handling of trade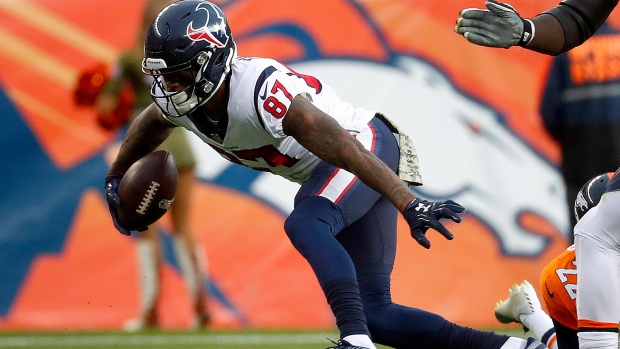 Former Denver Broncos wide receiver Demaryius Thomas was not happy with how his tenure with the team ended.
One week after being traded by the Broncos to the Houston Texans, Thomas spoke to Orange & Blue Radio, 760 AM in Denver, and lamented the way Broncos' brass dealt with his eventual trade out of town.
"It was so tough," Thomas told 760 AM, via 9News.com. "Even leading up to the Kansas City game it was tough, because that one day, I didn't say anything to anybody. I walk into the job and (head coach) Vance Joseph walks up to me and says, 'Don't listen to the trade talks, it's not true.'
"So, we're telling stories to each other now? I thought we were going to be men about this. Leading up to the Kansas City game, that's when this all started, the emotional everything, because I knew it was something. I knew something was going to happen, but I still had to grind it out, play their game and get through it, because I didn't know."
Thomas also took issue with what he said he heard from others that Joseph and Elway were critical of his play.
"I had people from Denver saying like, 'They really said they got rid of you because you were the problem on offense and they said they wanted to better the offence,'" Thomas said. "I'm like, 'Really, bro?' People just kept stirring it on.
"I heard they were saying that Vance was saying something, and Elway was saying something. I did so much for this organization and never had anything bad to say about anybody. I just did my job and kept it as professional as I could. For you all to say that I was one of the reasons that the offence wasn't going, and say this and that, man, that hurt."
And finally, Thomas said he was hurt that he was asked to give up snaps to rookie receiver DaeSean Hamilton.
"My receiver coach came to me and said, he could've said this to either Courtland (Sutton) or Emmanuel (Sanders), but he came to me and said it, he said, 'I want to get DaeSean in the game more than one rep.'
"I'm like, 'Bro, I've been here nine years and you ask me besides anybody else?' I'm like, 'That's so disrespectful to me, because I've put so much into this game, but you want me to come out for a rookie.'
"I don't have anything against it, because he's a great player, I love DaeSean Hamilton to death. When I knew it was that, I was like, 'I'm out here just to be out here.' It was tough."
In Thomas' first game with the Texans – a 19-17 win over the Broncos – the 30-year-old had three receptions for 61 yards