Thorburn lifts Jets over Coyotes
Chris Thorburn scored a short-handed goal in the third period to lift the Winnipeg Jets over the Arizona Coyotes 3-2 victory on Saturday night.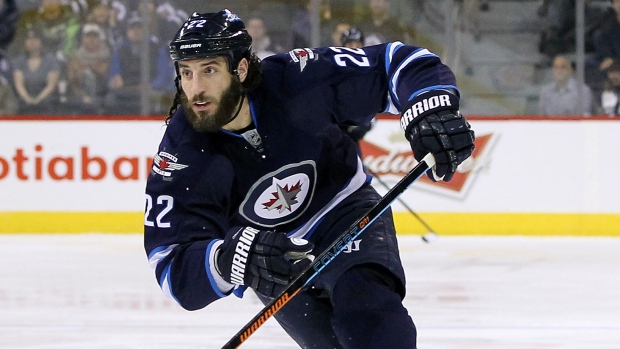 WINNIPEG - Chris Thorburn wasn't even supposed to be on the ice, yet he ended up with the game-winning goal.
Thorburn picked the pocket of Michael Stone and scored his first short-handed goal as a Jet at 11:09 of the third period to lift Winnipeg to a 3-2 victory over the Arizona Coyotes on Saturday.
"Chris does the same things whether he plays three minutes or he plays 15 minutes," said Jets coach Paul Maurice. "We'll take a 3-2 goal from anybody, but it's really great when you can get a heart-and-soul guy, subs in on the penalty kill because we've got a (penalty) killer in the box, and he scores a goal like that — all effort."
A humbled Thorburn added that he was fortunate on the play that led to his third goal of the season.
"I got lucky with the defenceman falling down and myself having more time than I thought I would have and I was able to sneak one by him," said Thorburn. "The adrenaline was rushing. It seemed loud and I just got caught up in the moment. I'm just proud of our team the way we battled. There were times where things weren't pretty."
Mark Scheifele and Dustin Byfuglien also scored for the Jets (10-9-2), while Shane Doan and Connor Murphy had power-play goals in the first period for Arizona (10-9-1).
"It was a competitive game. Couple of bounces here and there but it was a real tight game. They capitalized on their chance in the third and that was the difference in the game," said Coyotes coach Dave Tippett. "Our execution was, at times, good in the game and at times not so good. But both teams (worked) hard."
Winnipeg goaltender Ondrej Pavelec, who left the game after two periods due to a lower-body injury, stopped 20 of 22 shots. Michael Hutchinson earned the win in relief, stopping all seven Coyotes shots in the third. There was no immediate update on Pavelec's status.
"Whenever a guy goes down on your team it's obviously tough on us," said Scheifele. "But (Hutchinson) did a great job at coming in at the end of the game and playing great for us."
Anders Lindback made 20 saves for the Coyotes.
Winnipeg's 14 penalty minutes Saturday night makes it the first NHL club to eclipse 300 penalty minutes this season. Arizona converted on two of its six power-play chances.
"I'm thinking of taking up cigar smoking," Maurice said when asked how he might overcome the stress induced by his club's discipline issues. "We work hard at not complaining, and then kill penalties. We've got to work hard at staying out of the penalty box."
"I think those first two periods there was a lot of penalty trouble," added Scheifele. "It seemed like we didn't get our rhythm going. But we want to be a team that stays the same throughout the whole game. We want to play our system and no matter what, outwork them throughout the whole game, and I think that's a big thing that we did tonight."
Doan's first-period goal puts him in rare company, joining Jaromir Jagr as the only players in NHL history to score goals at both the Winnipeg Arena and MTS Centre.
"It's one of those things that as a player you never forget your first one, and it's obviously a special moment," Doan said. "I'll never forget being here and scoring it here and everything that went along with it, playing for the organization here."