Three and Out: Freeman's hot start and his value moving forward
Each week, TSN.ca Fantasy Editor Scott Cullen and NFL Editors Ben Fisher and Mike Hetherington discuss three hot fantasy football topics. This week they discuss Devonta Freeman's hot start and if he can keep it up, Todd Gurley's fantasy ceiling, and sophomore quarterbacks.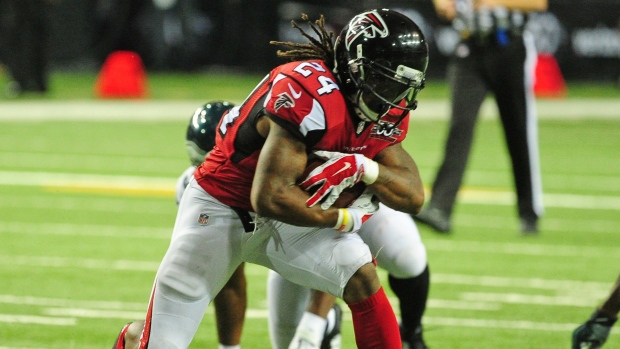 Each week, TSN.ca Fantasy Editor Scott Cullen and NFL Editors Ben Fisher and Mike Hetherington discuss three hot fantasy football topics.
How long can Devonta Freeman keep up his fast start? Where will he settle in the running back rankings?
Cullen: Freeman is obviously not going to keep rolling out three-touchdown games, but he has to be considered an RB1 at this point. With a Falcons offence that is averaging more than 400 yards per game, there are going to be opportunities for Freeman to produce (both yards and touchdown) and, as long as he does, Freeman can stay ahead of rookie Tevin Coleman on the depth chart.
Fisher: Freeman's numbers through four games are pretty much exactly the same as his full-season numbers last year across the board, save for touchdowns – a whopping 7-1. He's not going to keep scoring three times a game – his average since Tevin Coleman was injured – and while the Falcons' offence is improved this year, numbers show it's not as big a jump as you'd expect for a 4-0 team coming off a 6-10 season.
Coleman has a shot to finish the year in the Top 10 because his fast start has him out to a 40-point head start over the 11th ranked fantasy back at the quarter turn, but moving forward I would treat the sophomore RB more by his rushing numbers (63 yards per game, 3.8 yards per carry) than his scoring numbers.
I wouldn't rule out Coleman reclaiming the starting job later in the year once the shine of Freeman's unsustainable start wears off.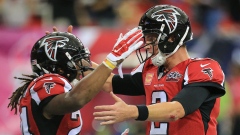 Hetherington: Freeman is a legitimate RB1 for at least one more week, while Tevin Coleman continues to rehab his rib injury. After that, however, Freeman's numbers will likely decline as he shares reps in the backfield. While I don't think Coleman steals Freeman's job, it's likely the coaching staff tries to get both involved. That being said, Freeman's play in the past two weeks has certainly earned him more playing time and I think he'll wind up as a high-end RB2. His ability to catch the ball should help his numbers as he appears to have earned the trust of Matt Ryan.
Todd Gurley broke out in Week 4. Does he have the talent to put up RB1 numbers even in the Rams' offence?
Cullen: Gurley has RB1 talent, not despite the Rams' offence, but because of the Rams' limited offensive options. For a team that doesn't have any other game-breakers, Gurley's emergence should make him the focal point of the St. Louis offence going forward.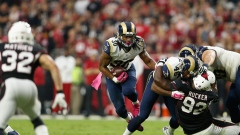 Fisher: It didn't take long for a healthy Gurley to show why teams are drafting running backs in the first round again. The Year of the Rookie Running Back has so far fallen flat but Gurley has a chance to save it. As the only legitimate threat on the Rams' offence, Gurley's workload should counterbalance his lack of scoring chances in the Rams inept offence.
After missing most of the first three games recovering from his knee injury, the rookie has a lot of work to do to break the Top 10 in RB scoring, but I think he can be a low-end RB1 the rest of the way at least.
Hetherington: Gurley looked like a first-round pick on Sunday as he carved through one of the league's toughest defences. Gurley posted a ridiculous 7.7 yards per carry average and had 17 more carries than any other back for the Rams. Even though the Rams don't reach the redzone as often as many owners would hope, Gurley can still produce RB1 numbers as long as he gets the necessary touches. I'm buying Gurley as a RB1, and a rookie of the year candidate. He is by far the Rams' best weapon on offence.
Are you buying any second-year QB as a QB1 in fantasy?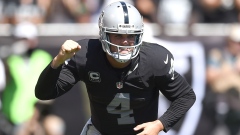 Cullen: As much as I'm excited about the prospects of Derek Carr in Oakland, particularly with rookie WR Amari Cooper offering him a premier target, I'm not yet prepared to put him in QB1 range. It's possible he gets there at some point this year but, right now, it's too soon to tie your fantasy fortunes to Carr on a weekly basis.
Fisher: No, but I do think one – Oakland Raiders QB Derek Carr – is on the cusp. Teddy Bridgewater was my highest ranked sophomore QB heading into the season as a high-end QB2, but he's struggled so far. Carr's currently in the QB2 range too but if you add backup Matt McGloin's points gained when Carr was hurt in Week 1, he'd be ranked seventh through four weeks.
Carr has benefited from some weak opposing defences, but has also looked really good in a Raiders offence that finally has some weapons. A Top 10 ranking might be a bit much for his sophomore campaign, but Carr should definitely be on the keeper league radar.
Jacksonville's Blake Bortles is also in the Top 10 through four games, but I'd be surprised if his garbage yards-enhanced point totals can sustain that ranking all year.
Hetherington: While I'd like to put Derek Carr on this list, I'm not believing in any quarterback from the 2014 draft class as a legitimate QB1. While Carr and Blake Bortles may be spot-start options as the bye weeks roll by, both are simply too inconsistent to play on a weekly basis. Speaking of second-year quarterbacks, Teddy Bridgewater has completely fallen off the fantasy map after a promising rookie year. In my opinion, the only way either Bortles or Carr finish with QB1 numbers, is due to injuries at the quarterback position across the league.