Three and Out: Year of the rookie runners?
Each week, TSN.ca Fantasy Editor Scott Cullen and NFL Editors Ben Fisher and Mike Hetherington discuss three hot fantasy football topics. Topics this week include quarterback expectations for Drew Brees, Peyton Manning and Tom Brady, and expectations for rookie running backs.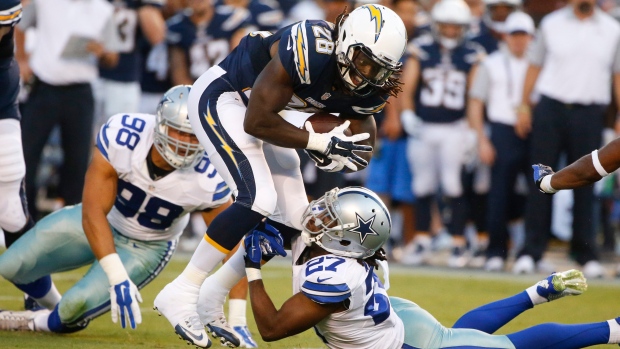 Each week, TSN.ca Fantasy Editor Scott Cullen and NFL Editors Ben Fisher and Mike Hetherington discuss three hot fantasy football topics.
1) Which older quarterback – Drew Brees, Peyton Manning, Tom Brady – are you most confident in scoring consistently all season?
Cullen: I projected Brees to be the third-ranked quarterback this season (behind Andrew Luck and Aaron Rodgers), so I suppose I have to side with him. Despite losing Jimmy Graham and relative uncertainty about the supporting cast beyond second-year WR Brandin Cooks, I find it easier to go with Brees, who has thrown for at least 4,900 yards and 33 touchdowns in each of the past four seasons. As Manning gets older, injuries are suddenly a bigger issue, and while I don't know for sure how it will affect his passing, I don't like hearing that he doesn't have any feeling in his fingertips. As for Brady, he might crank up the passing game to stick to the haters, but the Patriots still don't have a great receiving corps and now seem to get by without relying on Brady to put up monster stats.
Fisher: I'm going to disagree with Tom Brady's personal emails and take Peyton Manning. Manning slid down position rankings this off-season after another disappointing postseason performance but hasn't he always played poorly in the playoffs? Prior that Manning was one of only four quarterbacks to score more than 300 points in ESPN Standard leagues; a far cry from his monstrous 2013 season, but actually more points than his first year in Denver. Manning may not have another Super Bowl left in him, but he definitely has another elite fantasy season in him.
Hetherington: Tom Brady. Following the "Deflategate" scandal, I'm expecting Brady to come out and light up the league – deflated footballs or not. Brady has shown no signs of decline in recent years, unlike Manning, and still possesses a talented group of receivers, unlike Brees. I believe Brees likely still owns the best arm of the three, but he can't be counted upon in the Saints new run-heavy, ball control offence.
2) How many rookie running backs will be putting up big numbers by the end of the season?
Cullen: If we're looking at how many will be starter-calibre backs by season's end, I will go with six: Tevin Coleman (ATL), Duke Johnson (CLE), Ameer Abdullah (DET), T.J. Yeldon (JAX), Todd Gurley (STL) and Melvin Gordon (SD). I'm most excited about Gurley; it's probably irrational, considering he's coming off a torn ACL, but I think he can be an impact player for the Rams once he's healthy.
Fisher: ESPN's Adam Schefter said last season was the year of the rookie receiver, this will be the year of the rookie running back. Five rookie WRs put up starters numbers last year but I think this year's freshman RBs can beat that.
Melvin Gordon is locked in to a starting role in a strong offence in San Diego and Todd Gurley should take over in St. Louis as soon as healthy. Ameer Abdullah, TJ Yeldon, and Tevin Coleman will start the sharing carries but have the talent to ultimately win starting jobs outright.
And the sixth will be the Cleveland Browns' Duke Johnson. Johnson still has to recover from a preseason concussion, but has drawn strong reviews so far and appears to have the talent to unseat Isaiah Crowell, a talented back in his own right. If Cleveland's offence isn't terrible – a big if – Johnson should get enough carries to be a flex consideration.
Hetherington: I consider Melvin Gordon and Todd Gurley to be locks in this category. Looking further down the draft, I expect to see David Cobb (TEN), Duke Johnson Jr. (CLE), Tevin Coleman (ATL), Ameer Abdullah (DET) and TJ Yeldon (JAX) all to join Gordon and Gurley in lead back roles by Week 12 - making a total of seven.
Coleman could emerge earlier than Johnson, who missed most of the preseason due to injuries. While, Yeldon is listed as the Week 1 starter for the Jaguars. Abdullah is simply waiting for Joique Bell to struggle and jump him on depth chart, while Cobb is on IR until at least Week 8 with a calf injury. If Cobb returns at full health, he should be able to grab the lead back role from Terrance West and Bishop Sankey.
Of the rookies, I expect Gordon to lead the group in rushing yards for the season.
3) How big of a season will Davante Adams have filling in for Jordy Nelson in the Packers' starting offence this year?
Cullen: Adams was already a player to keep an eye on before Nelson was injured – the Packers' passing game is prolific enough that a third wideout can put up good numbers – but he's clearly the one poised to benefit most from Nelson's torn ACL. I projected Adams at 760 receiving yards with five touchdowns, but if he connects early with Aaron Rodgers and earns the quarterback's trust, a 1,000-yard season is not out of the question.
Fisher: Any receiver in Aaron Rodgers' offence will do just fine. Jarrett Boykin (recently released by the receiver-desperate Carolina Panthers) had a decent year for the Packers two years ago filling in when injuries struck, so imagine what a talented receiver could do.
The Packers had two receivers in the Top 10 at their position last year, and I think they could challenge for that again this year. In the Packers' offence, Adams is a high-end WR2.
Hetherington: Adams will more fill in for Randall Cobb, while Cobb fills in for Nelson. Therefore, I think you can expect Adams to come close to Cobb's 2014 numbers. Adams showed flashes of strong productivity last year, now he'll have to prove to be an every week contributor. With Aaron Rodgers at quarterback, I'll set Adams' line for 1,000 yards with nine touchdown receptions. He's a strong WR2 in my books.