Three-headed monster tops 2018 Free Agent Frenzy class
Impact players John Tavares, John Carlson and James van Riemsdyk top the list of players who could hit the open market on July 1, TSN Senior Hockey Reporter Frank Seravalli writes.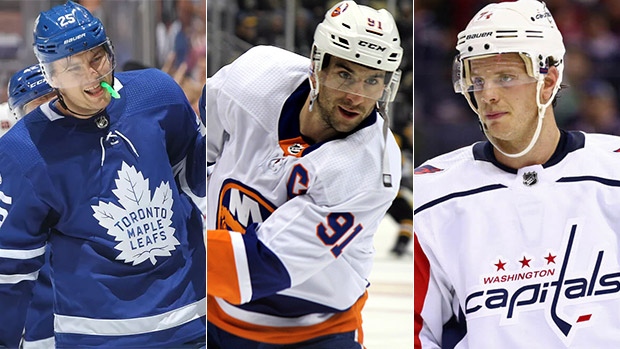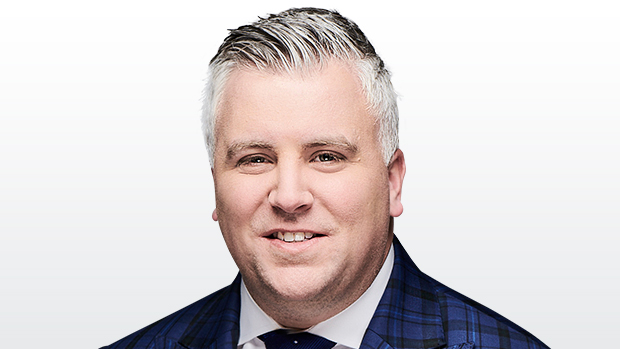 The Free Agent Frenzy class of 2018 is a three-headed monster, stacked with impact players John Tavares, John Carlson and James van Riemsdyk at the top – potentially making this group one of the most powerful in years.
The only question is: Will it remain that way up until Canada Day?
Lou Lamoriello's arrival on Long Island, coupled with his clandestine meeting with Tavares before the announcement of his hiring as New York's president of hockey operations, has renewed speculation about J.T.'s interest in staying with the Islanders.
It's clear that locking up Tavares is Lamoriello's first, second and third priority. Lamoriello and Tavares' agent, Pat Brisson of CAA Sports, have been in near daily contact since Lamoriello took over on May 22.
Tavares, a two-time Hart Trophy finalist, is coming off his best season since 2014-15 with a career-high 37 goals and 84 points. That still wasn't enough to push the Islanders into the playoffs, who have qualified just three times in his nine seasons. The key for Lamoriello is instilling a belief in Tavares that he can win with the Islanders.
Having gone this far, though, many believe Tavares will at least wait until June 24 to hear pitches from interested parties. The San Jose Sharks, Montreal Canadiens, St. Louis Blues, Vegas Golden Knights and New Jersey Devils are among the upwards of a dozen teams that would be lining up to meet with Tavares' camp.
Tavares' close friend, Steven Stamkos, danced through that courting process before deciding to re-sign with the Tampa Bay Lightning on June 29, 2016 – two days before he was set to become an unrestricted free agent.
The Washington Capitals will make a similar effort as the Islanders to keep Carlson, the premier defenceman on the market this summer. He won't come cheap, not after leading all defencemen in scoring with 68 points, but a lot of Washington's success runs off his stick.
Van Riemsdyk is the one player near the top of the list virtually guaranteed to actually hit the market. He's coming off a career-best 36-goal season despite playing fewer minutes than any year since 2010-11. Van Riemsdyk, 29, is one of the best net-front players in the NHL and was well-respected by the Maple Leafs for how well he takes care of his body. He has averaged 31 goals over each of his last four full seasons.
Here are the Top 50 unrestricted free agents expected to be available on July 1, sans veteran Joe Thornton, who has stated his strong desire to remain in San Jose:
The Top 50
| RK | Player | Team | Pos | Age | GP | G | PTS | 17-18 |
| --- | --- | --- | --- | --- | --- | --- | --- | --- |
| 1 | John Tavares | NYI | C | 27 | 82 | 37 | 84 | $5.5M |
| 2 | John Carlson | WSH | RD | 28 | 82 | 15 | 68 | $3.96M |
| 3 | James van Riemsdyk | TOR | LW | 29 | 81 | 36 | 54 | $4.25M |
| 4 | Paul Stastny | WPG | C | 32 | 82 | 16 | 53 | $7M |
| 5 | James Neal | VGK | LW | 30 | 71 | 25 | 44 | $5M |
| 6 | Ilya Kovalchuk | KHL | LW | 35 | 53 | 31 | 63 | $5.5M |
| 7 | Tyler Bozak | TOR | C | 32 | 81 | 11 | 43 | $4.2M |
| 8 | David Perron | VGK | RW | 30 | 70 | 16 | 66 | $3.75M |
| 9 | Mike Green | DET | RD | 32 | 66 | 8 | 33 | $6M |
| 10 | Rick Nash | BOS | LW | 33 | 71 | 21 | 34 | $7.8M |
| 11 | Carter Hutton | STL | G | 32 | 32 | 2.09 | .931 | $1.13M |
| 12 | Thomas Vanek | CBJ | LW | 34 | 80 | 24 | 56 | $2M |
| 13 | Patrick Maroon | NJD | LW | 30 | 74 | 17 | 43 | $2M |
| 14 | Riley Nash | BOS | C | 29 | 76 | 15 | 41 | $900K |
| 15 | Derek Ryan | CAR | C | 31 | 80 | 15 | 38 | $1.43M |
| 16 | Anton Khudobin | BOS | G | 32 | 31 | 2.56 | .913 | $1.2M |
| 17 | Jack Johnson | CBJ | LD | 31 | 77 | 3 | 11 | $4.36M |
| 18 | Ian Cole | CBJ | LD | 29 | 67 | 5 | 20 | $2.1M |
| 19 | Michael Grabner | NJD | RW | 30 | 70 | 27 | 36 | $1.65M |
| 20 | Leo Komarov | TOR | LW | 31 | 74 | 7 | 19 | $2.95M |
| 21 | Thomas Hickey | NYI | LD | 29 | 69 | 5 | 25 | $2.2M |
| 21 | Kyle Brodziak | STL | C | 34 | 81 | 10 | 33 | $950K |
| 22 | Jonathan Bernier | COL | G | 29 | 37 | 2.85 | .913 | $2.75M |
| 23 | Valtteri Filppula | PHI | C/LW | 34 | 80 | 11 | 33 | $5M |
| 24 | Matt Calvert | CBJ | LW | 28 | 69 | 9 | 24 | $2.8M |
| 25 | Tomas Plekanec | TOR | C | 35 | 77 | 6 | 26 | $6M |
| 26 | Dan Hamhuis | DAL | LD | 35 | 80 | 3 | 24 | $3.75M |
| 27 | Blake Comeau | COL | RW | 32 | 79 | 13 | 34 | $2.4M |
| 28 | Calvin De Haan | NYI | LD | 27 | 33 | 1 | 12 | $3.3M |
| 29 | Jay Beagle | WSH | C | 32 | 79 | 7 | 22 | $1.75M |
| 30 | Chris Kunitz | TBL | LW | 38 | 82 | 13 | 29 | $2M |
| 31 | John Moore | NJD | LD | 27 | 81 | 7 | 18 | $1.67M |
| 32 | Mark Letestu | CBJ | C | 33 | 80 | 9 | 23 | $1.8M |
| 33 | Greg Pateryn | DAL | RD | 27 | 73 | 1 | 13 | $800K |
| 34 | Kevin Connauton | ARI | LD | 28 | 73 | 11 | 21 | $1M |
| 35 | Brian Gibbons | NJD | C | 30 | 59 | 12 | 26 | $650K |
| 36 | Ryan Reaves | VGK | RW | 31 | 79 | 4 | 10 | $1.13M |
| 37 | Tim Schaller | BOS | LW/C | 27 | 82 | 12 | 22 | $775K |
| 38 | Luca Sbisa | VGK | RD | 28 | 30 | 2 | 14 | $3.6M |
| 39 | Nick Holden | BOS | RD | 31 | 73 | 4 | 17 | $1.65M |
| 40 | Brandon Manning | PHI | LD | 27 | 65 | 7 | 19 | $975K |
| 41 | Christian Folin | LAK | RD | 27 | 65 | 3 | 13 | $850K |
| 42 | Antoine Vermette | ANA | C | 35 | 64 | 8 | 16 | $1.75M |
| 43 | Antoine Roussel | DAL | LW | 28 | 73 | 5 | 17 | $2M |
| 44 | Derek Grant | ANA | C | 28 | 66 | 12 | 24 | $650K |
| 45 | Chris Wideman | OTT | RD | 28 | 16 | 3 | 8 | $800K |
| 46 | Jaroslav Halak | NYI | G | 33 | 54 | 3.19 | .908 | $4.5M |
| 47 | Ondrej Pavelec | NYR | G | 30 | 19 | 3.05 | .910 | $1.3M |
| 48 | Alexei Emelin | NSH | LD | 32 | 75 | 1 | 9 | $4M |
| 49 | Roman Polak | TOR | RD | 32 | 53 | 2 | 12 | $1.1M |
| 50 | Michael Hutchinson | WPG | G | 28 | 3 | 3.26 | .907 | $1.15M |
Contact Frank Seravalli on Twitter: @frank_seravalli