Ticats adjusting to face Lulay, Sutton this time around
The Hamilton Tiger-Cats split their home-and-home series with the B.C. Lions in September, but will face a different looking B.C. Lions offence in Sunday's Eastern Semi-Final.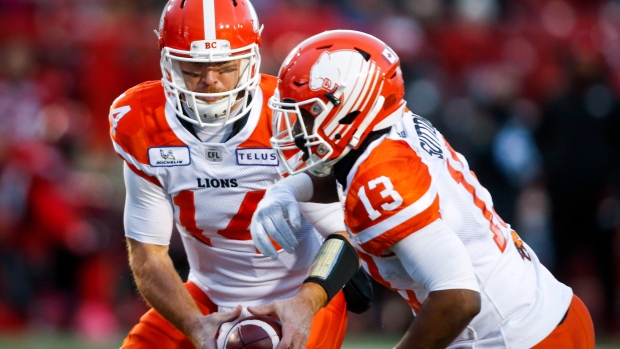 The Hamilton Tiger-Cats split their home-and-home series with the B.C. Lions in September, but the gametape from those contests has been rendered largely useless heading into Sunday's Eastern Semi-Final thanks to changes to the Lions offence.
Since those back-to-back games, Travis Lulay has returned from injury and taken over as starting quarterback, and running back Tyrell Sutton was acquired from the Montreal Alouettes.
The Ticats faced quarterback dual-threat Jonathan Jennings in their two meetings against the Lions this season, but are now scouting more of a pocket passer in Lulay.
"I think Lulay, just watching him on film, and history from watching him last year too, he's a very accurate passer," head coach June Jones said. "He'll stand in and throw the ball. When you have that combination of accuracy and willingness to stand in and take a hit, you can play."
The Tiger-Cats dropped their first game against the Lions this season 35-32 in overtime, but ran over the Lions in a 40-10 rout on home field the next week. Safety Mike Daly argued Wednesday that while the quarterback may be different, the Lions will be running the same plays on offence.
"With Lulay there, he's going to be going through the same reads (as Jennings)," Daly said after practice on Wednesday. "He's a little quicker to pull the trigger but Jonathon added that running aspect so it's like you give, take. What's better than the other? I'm not too sure."
When it comes to Sutton, there's no argument from the Tiger-Cats that they'll be facing an upgrade from the team's previous backfield. Sutton is averaging just under five yards per carry since debuting for the Lions in October.
"I feel like he's one of the best backs in the league," linebacker Don Unamba said. "He's a tough, gritty runner. We'll have a swarm tackle where everybody gets to the ball. We don't want to leave anybody with a one-on-one situation with him all the time. He's a tough runner."
Sutton should have extra motivation playing in the first postseason game of his six-year CFL career.
"He's a downhill runner," Daly said. "He's probably the best in the league at doing it. He's pretty tough to bring down so we have to get multiple bodies on him. Arm tackles don't really work on him so you really have to bring your feet, all that kind of stuff. He's always been good so that's what we have to worry about."
The Eastern Semi-Final will take place Sunday in Hamilton at 1pm et/10am pt.