Ticats WR/KR Banks suspended two games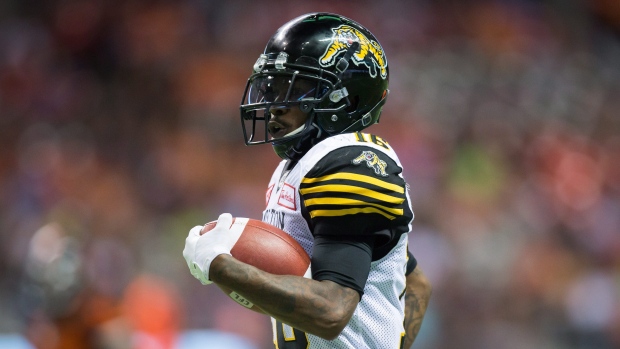 The Hamilton Tiger-Cats will be without kick returner Brandon Banks for two games after he tested positive for a banned substance, the CFL announced Wednesday.
The league announced that Banks tested positive for Methylenedioxyamphetamine, his first violation of the CFL/CFLPA Drug Policy.
"I would like to apologize to my coaches, teammates, the Hamilton Tiger-Cats organization, and our great and loyal fans for putting myself in this situation," Banks said in a statement.
"It's my responsibility to know what's on the banned substance list and there is no excuse for my violation of the rules. My mistake has not only hurt my team, but my family and friends, and for that I am extremely sorry. I will work very hard over the next two weeks to prepare myself both mentally and physically to return to the field and contribute to bringing a Grey Cup championship back to the City of Hamilton."
Under the policy, a player faces a two game suspension for their first violation, a nine game suspension for a second, a one-year suspension for a third violation, and a lifetime ban for a fourth violation.
The Tiger-Cats also released a statement following Banks' suspension.
"The Hamilton Tiger-Cats fully endorse the Canadian Football League's joint drug testing/substance abuse policy with the CFLPA, and we're very disappointed to learn of Brandon's violation. He has acknowledged his error in judgment and is now being held accountable for his actions."
"We support Brandon as an organization and will help him by any means possible to continue to grow as a football player and person off the field. We fully expect him to play at a high level when he returns to the lineup after serving his two-game suspension."
Banks has appeared in 15 games for the Tiger-Cats this season and has 29 receptions for 355 yards and four touchdowns. He's also returned one punt for a touchdown and averaged 22.7 yards per kick return.