Tiger undergoes fourth back surgery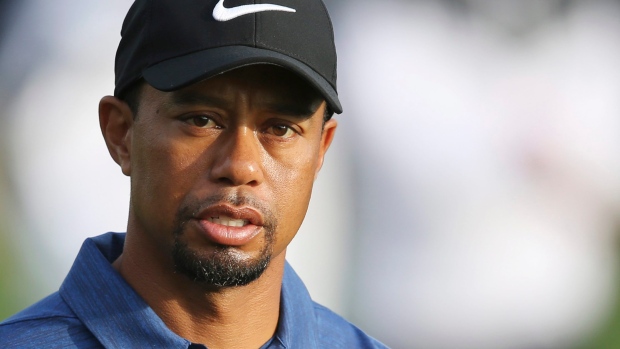 The long and frustrating saga of Tiger Woods' bad back added another chapter on Thursday when it was announced on his web site that he has undergone yet another surgery. This marks the fourth procedure in the last three years for the wounded golfer.
At a minimum, Woods will be out for the next six months and questions about whether he'll ever be competitive again have been re-ignited. He last won a tournament on the PGA Tour in 2013. He hasn't played in a major since the 2015 PGA Championship.
At 41, Woods appears to be broken down and hobbling. No one is asking whether he'll break Jack Nicklaus's major record anymore. No one is asking if he'll earn another Green Jacket. Now the questions are more about whether he can get back to any form or perhaps even if he'll just retire.
There are other questions being asked too. What's missing from this latest announcement is just what happened to cause this new ailment. How did Woods go from looking pain-free but rusty at Torrey Pines to the guy in agony in Dubai? Was this self-inflicted, a result of his relentless workout routine? Or maybe caused by his return to swinging the club?
And why did he say on Tuesday that his back was "progressing" when he likely headed to Texas shortly thereafter to go under the knife? Woods and his camp have never been particularly revealing to the media or public – which is his prerogative – and this latest episode is no different.
On his website, Woods did say that after rehab and medication failed, he opted for an operation to try and alleviate the discomfort he's been feeling in his back and leg.
"The surgery went well, and I'm optimistic this will relieve my back spasms and pain," he said. "When healed, I look forward to getting back to a normal life, playing with my kids, competing in professional golf and living without the pain I have been battling so long."
The announcement comes two days after Woods told a gathering at Big Cedar Lodge in Missouri, where he announced he would be designing a new course, that his troubles were on-going. "I have good days and bad days. I've had three back operations and that's just kind of the nature of the business, unfortunately. That's all I can say."
The procedure he underwent is known as an Anterior Lumbar Interbody Fusion at L5/S1. It involves removing a damaged disc and then re-establishing the space of the collapsed disc. The hope is to relieve pressure on the nerve, which causes the pain.
The operation, which was described as "minimally invasive," was done by Dr. Richard Guyer of the Center for Disc Replacement at the Texas Back Institute.
On the website, Guyer stated that Woods will be able to play golf after he recuperates.
"After he recovers from surgery, he will gradually begin his rehabilitation until he is completely healed," Guyer said on TigerWoods.com. "Once that's accomplished, his workouts will be geared to allowing him to return to competitive golf."
This marks the fourth back procedure in just over three years for Woods. The prognosis is for several weeks of rest and then rehab with doctors saying he will be back to "normal" in six months. That means he will miss the rest of the 2016-17 season, one that began with high hopes for the 14-time major winner.
He returned to action in December at the Hero World Challenge, an event he hosts in the Bahamas. At that tournament, Woods showed some rust but did lead the field in birdies.
His next stop was the Famers Insurance Open, which was to be the first of four tournaments in five weeks. Woods missed the cut there and then flew to Dubai where he showed signs of back discomfort. He shot 77 in the first round and then withdrew citing back spasms.
Since the first back procedure in March 2014, Woods has teed it up in just 16 PGA Tour events. In those, he's completed 72 holes just seven times. His only official start this year was at the Farmers Insurance Open where he missed the cut.
On Tuesday, while at Big Cedar Lodge, he hit two wedge shots on a par-3 hole. The first one rattled around in some rocks short of the green and the next one Woods put close to the pin. Those will likely be the last shots he hits for some time.