Tim Hortons Brier attracts big audiences to TSN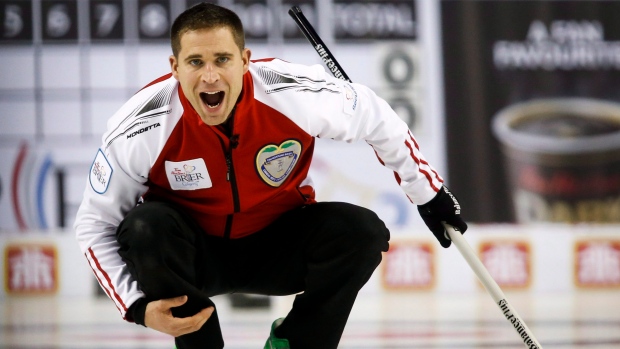 Sunday night's 2015 TIM HORTONS BRIER Final drew a big audience for TSN, with Pat Simmons and Team Canada's dramatic 6-5 championship victory over Northern Ontario's Brad Jacobs and his Sochi 2014 Olympic Winter Games gold medal-winning team attracting an average audience of 1.25 million viewers according to overnight data from Numeris (BBM Canada)*.
Audiences were up 40% compared to last year and marked the highest-rated Final since 2011. The game peaked at 2 million viewers at 10:30 p.m. ET, as Simmons drew the button with his final stone to win the championship in the 11th end.
Overall, the network attracted an average audience of 587,000 viewers throughout the 2015 TIM HORTONS BRIER – marking a 29% increase compared to last year. In total, 7.5 million unique Canadian viewers watched some part of the tournament on TSN.
The 2015 TIM HORTONS BRIER marked the first time TSN delivered live coverage of two draws taking place at the same time, with the network leveraging its multiple national feeds to showcase even more live action from one of the biggest curling events on the 2015 calendar.
"The TIM HORTONS BRIER is a tent-pole event for TSN that consistently delivers major audiences," said Stewart Johnston, President of TSN. "With our new multi-sheet coverage of this year's BRIER, fans clearly responded to having more choice of draws from the single biggest men's curling event in Canada. From a production standpoint, this was our best BRIER yet. A huge kudos to the TSN Curling crew, who brought fans world-class curling broadcasts every day over nine days. They are second to none in this business."
The 2015 TIM HORTONS BRIER on TSN also featured the following highlights:
• Saturday night's Semifinal featuring Brad Gushue vs. Pat Simmons attracted an average audience of 896,000 viewers, making it the most-watched sporting event of the night
• The Page Playoff (1 vs. 2) featuring Brad Jacobs vs. Brad Gushue attracted an average audience of 783,000 viewers
• The Page Playoff (3 vs. 4) featuring Pat Simmons vs. Steve Laycock attracted an average audience of 710,000 viewers
• The Bronze Medal Game featuring Gushue vs. Laycock attracted an average audience of 621,000 viewers
• Guest curling analysts David Nedohin and Cheryl Bernard made their BRIER debuts, joining TSN's acclaimed curling broadcast team of Vic Rauter, Russ Howard, Bryan Mudryk and Cathy Gauthier
• A thrilling double-runback-double shot from Newfoundland skip Brad Gushue was crowned the SPORTSCENTRE Highlight of the Night and remains the show's 1v1 champion – the first-ever from curling – beating out incumbent Nashville Predator Taylor Beck's impressive no-look pass with 90% of the vote, then taking down Calgary Flames' defenceman David Schlemko's amazing shootout goal, and most recently defeating Stephen Curry's amazing 3-pointer with 74% of the vote in today's matchup
TSN's expanded multi-sheet coverage of the 2015 TIM HORTONS BRIER comes on the heels of the 2015 SCOTTIES TOURNAMENT OF HEARTS that attracted a record television audience, and a record-breaking PINTY'S ALL-STAR CURLING SKINS GAME in January.
TSN's live coverage of Season of Champions curling continues with the WORLD WOMEN'S CURLING CHAMPIONSHIP, beginning with Canada vs. Finland on Saturday, March 14 at 6 a.m. ET on TSN, live from Sapporo, Japan.