Tim Hortons, TSN announce partnership for That's Hockey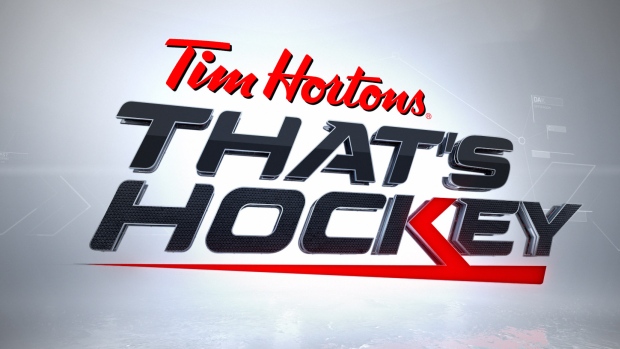 Just in time for puck drop on the 2014-15 NHL regular season, Tim Hortons and TSN today announced a partnership that will see Tim Hortons become the title sponsor of That's Hockey, the most-watched daily hockey show in Canada.
The partnership begins today (Wednesday, Oct. 8) with Canada's favourite coffee brand featured prominently in the re-named Tim Hortons That's Hockey. Today's edition of the show, airing in a special 5:30pm et timeslot on TSN4 and TSN5, is dedicated to teeing up tonight's Leafs-Habs season opener. It features reports from TSN's panel of Hockey Insiders and experts on-site at Maple Leaf Square outside the Air Canada Centre in downtown Toronto. Beginning tomorrow, Tim Hortons That's Hockey moves to its regular timeslot of 7pm et weekdays (visit TSN.ca/TV for complete broadcast information).
In addition to becoming a title sponsor, Tim Hortons will also be integrated into the show's segments and features, as well as into TSN's package of regional Toronto Maple Leafs, Ottawa Senators, and Winnipeg Jets games. Highlights include:
- Timbit Tidbits, a daily feature looking at notable stats and facts from the hockey world
- Weekly sponsorship of Post2Post, a breakdown of the highs, lows, and intricacies of goaltending performances with TSN Hockey analyst Jamie McLennan
- Sponsored Keys to the Game features during Leafs, Sens, and Jets games on TSN
"Hockey in Canada is a natural fit for Tim Hortons. Our history has an intrinsic connection with this sport – it is a part of our DNA. From our founder, NHL great Tim Horton, to our presence in arenas, on jerseys, and in the daily routines of Canadians that love and play this incredible game," said Peter Nowlan, Chief Marketing Officer, Tim Hortons Inc. "We're proud of our hockey history, and this new sponsorship of TSN's That's Hockey is the latest way we are able to bring news about the game and its biggest and brightest moments to Canadian fans."
"Tim Hortons is deeply rooted in the Canadian hockey landscape. They are a huge supporter of the game," said Nathalie Cook, Vice-President, Sales and Brand Partnerships, TSN. "We are Canada's top source for daily hockey news and Tim Hortons is the country's go-to choice for coffee, making this both a strategic and meaningful alliance for TSN."
Tim Hortons That's Hockey on TSN
Hosted by TSN's veteran broadcaster Gino Reda, Tim Hortons That's Hockey keeps passionate and informed hockey fans updated on all the latest news from the world of hockey. Reda interviews the game's biggest stars and most outspoken personalities while dishing out the latest hockey headlines. Tim Hortons That's Hockey features regular reports from TSN Hockey Insiders Bob McKenzie, Darren Dreger, and Pierre LeBrun,
along with contributions from TSN's industry-leading team of hockey experts and analysts, including Jamie McLennan, Craig Button, Aaron Ward, Jeff O'Neill, and Dave Reid.
Hockey on TSN
Tim Hortons That's Hockey complements TSN's best-in-class NHL news and information programming, including That's Hockey 2Nite, SportsCentre, and the network's slate of signature NHL specials including TradeCentre, Free Agent Frenzy, Fantasy Draft, Top 50 Players, and Bob McKenzie's Draft Ranking.
TSN's hockey programming also includes live coverage of the Toronto Maple Leafs, Ottawa Senators, and Winnipeg Jets as part of its package of 130+ regional NHL games. To access regional hockey games on TSN feeds, fans must live in the teams' designated broadcast regions (for more information, visit TSN.ca).
Fans can also tune in to TSN Radio in Toronto, Montréal, Winnipeg, Ottawa, and Vancouver for radio coverage of regional games featuring the Leafs, Canadiens, Jets, Senators, and Canucks (visit each station's home page for complete broadcast information).
What's Your Tim's Order?
We asked the members of the TSN Hockey team arguably the most Canadian question ever: What's your standard order at Tim Hortons? They shared their responses:
Gino Reda
My order: For well over a decade through my oldest boy's hockey career, I was all about the Cinnamon Raisin toasted bagel with light cream cheese and a medium coffee with milk. Standing by the glass in the offensive zone, using the dasher board to hold my Timmy's, watching my kid grow up on the ice. Now eight years later, with my oldest having moved away, I'm back in the same spot at the rink, watching my little guy begin the same journey. I'm a little older, so it's a Greek yogurt instead of the bagel, but I'm still "milk no sugar," and still loving the view at the glass.
Favourite donut: Chocolate Glazed
Aaron Ward
My order: Large Double Double with two sweeteners. I order it most often in the International Departures terminal at Pearson Airport when I'm purchasing my 144 premade packets of Tim Hortons coffee to take home to North Carolina. The ladies at Tim Hortons know me as "that guy who buys all that coffee."
Favourite donut: Apple Fritter (but my real go-to is 10 Sour Cream Glazed and 10 Apple Fritter Timbits)
Bob McKenzie
My order: Ordering Tim Hortons is an art form for me. Ninety-nine per cent of the time I'm in the car. In the old days, it was a 12 Grain bagel, double toasted with butter, a yogurt, and a large steeped tea with milk. Then it evolved to oatmeal with fruit, a yogurt, and a large steeped tea with milk. The latest incarnation of my order is the egg white breakfast sandwich with turkey sausage, double toast the English muffin and add a little ketchup, with a vanilla Greek yogurt, and a large steeped tea with milk. As you can see, the only constant is the large steeped tea with milk.
Favourite donut: Apple Fritter
Darren Dreger
My order: Medium, regular. Always. Seldom stray. I usually order it en route to my kids' hockey games or on my way to work. My weekend ritual is the Turkey Sausage Breakfast Sandwich. I always go to the same locations – all three are owned and operated by my good friend Matt Hanley, who has been an excellent supporter of minor hockey in the Whitby area.
Favourite donut: Sour Cream Glazed
Gord Miller
My order: Cinnamon Raisin bagel, lightly toasted, lightly buttered. With an orange juice.
Favourite donut: Oatmeal Raisin cookies
James Duthie
My order: Two Boston Creams with a side of Boston Cream
Favourite donut: Boston Cream
Jamie McLennan
My order: I love the grilled cheese with chili on the side. I order that during winter when I'm coming to the studio to watch games and do a show. Thankfully, the Tim's location not far from the TSN studio is always there when I need it.
Favourite donut: Sour Cream Glazed (with a hot chocolate)
Ray Ferraro
My order: First of all, Tim's Dark Roast. Two cream, one sugar. Follow that with a 12 Grain bagel, double toasted, with light strawberry cream cheese.
Favourite donut: Vanilla Dip (with sprinkles)