Tinordi suspended 20 games for violating NHL's drug policy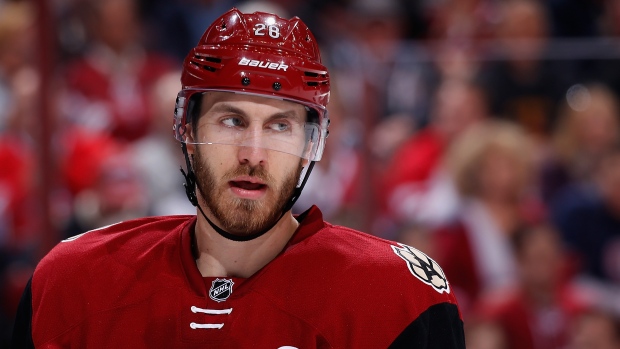 NEW YORK, N.Y. - Arizona Coyotes defenceman Jarred Tinordi has been suspended 20 games without pay for violating the terms of the NHL and NHL Players' Association joint performance enhancing substances program.
The NHL said in a statement that Monday that the suspension is accompanied by mandatory referral to the NHL/NHLPA substance abuse program for evaluation and possible treatment.
"I am extremely disappointed that I failed a test under the NHL/NHLPA performance enhancing substances program," Tinordi said in a statement released by the NHLPA. "I did not knowingly take a banned substance. I understand, however, that I am responsible for what enters my body as a professional athlete and I accept the suspension. I will work hard towards my return to the ice and will learn from this frustrating setback."
Tinordi was acquired by the Coyotes in January in a trade that sent enforcer John Scott to Montreal. He has 12 penalty minutes in seven games with the Coyotes this season.
"The Arizona Coyotes organization fully supports the NHL/NHLPA Performance Enhancing Substances Program," Coyotes general manager Don Maloney said in a statement released by the team. "We will also continue to support Jarred throughout this process."
Tinordi, a first-round pick of the Canadiens in 2010, has six assists and 78 penalty minutes in 53 NHL games with Montreal and Arizona.
Tinordi is the fifth player suspended under the NHL/NHLPA policy, and second this season after Anaheim forward Shawn Horcoff.