Titans DE rips Jaguars QB Bortles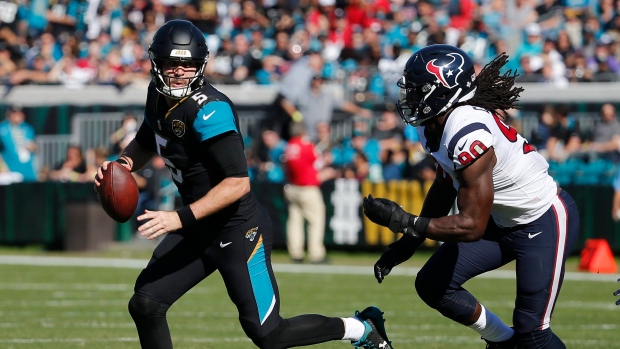 Jurrell Casey's team isn't even playing Blake Bortles and the Jacksonville Jaguars this weekend in NFL Wild Card action, but the defensive lineman for the Tennessee Titans still found time to rip the Jags quarterback on Wednesday.
Casey was on 104.5 The Zone in Nashville and didn't mince words when the subject of Bortles came up.
"As long as Bortles is back there, if the ballgame is in his hands, he's going to choke," Casey said on the radio.
The Titans beat the Jaguars 15-10 in the season finale on Sunday with Bortles throwing an interception to Titans safety Kevin Byard on the final drive with the game on the line.
The 25-year-old Bortles is coming off a good year, throwing for 3,687 yards with 21 touchdowns, 13 interceptions and an 84.7 QB rating. Yet the former third overall pick has failed to convince some that he is the real deal.
Following a Week 15 loss to Bortles and the Jags, Houston Texans outside linebacker Jadeveon Clowney called the fourth-year pivot "trash."
Both Jacksonville and Tennessee will be playing this weekend, but not against each other. The Titans, as the first AFC Wild Card team, will battle the Kansas City Chiefs, while the Jaguars, winners of the AFC South, will take on the Buffalo Bills.