Titans to sign pass rushers Orakpo, Morgan
The agent for Brian Orakpo says the former Washington Redskins outside linebacker has agreed to terms with the Tennessee Titans. Meanwhile, the Tennessean reports the Titans are also bringing back outside linebacker Derrick Morgan on a four-year, $30 million deal.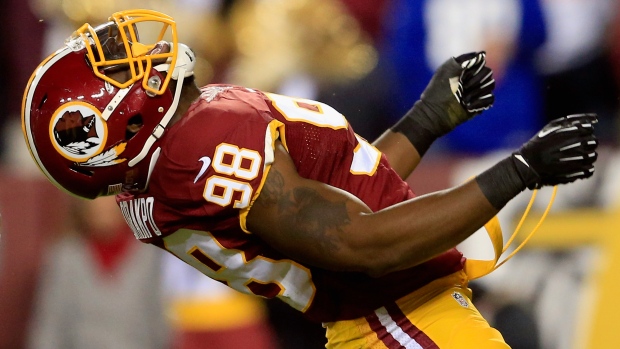 NASHVILLE, Tenn. - Outside linebacker Brian Orakpo is now a Tennessee Titan, one of several moves the team made.
The Titans announced Friday they had agreed to terms with Orakpo, outside linebacker Derrick Morgan, kicker Ryan Succop, tight end Anthony Fasano and defensive tackle Karl Klug.
"Outside linebacker was a position that we needed to address heading into the off-season," Titans general manager Ruston Webster said in a release announcing the moves. "Derrick is a true pro, and you could see his growth in a new system. Brian has a proven record and adds a dimension to our group."
Orakpo, a three-time Pro Bowl selection, had spent his entire six-year career with the Washington Redskins. Fasano spent last season with the Kansas City Chiefs. Morgan, Succop and Klug were all with the Titans last year.
The Titans didn't announce terms or lengths of the deals. But Orakpo's agent, Ben Dogra, said his client has agreed on a four-year deal worth up to $35 million.
Also, people familiar with the moves said that Morgan has agreed on a four-year deal with the Titans and that Succop had reached a three-year deal to remain with the team. The people spoke to The Associated Press on condition of anonymity before the deals had been announced.
ESPN first reported Orakpo had agreed to terms. The Tennessean first reported the deals for Morgan, Succop, Fasano and Klug.
The Titans staggered to a 2-14 record last season, and defence was an issue. Signing Orakpo and hanging on to Morgan — both former first-round draft picks — could boost the unit that gave up 373 yards per game last season to rank 27th in the NFL.
Orakpo has 40 career sacks in six seasons, though he has played only 24 games over the last three years. Orakpo played seven games for Washington last season before tearing his right pectoral muscle in a 19-17 victory over the Titans. The 28-year-old Orakpo also has torn the pectoral muscle near his left shoulder twice.
When healthy, Orakpo is a pass-rushing threat. He had 11 sacks his rookie year of 2009, 8 1/2 in 2010, nine in 2011 and 10 in 2013.
Morgan, 26, has spent his entire five-year career with the Titans. He has 23 career sacks, including a team-leading 6 1/2 last season. He also had 82 overall tackles and 13 tackles for loss to set career highs in both categories.
Succop was 19 of 22 on field-goal attempts in his first season with the Titans after spending his first five pro years with Kansas City. The 28-year-old Succop has made 81.7 per cent of his career field-goal attempts.
Fasano has 253 career catches for 2,799 yards and 31 touchdowns in a nine-year career with Dallas, Miami and Kansas City. The 30-year-old Fasano caught 25 passes for 226 yards and four touchdowns last season. His arrival gives Tennessee more experience and depth at the position to go along with Delanie Walker, who had 63 catches for 890 yards to lead the team in both categories last season.
Klug, 26, has 14 1/2 sacks in a four-year career spent entirely in Tennessee. He had 31 tackles and two sacks last season.
"Fasano is a quality veteran player who has all-around tight end ability," Webster said. "I thought Succop had a good first season with us, and Klug is just a good football player who can help us in a number of areas."
___
AP NFL website: www.pro32.ap.org and www.twitter.com/AP_NFL